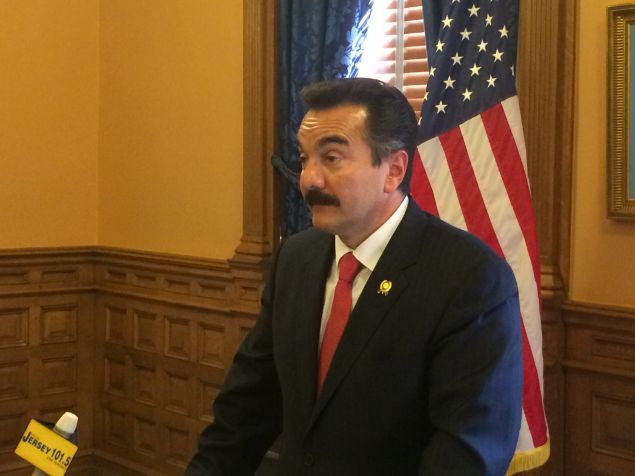 A showdown between Democrats in the state Legislature prevented Assembly Speaker Vincent Prieto from being able to pass a state budget on Thursday and brought New Jersey one step closer to a government shutdown.
Democrats had agreed to a $34.7 billion spending plan for fiscal 2018. But before Gov. Chris Christie gives his approval, he wants lawmakers to pass a widely criticized bill to restructure the state's largest health insurance company, Horizon Blue Cross Blue Shield.
If he does not get the Horizon bill, Christie said Thursday, he would likely trim the $320 million in extra spending Democrats added to his initial budget proposal in February.
Senate President Steve Sweeney (D-Gloucester) has said he will close down the government if he does not get around $100 million in added school funding dollars this year.
"If it closes, it closes," Christie said at an impromptu news conference Thursday to blast Prieto. "We've had contingency plans for years."
The Horizon bill passed the Senate on Thursday by one vote, 21-15. Prieto (D-Hudson) refuses to post it in the Assembly, calling it "a Christie tax on Horizon's 3.8 million policyholders."
The Horizon legislation split the Assembly's 52 Democrats into rival camps. When Prieto posted the state budget for a vote on the Assembly floor, it garnered only 24 votes, far short of the 41 needed to pass.
Although they support the budget, a coalition of 25 Democrats from South Jersey and Essex, Mercer, Middlesex and Union counties withheld their votes as a pressure tactic to get Prieto to agree to the Horizon plan. Most of those Democrats have signed a letter announcing their intentions to oust Prieto from the speakership next year and replace him with Assemblyman Craig Coughlin (D-Middlesex).
Two Democrats, Assemblymen Bob Andrzejczak (D-Cape May) and Bruce Land (D-Cumberland), voted against the budget. Assemblywoman Sheila Oliver (D-Essex) was not on the floor for the budget vote. No Republicans voted for the budget.
"I took a roll call twice to show that those are the people who want to shut down government, and their districts should know about it, because that's not acceptable," Prieto said in a news conference afterward. "Think about it. If we do this, after July 1st, people won't be able to go to state parks, you won't be able to go to DMV and get your driver's license, for the unemployment office, you can't go."
"You're going to have about 100,000 people that are not going to get their paycheck," he said. "That's tough to swallow."
The Assembly went into recess until 1 p.m. on Friday. The Senate debated but did not hold a vote on the budget bill, postponing it to Friday as well.
Democrats have a lot riding on the budget, including millions of dollars not just for schools but for cancer research, domestic violence prevention, recidivism programs, tuition-assistance grants (TAGs), legal services for the poor, prisoner re-entry efforts, and other areas.
"What do I tell the TAG student, what do I tell the people who care for disabled people? Wait one more year?" Sweeney said at a news conference Thursday evening. "Look, I don't like everything that goes on here. I really don't. But there's realities in life — and the governor gets to line item things out of the budget."
"We did the right thing and I stand by the fact that we stood by the people," Sweeney added.
The impasse was both surprising and somewhat puzzling.
Surprising because, although the state house is famous for its dramatic budget confrontations, the dysfunction rarely comes so close to a government shutdown. The last one was in 2006, when former Gov. Jon Corzine shut down the government over a budget impasse with then-Assembly Speaker Joe Roberts.
And somewhat puzzling because the Horizon proposal did not appear to have enough votes to pass the Assembly before the budget deadline on Saturday, making it unclear what the Democratic hold-outs on the budget were holding out for aside from a token vote that could see the Horizon bill defeated. Christie said he will not negotiate further and that he wants to sign the Horizon bill sponsored by Sen. Joe Vitale (D-Middlesex).
Because it would have to be walked onto the floor without a committee hearing, the Vitale bill would require an emergency 60 votes out of 80 in the Assembly.
But it appeared to have fewer than 56 votes on Thursday afternoon.
Prieto said it was a fair assumption that the 24 Democrats who supported the budget would not vote for the Horizon plan. "You can make that correlation," he said. And although Assembly Minority Leader Jon Bramnick (R-Union) is in favor of the Horizon legislation, he told reporters Thursday that not all 28 GOP lawmakers would support it.
"There's substantial support for Horizon but there are some no votes as well," he said of his caucus. "I'm concerned that if the Democrats can't communicate with each other, that they'll shut down the government. And I think there's a responsibility as the majority party to pass a budget and do it before the end of June."
In a moment of candor, Sweeney described the Horizon legislation as something that "is not going to be around next year," further raising questions about the end game.
Democratic gubernatorial nominee Phil Murphy has criticized the plan to pass a Horizon bill this week and urged lawmakers not to give Christie a "cheap political victory."
"Listen, Phil Murphy says he doesn't support this," Sweeney said. "I said that earlier: Phil Murphy wants this repealed, it'll be repealed. But the point is, this is egos. It's Horizon banging its chest, and Christie, everyone's going at each other with this."
"We want to make sure the people don't get hurt in the middle," Sweeney added.
Asked whether it was responsible to implement new policies knowing they might be repealed within a matter of months, Sweeney said legislation gets changed all the time.
Vitale's bill would reduce Horizon's ability to appoint 11 directors on its 15-member board. Instead, the company would be able to appoint eight, and three would be elected by its subscribers. The other four are gubernatorial appointees, traditionally two Democrats and two Republicans.
The plan also calls for a new public hearing process — to be designed and implemented by the commissioner of Banking and Insurance — meant to review Horizon's finances annually and judge whether it kept an "efficient" surplus in the previous year.
If the DOBI commissioner found that Horizon's surplus was inefficient in a given year, the company would have 90 days to justify why the reserves were not inefficient or submit a plan to spend down what the state determined to be the excess amount.
Horizon would be allowed to spend that excess on proposals to benefit its policyholders or on "expanding access to affordable, quality health care for underserved individuals; responding to emerging health care issues in New Jersey; and promoting fundamental improvements in the health status of all New Jersey residents, including but not limited to substance use disorder treatment and prevention, behavioral healthcare, maternal, child and chronic health services, cancer screening, research and treatment, and improving veterans' access to health care."
If Horizon and the DOBI commissioner do not reach agreement in a given year on a plan to spend the excess, the state would be able to funnel that excess into the general fund and spend it on any budget programs. Essentially, in that scenario, the state would be raiding the insurer's reserves — currently at $2.4 billion — to provide relief for its lean budgets.
Under Vitale's bill, to meet its statutorily mandated charitable mission, Horizon would have to "fulfill its obligation as an insurer of last resort in this state."
That's a term of art and essentially the thrust is to compel Horizon to cover people who could not otherwise afford health care. The company operated as New Jersey's insurer of last resort for many years, but it nearly went bankrupt in the early 1990s, and the law was changed. The company's chief financial officer testified at a committee hearing Monday that becoming an insurer of last resort once again would likely raise premiums for Horizon's 3.8 million current policyholders, since the company would be forced to cover other New Jerseyans who could not otherwise afford health care, and since its reserve fund could be clipped every year under a separate part of the legislation, any new costs would likely be borne by current subscribers.
When it was last an insurer of last resort, Horizon would get subsidies from competitors and tax breaks from the state that would not be afforded to it again under Vitale's bill. Under state law, charities and benevolent institutions are typically tax-exempt, and in 2016, Horizon paid $543 million in federal, state and local taxes — more than $200 million of which went to the state.
The bill would take effect February 2018, except for provisions that designate Horizon as an insurer of last resort and require health insurance companies at large, not just Horizon, to submit their tax filings to the state for online posting. Those two provisions would take effect immediately.
In resisting the plan, Prieto has support from a broad swath of labor unions, business groups, editorial pages, health care think tanks, and others.
"The first responsibility of the Senate and the Assembly is to pass a budget. It is not to pander to or satisfy a discredited lame duck governor's whims for revenge toward Horizon, by passing a bill that will have broad but unknown impact on 50 percent of insured people in the state," said Hetty Rosenstein, state director of the Communications Workers of America union. "CWA expects our allies in the Assembly and Senate to vote to pass a budget regardless of whether or not a Horizon bill is voted on in this session."
With all sides dug in, it was not clear Thursday who would blink first. Prieto said he would be willing to lose the speakership over Horizon, acknowledging talks from some quarters to oust him.