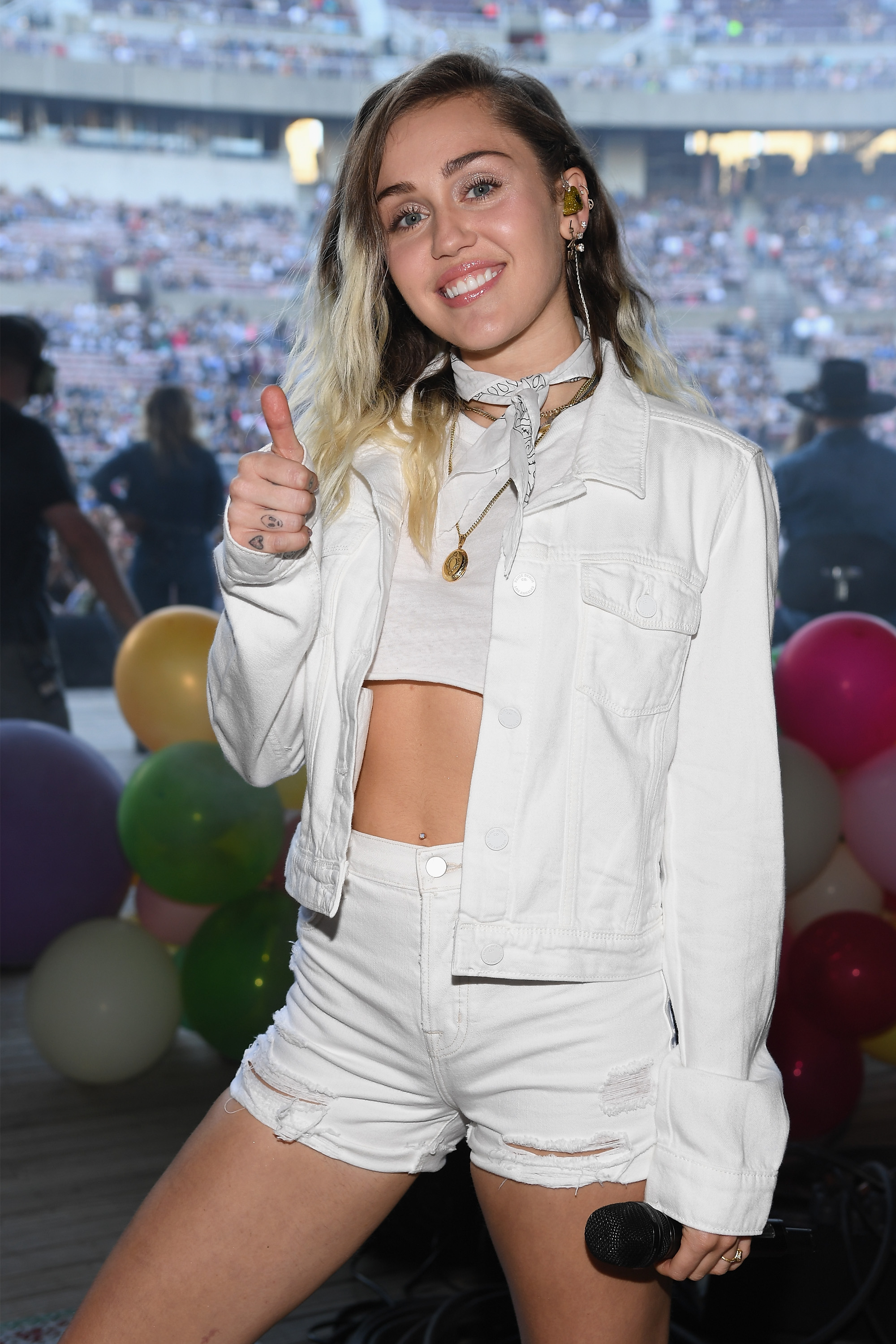 In recent months, Miley Cyrus has shed her bad girl image, adopted a squeaky clean wardrobe and quit smoking weed. But one thing she hasn't altered are her political preferences.
This weekend, the pop star's brother, Braison Cyrus, walked in Dolce & Gabbana's star studded Spring 2018 menswear show in Milan. This occasion was obviously notable enough for a celebratory Instagram post.
https://www.instagram.com/p/BVceeVHB_OL/?taken-by=mileycyrus
"Congrats @braisonccyrus on walking in your 1st runway show," Miley wrote, noting that her little brother was more inclined to music than modeling. However, she added, "it is a Cyrus family trait to try everything once (within reason HA) and to embrace opportunities that encourage you to step out of your comfort zone."
Miley finished off her candid post with a message for Dolce & Gabbana designers Stefano Gabbana and Domenico Dolce. "D&G, I STRONGLY disagree with your politics…but I do support your company's efforts to celebrate young artists & give them a platform to shine their light for all to see." Yes, the starlet both dragged and complimented the designers in just one sentence.
But Gabbana did not let this clap back go unanswered. Obviously, he took to Instagram to air his grievances.
https://www.instagram.com/p/BVdkITgl-Vk/?taken-by=stefanogabbana
Alongside a repost of Miley's original photo, Gabbana wrote: "We are Italian and we don't care about politics and mostly neither about the American one! We make dresses and if you think about doing politics with a post it's simply ignorant." He asked that the pop star simply ignore them next time and finished off the post with the hashtag #boycottdolcegabbana.
But what are the politics deserving of this criticism? It all has to do with the Italian label's embrace of Melania Trump. Dolce & Gabbana has proudly dressed the controversial first lady, whereas other notable designers, such as Tom Ford, Marc Jacobs and Sophie Theallet, have loudly denounced their desire for the wife of Donald Trump to wear their creations.
In fact, whenever the first lady wears Dolce & Gabbana's designs—including the $51,000 jacket covered in silk flowers that she donned for the G-7 summit or the cream tank top and a pair of wide legged pants she wore to move into the White House—the designers take to Instagram to thank her for the support. As such, they have caught plenty of flack from Trump critics who accuse the brand of supporting the president and, indirectly, his agenda. So naturally, the duo that never remains quiet in the face of controversy decided to turn this condemnation into a campaign.
https://www.instagram.com/p/BVPNmBylbOI/?taken-by=stefanogabbana
With a $245 t-shirt that reads "#boycott Dolce & Gabbana," alongside a red heart, the designers have cheekily responded to their haters. Not only does the design mock the critics of the brand, but it's a way for the Italian label to profit off this widespread dispute. As of press time, the women's version of the shirt is currently sold out, though customers can place pre-orders to receive a t-shirt by July 15. We're sure that Miley will not be scooping up one of these t-shirts, despite her feelings towards Dolce & Gabbana.