Though we might not all have a jewel similar to the 18.04 carat Rockefeller Emerald in our personal jewelry collections, that doesn't mean your precious stones aren't worthy of a major auction house like Christie's.
Sure, that rare, untreated Colombian emerald $5.5 million on the auction block on June 20, but it was nowhere near the average price of the rest of the jewels included in the current Luxury Week sale at Christie's. There was a pair of Graff earrings with dangling strands of rubies, emeralds and diamonds with an estimated price between $12k and $15k and a necklace made from a chevron pattern of emeralds and diamonds, with a starting bid of $10k. We also spotted a sapphire and diamond ring that looks very similar to Kate Middleton's engagement bauble, valued between $10k and $12k.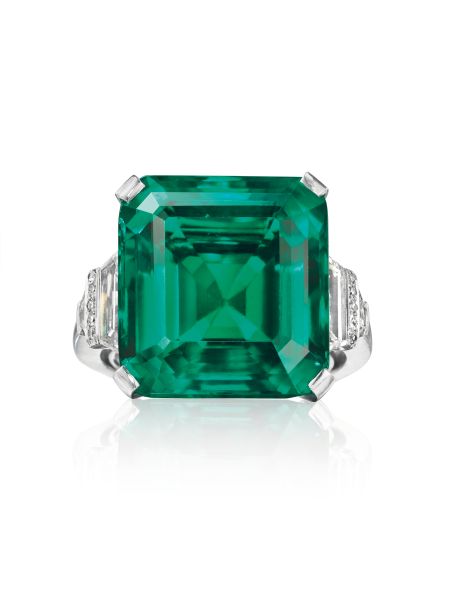 From the online sale, there were a number of extremely affordable pieces, such as a Cartier ring with purple and pink sapphires and two diamonds, valued between $1k and $1.5k and a silver Hermès rope-esque bracelet, estimated at the same price.
It just goes to show that there's a huge variety of jewels that Christie's finds to be valuable; it could be your grandma's bracelet or the stud earrings you recently purchased from Cartier.
"If I had to go and buy brand new jewelry, naturally, I would go toward the brands that I recognize: Cartier, Van Cleef [& Arpels], Bulgari, Tiffany and David Webb," suggested Angelina Chen, Christie's SVP and Head of eCommerce for the International Jewelry Department. She considers jewelry to be one of the best investments to make right now. "Jewelry stands the longest test of time; it's been around for just so long," she explained. For example, look at avid jewel lovers, like Elizabeth Taylor and Ellen Barkin, who have been smart about their bauble purchases and reaped the benefits with a major sale down the line.
Christie's is also notoriously picky about the jewels they select for auctions. They take many details into consideration, including color, clarity and weight of the stones; they also consider the maker, age, rarity and overall condition of the piece. The latter is very important and has everything to do with you, the wearer.
"Jewelry can be very hardy, but you shouldn't mistreat it," Chen warns. First and foremost: "You should not bag jewelry in one big bag." When you're embarking on vacation, make sure to put your pieces in individuals plastic bags. That rings especially true for pieces with diamonds and colored stones such as sapphires, rubies and emeralds. At home, be sure to store jewelry in individual boxes or bags, as well.
And though it's common knowledge, don't wash your pearls in water. Don't even wear them when you jump into the ocean, even though that's where they come from. Chen recommends using "an unbleached white cotton cloth, or tissue, just to give it a quick wipe."
Also, when getting ready, be sure to put your fine jewelry on last, right before stepping out of the house. That way, you won't accidentally douse your string of pearls in a harmful cloud of perfume or accidentally do some housework with a ruby on your finger. If you make sure to take care of your jewelry today, there's a chance that it will take care of you down the line.