Who would've thought one of the most important First Amendment cases in recent history would involve Peter Thiel, penis size and a man named Bubba the Love Sponge?
Yes, the Hulk Hogan sex tape trial is back in the news thanks to the new Netflix documentary Nobody Speak: Trials of the Free Press. The trial might have seemed like tabloid fodder 18 months ago, but the film makes the case that it actually shows the increased power that billionaires—like Peter Thiel, Sheldon Adelson, and even President Donald Trump—have over the media.
First, a recap of the case itself: In 2007, while Hogan was having marital troubles, he had an affair with Heather Clem, the (now former) wife of his (now former) best friend Bubba the Love Sponge Clem. At one point during this affair, Bubba secretly filmed Hogan and Heather having sex.
Fast forward to October 2012, when Gawker Media got its hands on the sex tape and posted an edited version of it online. Hogan's lawyers wanted Gawker to remove the video, so they sent CEO Nick Denton a cease and desist letter—but he refused to comply.
So Hogan sued Gawker for $100 million, alleging the site had violated his right to privacy by publishing the tape. Gawker's defense was that the sex tape was newsworthy and protected under the First Amendment, since Hogan is a celebrity who publicized his sex life in the past.
While both sides were preparing for trial in summer 2015, the National Enquirer and Radar Online published another sex tape, on which Hogan complained to Heather that his daughter was sleeping with a "fucking nigger." Gawker argued that this new video showed Hogan's true character and strengthened its case, but the judge refused to admit it as evidence.
Everything came to a head in February 2016, when the two sides faced off in the first sex tape case to ever go to trial. In the Miami courtroom, Hogan and his lawyers attempted to make a distinction between Terry Bollea (the wrestler's given name) and "Hulk Hogan," who they claimed was simply a character and not a real person.
"Terry Bollea doesn't have a 10 inch penis," Hogan said during his testimony. "Hulk Hogan does."
Gawker was also in the hot seat, though the staff's attempts to defend their actions fell flat. Former editor AJ Daulerio was particularly criticized for stating in a video deposition that the only time a celebrity sex tape wouldn't be newsworthy would be if it involved a four-year-old child.
Hogan emerged victorious in the end—the jury awarded him $140 million in damages, and both Denton and Daulerio were found liable for posting the video.
As recounted in Nobody Speak, after the trial many media observers wondered how Hogan had the financial resources to pursue this suit. The answer was Peter Thiel.
The PayPal CEO, Facebook investor and Trump adviser had made Gawker's destruction his personal mission ever since the site had outed him as gay in 2007, and bankrolling Hogan's suit was his way of getting revenge.
Sadly, it worked: Gawker Media filed for bankruptcy and sold its assets to the digital media company Ziff Davis. The Gawker site itself shut down in August. Gawker Media paid Hogan $31 million and removed the sex tape story from its website—and Denton went bankrupt too.
It's this aspect of the story in particular—that one man with deep pockets can bring down an entire media empire—that Nobody Speak is most concerned with.
"The reason to save Gawker is not because Gawker is worth saving," noted First Amendment lawyer Floyd Abrams says in the film. "The reason to save it is because we don't get to pick and choose what sort of publications are permissible."
While the Hogan case may be "sleazy and about sex," it also involves "the very notion of truth," Leslie Savan, media critic for The Nation, adds.
The battle between internet privacy and freedom of the press doesn't end with Gawker, however—indeed, that case was just the beginning. Nobody Speak gives one other notable example of digitally speaking truth to power: the case of the Las Vegas Review-Journal.
In December 2015 an unidentified buyer purchased Nevada's largest daily newspaper for $140 million. The newspaper's staff made it their mission to solve the mystery, and after a week of shoe leather reporting they had their man: billionaire businessman and Republican donor Sheldon Adelson.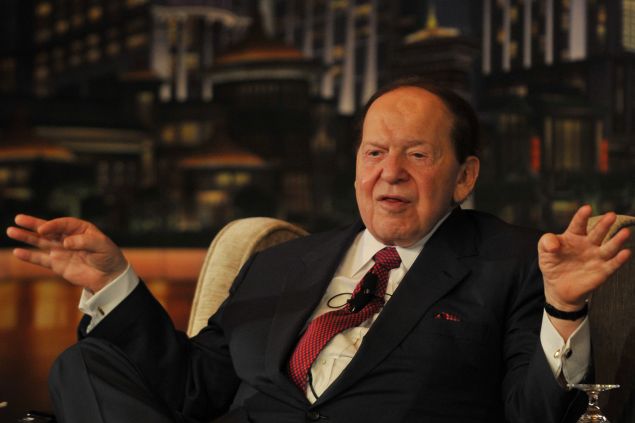 Dozens of the paper's staffers stepped down, wary of the impact this new ownership would have on their reporting. The movie pays particular attention to John L. Smith, a columnist who had locked horns with Adelson because the billionaire didn't like the way he was portrayed in Smith's book Sharks in the Desert. Adelson sued Smith for $15 million in damages—the case was dismissed, but neither man ever forgot the incident. When Smith found out he wouldn't be able to write about Adelson anymore, he left the paper.
Of course, as Nobody Speak points out, the ultimate example of a rich man who hates bad press is President Trump. Indeed, the film makes the case that like Hogan, Trump's main persona (thanks to The Apprentice) is that of a television character—albeit one who now holds "the highest, most powerful position in the world," Abrams notes.
Trump's many verbal threats to reporters, like the monetary ones from Hogan, Thiel and Adelson, are not to be taken lightly.
"This is a culture war against big media," critic Jay Rosen says. "These billionaires are proclaiming we are not vulnerable to truth. We are invulnerable to facts, and we are more powerful than the truth."
At the same time, reporters shouldn't lose hope—indeed, several talking heads in the film state that it should make them more determined than ever.
"Our society needs strong, independent, adversarial journalism," Washington Post media critic Margaret Sullivan says.
"This is a moment of real definition for the press," NPR media correspondent David Folkenflik adds.
But how exactly will the press be defined, and by whom? That'll have to wait for the sequel, hopefully titled Everybody Speaks.