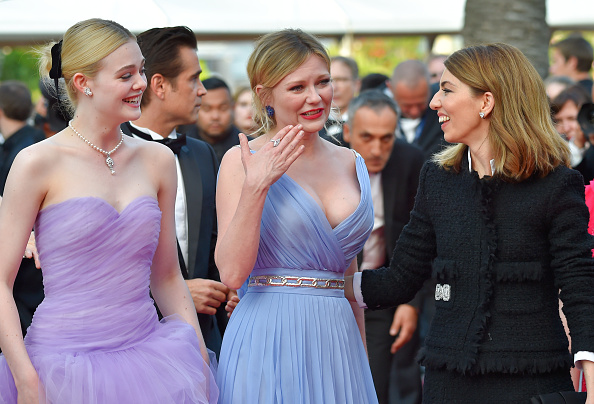 While speculation circulated about what made Kirsten Dunst cry on the Cannes red carpet for her movie The Beguiled a week ago now, I've been pondering off and on and can tell you:
a) She is on a red carpet at the Cannes Film Festival and that's pretty amazing
b) She is 35, the age some women start crying more or less on and off for about a decade.
Jennifer Anniston is emerging from this phase at last, others now in it include Kate Hudson and Gwyneth Paltrow. I know because it happened to me. By age 35 I had lost all my grandparents and a fair few good friends. I mean they died, didn't just take wrong turns off the i-95. I had two small children who were screwing up my life and freaking me out thanks to the sheer scale of my feelings for them. I was working hard to establish my finances, career and my self worth. Wrinkles were appearing. My husband and I were arguing pretty much the entire time as we both tried to squirrel away a bit of personal time for friends or the gym or whatever. He cried a bit too but managed to bottle up the tears so they only spilled over at the right times – weddings, funerals, Chitty Chitty Bang Bang viewings with the children, etc. Men, eh?
At age 35, everything around me seemed much more noticeable and alive somehow. The beauty of nature, the injustices in humanity, gratitude for everything. Nostalgia began to mean so much; it was 19 years since I was 16. In short, 35 was a pivotal age. If I had found myself on the red carpet at Cannes thanks to all my hard work, at that age, I would have cried too.   Doing a lot of TV presenting at the time, I would often weep in the car on the way back to the office afterwards because Live TV just felt like a big deal. But back to Kirsten, who probably does not cry during moments of genuine terror, horror or necessary getting-on-with-it because that's the other thing about so many crying, working women — they only cry when it's relatively safe to do so. No-one will get hurt, they can afford for one second to actually blink, they will not get fired.
Anyway, let's compare Kirsten with her fellow red carpetees:
Nicole Kidman: not crying because she's seen and done it all against some pretty tough odds. Also, wrong age.  No tears for her.
Elle Fanning: wrong age and clever, talented and not going to behave like some teen ingenue runner up on America's Got Talent. No tears for her.
Sofia Coppola: in the driving seat as a woman at Cannes and subsequent winner of Best Director, only the second woman ever to do so. Seems like the type who definitely cries but manages to control it. No more nor less to be admired for this, by the way.
So if you know, or are a woman aged 35-45 given to welling up at the sight of a flower or completely breaking down during a moment of personal achievement,  don't worry about the tears, there's usually nothing much wrong. If it is you doing the crying, do what Kirsten did, give in gracefully and know the moment will pass. If it is your friend/mother/lover/sister/boss (add whoever here) offer a hankie or simply nod sympathetically and try to hold her hand as Kirsten's co-stars did.  Everything will probably be fine.