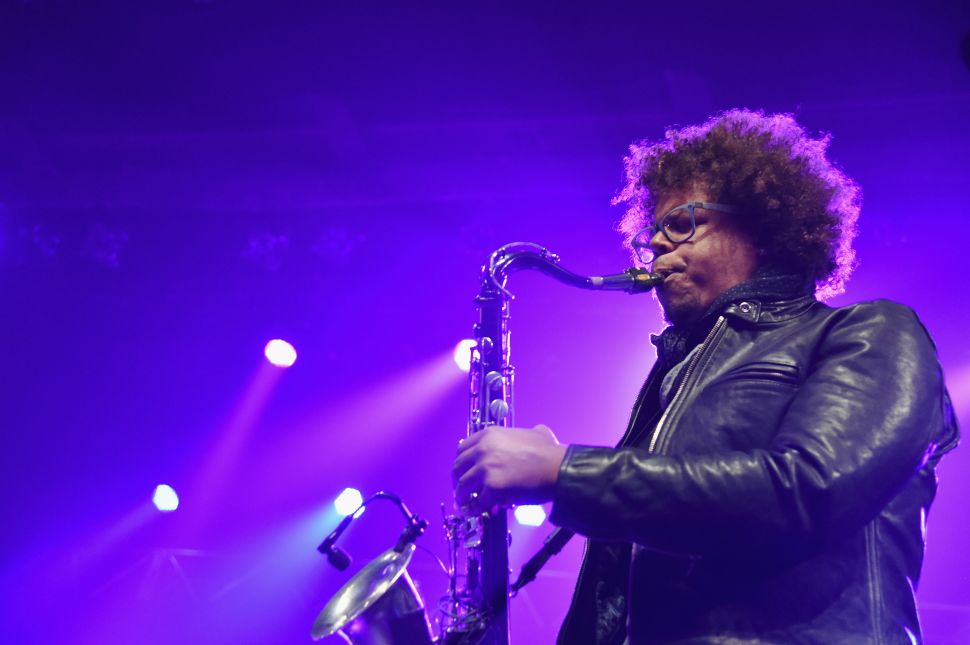 Living in the Northern section of New Jersey, you certainly encounter a lot of people who love music. They're all over the region, and oftentimes a couple of them might even clue you in on a little club, bar or even private residence nearby that hosts cool shows by national acts sometimes minutes away from your house.
Yet unlike South Jersey, North Jersey is presently rudderless in terms of a centralized location where music lovers can all come together regardless of zip code. That place used to be Hoboken back when Maxwell's functioned as an actual rock 'n' roll club. But four years since former co-owner Todd Abramson turned over the keys, there has yet to be a proper venue established in its place.
However, as North Jersey music fans continue to wait for a new spot of Maxwell's magnitude to open up shop, a new, yearly tradition is brewing on the border of New York State in the form of the Rockland-Bergen Music Festival, which takes place this weekend at the German Masonic Park in Tappan, New York.
"Outside of The Turning Point here in Rockland, Mexicali Live in Tenafly and the Bergen Performing Arts Center, this area doesn't have much happening in terms of a major outlet for rock 'n' roll," explains festival organizer Joe D'Urso, a veteran musician from both the Rockland and South Jersey music scenes whose band Stone Caravan is one of the featured acts of the weekend. "And me, I kept waiting for someone to come in and put a festival together in this area, which is something I thought needed to happen. Then one day, I just realized it was never going to happen, so I decided to grab the bull by the horns and just go for it."
Now in its fourth year, D'Urso is bringing the Stone Pony scene up North with a lineup that includes such acclaimed names as Steve Forbert, Jeffrey Gaines, Joe Grushecky, John Cafferty & The Beaver Brown Band and Hollis Brown among many others, not to mention a Sunday filled with tribute acts paying homage to the likes of The Grateful Dead, the Allman Brothers, Patsy Cline, Billy Joel, Elton John and Linda Ronstadt.
However, the coup de grace of the festival is Saturday's headlining act, E Street Band saxophonist Jake Clemons, fresh off touring Australia and New Zealand with Bruce Springsteen this past winter, not to mention a sold-out gig in Asbury Park at the Wonder Bar the night before. His group, The Jake Clemons Band, released their excellent new LP Fear & Love this past January, a deeply personal collection of songs that's more in the vein of Death Cab for Cutie or Ryan Adams than anything resembling his time playing beside The Boss. And while he's been known to break out a beautiful, slowed-down cover of his late Uncle Clarence Clemons' 1985 solo hit "You're A Friend of Mine" from time to time, expect to hear whole-hearted versions of such Fear & Love highlights as "Janine", "Sick, Broke & Broken" and "All Undone," one of the only tracks on the new album to feature his signature sax playing.
The Observer had the opportunity to talk exclusively with Mr. Clemons ahead of his headlining set at the Rockland-Bergen Music Festival this weekend, where we talked about his new music, the beauty of New Jersey and the possibility of joining Bruce on his upcoming Broadway residency this fall.
It's great to see a music festival for the North Jersey area finally come to fruition, especially given the rich music history that exists in Bergen County. However, it remains an area largely devoid of a cultural epicenter like where you are playing on Friday night in Asbury Park.
That's one of the funny things about Jersey. Take even West Jersey, which is one of the most beautiful parts of the country yet its relatively unknown. It's a gorgeous, gorgeous area. You really get an understanding why it's called The Garden State driving through there.
It's interesting to see how the festival organizers are almost bringing South Jersey up North with the event. The lineup reads like the events calendar for The Stone Pony.
It's very cool. This will be my first year being a part of it, and I'm very excited about playing with all these great people.
How did you connect with Joe D'Urso?
I met him years ago and more and more through the years I've grown to become a fan of who he is. He's one of the most beautiful people I know.
It must be a wild juxtaposition to go from playing these massive arenas and stadiums in faraway lands like New Zealand and Australia while on the road with Bruce and then play small venues with the Jake Clemons Band.
I do the whole gambit, man. I consider myself to be one of the luckiest musicians in the world, just because I get to play every size room that exists almost at the same time. But with my band, it really all depends. Sometimes we'll do a thousand person room and sometimes it will be a living room. Whatever flavor is required at the moment, we are up for it. It all depends, honestly, on what the story is and what I'm trying to convey to the audience. I did a whole entire living room tour about a year and a half ago, and I was really intent on creating an intimate vibe and bringing music back to its foundations—back to what it was during the real beginnings of music, when it was family and friends getting together and strangers meeting each other to hear something done completely acoustically. It was a really beautiful experience. But then again, I've also done a bunch of shows recently with my full band, playing these festivals as well as clubs. There's just something about that raw rock 'n' roll scene I can never get enough of.
Especially coming off a tour as massive as the one the E Street Band just wrapped up celebrating The Ties That Bind, I'm sure.
One of the things that has been really intense but also really exciting for me was that when I wasn't on tour with E Street, I was on tour with my band. And just to be able to go play everywhere from Liverpool to Sydney, Australia, I have a lot to be grateful for. It's been a crazy few years. As an artist, and a songwriter and frontman, and as somebody who's passionate about it, you gotta figure out a way to fit it all in.
Fear & Love is a fantastic record. Where were you coming from putting these songs together?
For me, it was as honest and pure an expression of myself as I can get. So at the end of the day, it's just what I got and who I am.
There's also a minimal amount of saxophone on this album. Was that a conscious decision?
It was the kind of thing where I wanted it to be appropriate if I included it. I just wanted it to fit in the right places. I wasn't trying to put sax down just anywhere simply for the sake of it. You'll notice even when you listen to Clarence, his saxophone playing was fairly sparse. He was never all over the place.
There's a great use of synths and beats on here as well. What prompted that?
It's a very expressive, emotive record. So what I was hoping to convey, sonically, was exactly what I was feeling emotionally. I wanted an intense moment to feel intense. I was actually listening to a lot of Beethoven when I was recording it, and I associated with the way he created these layers to convey a form of emotive expression. A lot of the electronic enhancements were utilized for me to serve that purpose.
In a way it almost sounds familiar to the direction Springsteen went when he made Tunnel of Love in 1987…
Actually, the very first live show I ever saw was the Tunnel of Love tour when I was about eight. Growing up, I was really restricted at home. My dad would only let us listen to classical music or marching band music or gospel when I was a kid. So when I first heard rock 'n' roll I didn't like it and I needed to learn how to appreciate it. And that just opened my world to everything. So when I went and saw E Street on that Tunnel of Love tour, that was my first time hearing my uncle play rock 'n' roll.
Do you have a favorite memory that sticks out about the show?
Honestly, I don't remember anything about the music except that it was really loud. I'd never heard distorted electric guitars before, so it was a very different experience for me (laughs).
Now there's talk of Bruce doing a Broadway residency in the fall. Has he reached out to the band about it yet? Or could it be perhaps a solo thing?
I don't know anything about it at all. I just saw it in the paper. But I'm excited. I'm really happy for him. It's going to be something that's really good for him altogether. I've had correspondence with him about some of those really intimate solo shows I've played, so who knows how it's gonna go down.
When you play with your band, do you ever break out like "Jungleland" or something? There's a great clip on YouTube covering your uncle's "You're A Friend of Mine." How much of that heritage factors into the Jake Clemons Band experience?
It's pretty spontaneous. I'll make a set list, but at the end of the day it's the audience who has to show me what they are looking for out of the experience. And I make music for that exact same reason. I don't normally do covers, but I will throw them in occasionally. It's just got to be appropriate for that moment.
What: Rockland Bergen Music Festival
Where: German Masonic Park, 89 Western Highway, Tappan.
When: June 23-25. Gates open at 10:30 a.m.; music 11 a.m.-7:45 p.m.. Parking lot opens at 9:30 a.m.  Festival is rain or shine.
June 23 kickoff is at The Turning Point in Piermont. Show features Anthony D'Amato and Joe D'Urso & Stone Caravan. A second evening show at the Turning Point on June 24 features Joe Grushecky, Ben Arnold & Joe D'Urso & Stone Caravan.  8 p.m. 468 Piermont Ave., Piermont. Go to rocklandmusicfestival.com for tickets.
Who's performing: Jake Clemons Band, John Cafferty & Beaver Brown, Steve Forbert, Joe Grushecky, Jeffrey Gaines, Joe D'Urso & Stone Caravan, Christine Ohlman & Rebel Montez, Jesse Terry, Finn & The Sharks, among many others.
Tickets & info: Go to rocklandmusicfestival.com