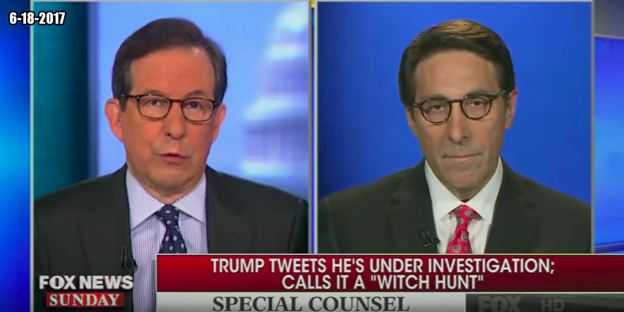 In the early years of The Simpsons, actor Phil Hartman voiced the role of the shifty lawyer Lionel Hutz, a mall-dwelling "law-talkin' guy" whose storefront motto was "I Can't Believe It's a Law Firm!"
The Simpsons retired the character after Hartman's death, but Hutz's spirit was resurrected on Sunday morning on Fox News Sunday when host Chris Wallace interviewed Jay Sekulow, one of President Donald Trump's fancy law-talkin' guys.
Sekulow rarely gets challenged on Fox, especially when interviewed by Trump poodle Sean Hannity, who reliably barks "Yep! Yep! Yep!" at Sekulow's most ludicrous assertions. On Sunday, Wallace wasn't buying them. He pointed out that Sekulow said Trump was under investigation two times.
WALLACE: "You've now said he is getting investigated after saying that you didn't—"
SEKULOW: (shaking head): "No!"
WALLACE: "You just said—"
SEKULOW: "No, he's not being investigated."
WALLACE: "You just said that he's being investigated."
SEKULOW: "No, Chris. I said that the inves—anything—let me be crystal clear so you completely understand. We have not received nor are we aware of any investigation of the President of the United States."
If there were an investigation by special counsel Robert Mueller, it might involve Trump's firing of FBI Director James Comey for investigating possible connections between Trump's aides and Russians who hacked Democratic emails in an attempt to influence last November's election for Trump.
Wallace—and three other Sunday hosts on other networks—pressed Sekulow on Trump's Twitter tantrum on Friday in which the amateur President wrote, "I am being investigated for firing the FBI director by the man who told me to fire the FBI director! Witch hunt!"
Literally, Trump would be a warlock, not a witch, but Wallace never raised the point with Sekulow, who got nasty with the veteran TV journalist for challenging Sekulow on the "investigation" quotes.
"I appreciate you trying to rephrase it," Sekulow said.
"Sir, I didn't rephrase it," Wallace responded. "Jay, the tape will speak for itself."
Sekulow persisted.
"I do not appreciate you putting words in my mouth," Sekulow told Wallace.
Ignoring for the moment that it would be hard to put words in Sekulow's mouth when so many were pouring forth, Wallace said, "You're speaking for his legal team. So you're out here to represent him and tell us what the president's belief is, is that correct?"
Sekulow didn't like that one bit.
"No," he said. "I'm out here to tell you what the facts are and the legal issues are. I don't have to tell you what the beliefs are. I'm not the client's conscience. I'm his lawyer."
Ignoring for the moment that no one has proven that Trump, in fact, even has a conscience, Wallace went on to ask, "Have you spoken to the president at all?"
"Yes," Sekulow replied, "but I'm not going to discuss those conversations with you."
Sekulow began to spin theories about why Comey shouldn't leak what he leaks and why the media shouldn't report what it reports and what the Constitution really says.
SEKULOW: "Here's what you're trying to do, Chris."
WALLACE: "Now, you're reading minds again."
SEKULOW: "No, Chris. I deal with fact and law."
WALLACE: "So don't tell me what I'm trying to do because you don't know what I'm trying to do. Actually what I'm trying to get is get a straight answer out of you."
He kept trying. When Wallace asked Sekulow if the president could be indicted, Sekulow said there is no investigation.
"Oh, boy," Wallace said. "This is weird."
Here are Sekulow's comments about the investigation:
"So, here's the constitutional question, Chris. The president takes action based on numerous events, including recommendations from his attorney general and the deputy attorney general's office. He takes the action that they also, by the way, recommended and now he's being investigated by the Department of Justice because the special counsel, under the special counsel regulations, reports still to the Department of Justice—not an independent counsel—so he's being investigated for taking the action that the attorney general and the deputy attorney general recommended him to take by the agency who recommended the termination. So that's the constitutional threshold question here."
Sekulow also brought his briefcase of talking points to Face the Nation on CBS, State of the Union on CNN, and Meet the Press on NBC.
All hosts on those shows displayed Trump's tweet and most seemed confused. On NBC, Chuck Todd asked Sekulow why Trump would say he was under investigation if he was not.
"Is this he just mis-tweeted?" Todd asked. "Are we not to take him at his word… Why is the president confused?… I'm confused by this… But, again, you didn't answer the question. If the president is innocent, why is he afraid of this investigation?"
"He's not afraid of the investigation," Sekulow said. "There is no investigation."
On CNN, host Jake Tapper seemed to take pity on the hapless lawyer.
"Is this not frustrating for you as an attorney," Tapper asked, "to have a client that is sharing information with the world that is not accurate?"
Less charitable later in the evening was David Frum of The Atlantic, who said on MSNBC that the best lawyers don't want to stump for Trump.
"The story here is not that Jay Sekulow said foolish things on television," Frum said. "Jay Sekulow has said foolish things on television throughout his career. What's new is that that is the kind of help that is available to the President of the United Sates. It's incredible."