Jennifer Lopez and Alex Rodriguez have embarked on many a luxe vacation since they started dating earlier this year. Aside from New York, Los Angeles and Miami, the couple also traveled to the Bahamas and the Dominican Republic. They really outdid themselves with their most recent European jaunt, though.
The pair went on a week-long luxe trip throughout the French Riviera and Paris, and even though they just arrived back in the United States this week, they're already posting throwback photos.
We can see why they'd want to relive their getaway—it was the ultimate couple's retreat, and they really found their inner tourists…albeit incredibly chic ones. Lopez and Rodriguez first flew from Miami to Nice, and then headed over to Monaco, where they embraced their inner tourists and strolled through the Place du Casino in Monte Carlo, before boarding a lavish yacht.
The pair were truly living their best boat lives on the French Riviera, with A-Rod diving into the sea and Lopez tanning in a chic monokini, further proving she is actually ageless. Lopez and Rodriguez dined at Michelin star restaurant Chateau la Chèvre D'or in Èze, before cruising over to Cannes.
The chic duo then lunched at the celeb-beloved Hôtel du Cap-Eden-Roc, before making sure to board their yacht for an oh-so-casual cruise over to Saint Tropez, because that is an Instagram op if we've ever heard one. Obviously the very fit couple made time for some wellness activities, in the form of a yoga lesson on the deck of their yacht.
After thoroughly enjoying their time in the sun in the French Riviera, the couple headed to Paris for the weekend, where they continued to be basic tourists, aside from the fact that Lopez donned a silk Gucci outfit for the occasion. Their activities in the City of Light included touring the Louvre and taking the requisite photos alongside I.M. Pei's glass pyramids, as well as a walk through the Jardin des Tuileries. They even got matching ice cream cones to enjoy while they strolled around the Île Saint Louis, before going back to their hotel, Le Meurice.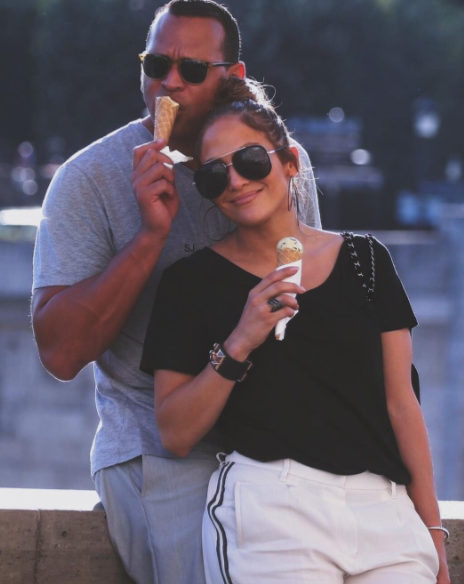 But because this is the newly dubbed J-Rod, their souvenirs most definitely did not come in the form of an Eiffel Tower keychain. It was a bit more upscale, as Lopez browsed the Chanel boutique on the Avenue Montaigne and Rodriguez peeked inside the shop of an exclusive shirtmaker shop near the Champs-Élysées.
They're back in the States now, and Rodriguez told Entertainment Tonight: "[T]he weather was awesome. We never get six or seven days off, so we were very blessed to have that opportunity." He continued to be the best boyfriend ever by adding that "Jennifer is one of the most brilliant business minds that I've ever met. She's the hardest working lady…I am a big, big promoter of women equality," he said. "I like that for my daughters and Jennifer is the role model."
And the couple is already reminiscing via social media and continuing to be Instagram couple goals. Thus far, Lopez has posted not one, but two Instagram slideshows, one of which is captioned #baecation2017, complete with a French flag emoji, with snaps of the pair on a balcony in Paris as well as a few scenics photos, while another documents their lunch at the Louvre with many a Gucci-filled selfie. We'll just have to wait and see if Lopez decides to give her followers a peek into that photoshoot of the couple in front of the glass pyramid outside the museum.