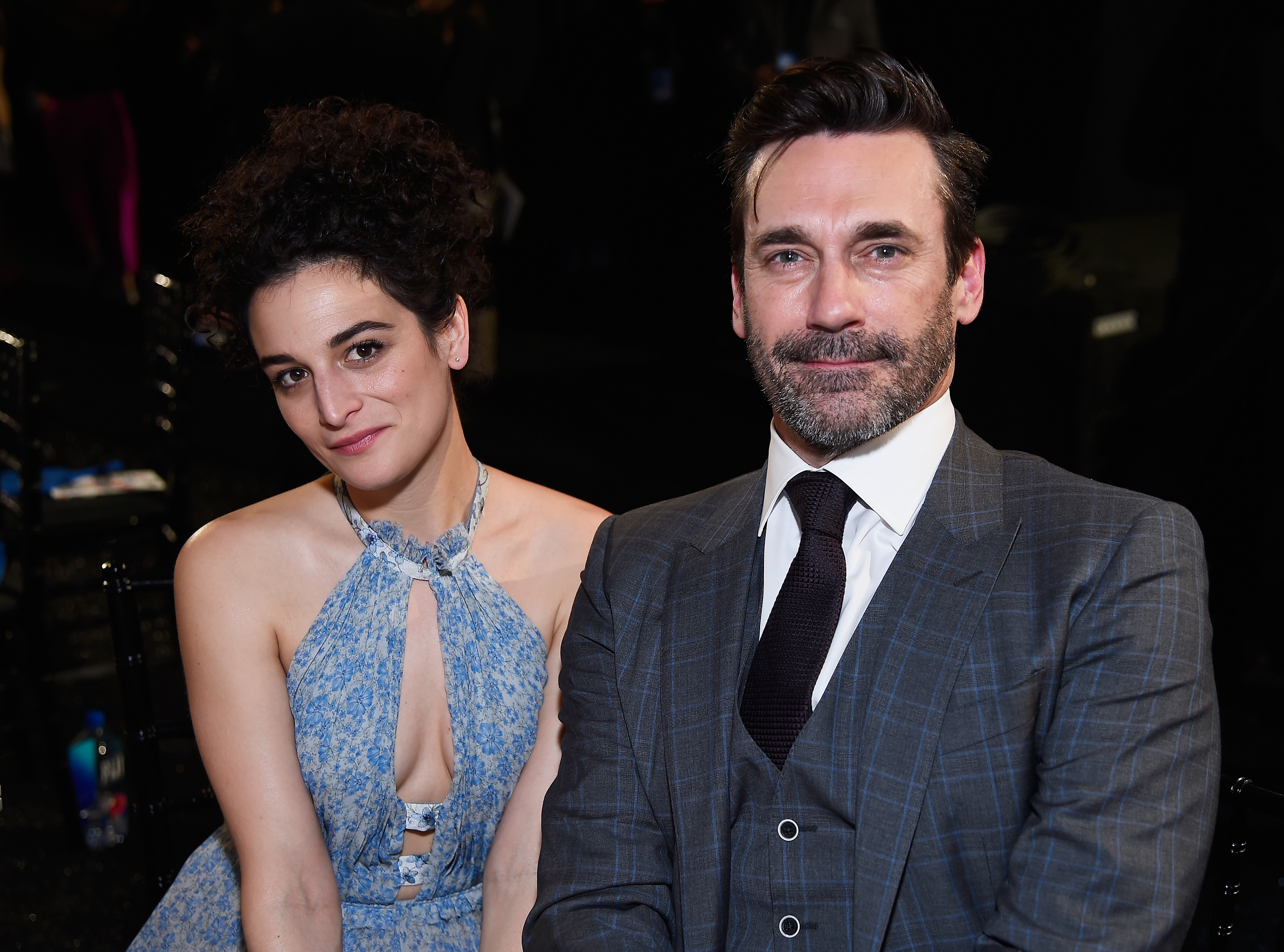 Comedienne Jenny Slate has allegedly moved on from your favorite Chris to a new mad man. The actress has been spotted out on the town with Aardvark co-star Jon Hamm on a movie date, with sources admitting they're "friendly." While "friendly" certainly isn't "canoodling," it sure is something. Of course, a movie date doesn't exactly scream romance unless you're in middle school, but it is quite "friendly" for two freshly single, highly attractive co-stars.
Slate, who divorced husband and collaborator Dean Fleischer-Camp in May 2016, was most recently dating Chris Evans, better known as Captain America. If you have trouble discerning between the plethora of action stars named Chris, we're here to help. Evans is the affable Bostonian who had a flirtatious encounter with Edith Zimmerman for a GQ cover story many years ago, proving he's far more likable than the typical macho Marvel star. Slate and Evans connected while filming Gifted, dated for a few months, and had the most amicable breakup of all time. Slate did, however, express concern over his fame level…and while Jon Hamm isn't an action star, he's still snapped by paparazzi anytime he leaves his home, especially if sweatpants are involved.
If you're still confused as to which handsome man named Chris the actress dated, Evans is not, nor has he ever been, Chris Pratt (of Parks and Recreation fame, before transforming his body for Guardians of the Galaxy), Chris Pine (currently co-starring in Wonder Woman, looks eerily like James Marsden) or Chris Hemsworth (best known for Thor and being the Hemsworth brother not engaged to Miley Cyrus).
Before Hamm was linked to Slate, the Mad Men star dated Jennifer Westfeldt for 18 years, which is practically a lifetime by Hollywood standards, or any standards, for that matter. The longtime couple broke up in 2015 and were rumored to be getting back together as he sought treatment for alcoholism, especially after he thanked her in his Emmys acceptance speech, but they didn't ultimately reunite. Since then, he's been rumored to be dating most of Los Angeles and many of his former co-stars, including January Jones, Kate Beckinsale and an unnamed woman in bike shorts. Slate, a Columbia grad and SNL alum, is certainly a welcome addition to his already A-list dossier of potential dates.
While this might make Slate the most enviable woman in the America (not England, as that honor goes to Meghan Markle), if they are together, Hamm should be envied equally. Who wouldn't want to date a woman who is able to become YouTube cartoon sensation Marcel the Shell at a moment's notice? Slate is also a pro when it comes to pairing printed crop tops with matching shorts better than anyone, including Taylor Swift.
Despite Slate's ability to consistently date Hollywood's most handsome men, she doesn't want to be defined by her relationships. "My experience does not consist of me reacting to a man. My experience consists of me seeing the world and having a point of view. So yeah, I actively screen against that instinct people have to identify me as someone's partner or not-someone's partner or whatever," the proud feminist told The Guardian earlier this month.
While their relationship is simply rumored so far, they already have a solid couple name in "JONNY SLAMM." Here's to this being the summer of the slamm.