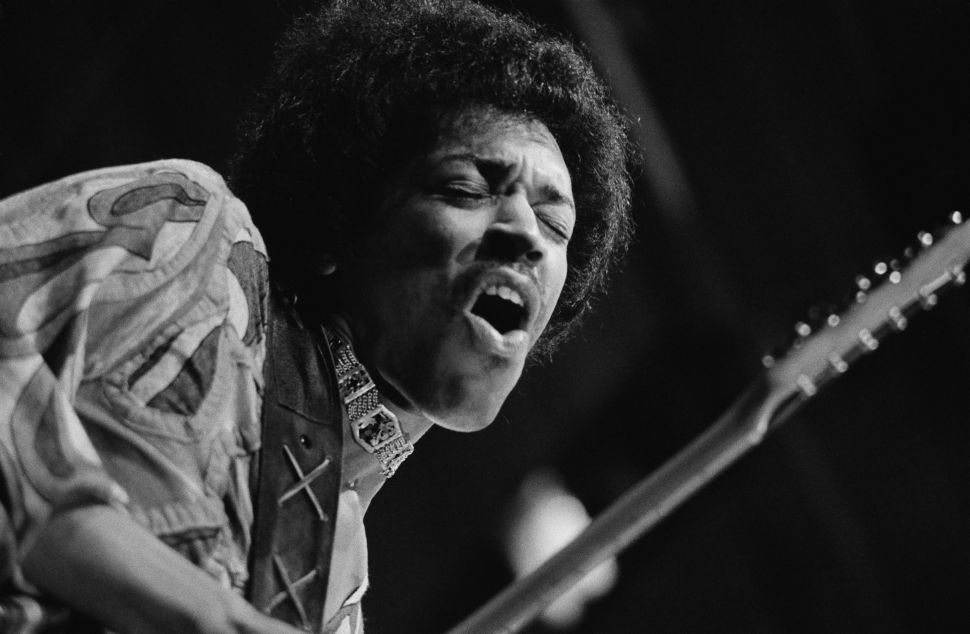 When a 20-year-old former Army paratrooper from Seattle, Washington named James Marshall Hendrix made his way to New York City in 1963, it was on the heels of a successful run on the Southern Chitlin' Circuit, playing guitar for some of the great names in blues, R&B, and soul, including Slim Harpo, Wilson Pickett, and Jackie Wilson. Moving up north to Harlem, Hendrix was desperate, without a place to stay or a guitar to play, having pawned his instrument in order to make ends meet upon his arrival.

"I had nothing but a 'wish sandwich'," he said about his struggles to survive during those first days in Harlem in the book Starting at Zero: His Own Story. "Two pieces of bread wishing I had some meat between."

Uptown wasn't too kind to young Hendrix when he first made the scene, especially given that he didn't exactly fit in amidst the crisp-clothed pimps, players, and hustlers who ran the streets.

"Staying in Harlem," he once noted in a letter to his father. "My hair was really long and sometimes I might tie it up or do something with it. I'd be walking down the street and all of a sudden the cats, or girls, old ladies — anybody! — would just be peekin' out, sayin, 'Ough, what's this supposed to be? Black Jesus?' or 'What is this, the circus or something?' God! Even in your own section. Your own people hurt you more."

It wasn't until he had met the woman many have called the great love of his life, Lithofayne Pridgon, who at the time had established herself on the music scene as the girlfriend of such icons as Little Willie John and Sam Cooke, that Hendrix's luck began to turn around uptown. In fact, it was at the stage door of the Apollo Theater, where Cooke was performing that night, when she ran into Hendrix, who was looking to network with the soul giant in hopes of landing a possible gig, which she helped facilitate.

"I remember I was wearing a pegged skirt at the time, the real tight kind you could barely walk in, and high heels," Pridgon told the Paramus, NJ-based nudie publication Gallery Magazine in a 1982 interview. "It was not cold, maybe it was fall…and then there was Jimi. I forget who started talking first, but sure put myself in a position to get to know him. He didn't cut much of a figure, though. He had processed hair and shiny black pants that showed where the knees bent-but he had something about him, a warmth, that none of the other fast-rapping dudes had. He thanked me for getting him backstage to see Sam Cooke. He referred to Sam as What's-his-face, and he thanked me for getting him in to see what's-his-face."

After walking her home from the Apollo and bonding over her mom's old blues collection, Pridgon and Hendrix eventually moved into Harlem's Hotel Seifer together, where she helped Jimi meet — through her friend, former Joe Tex associate Tony Rice — The Isley Brothers, who had driven from their home in Teaneck, NJ, into the city to see the hot shot guitar player who'd wow crowds on the Chitlin' Circuit with his unorthodox style, which included picking the strings with his teeth — a move that would soon become one of Hendrix's most famous tricks. The Brothers hired him on the spot, and given that he had hocked his guitar at a pawn shop, did not hesitate to take Hendrix shopping for a new one before inviting him to stay with them in the back room of their family home.

"Before he came to the house for the first time, Kelly [Isley] got him a brand-new guitar," Ernie Isley told the New Jersey Record in November, 2010. "We went to Manny's [the New York music store] and got a brand-new white Strat [Stratocaster] at his request. His very first one."

And it was there, comforted by the warmth of the Isley family amidst the calm of their suburban surroundings, that Hendrix began to overcome the shyness that shrouded him when he had first landed in Harlem. It was in this setting that Hendrix would truly begin woodshedding the persona that would eventually render him an American icon. in the Woodstock era.

"We had a full-length mirror near the front door of the house, and he would be playing the guitar and looking at himself in the mirror to see how he looked," Isley told The Record. "He would flip it behind his back, or under his leg. You never saw anybody interact with an instrument like that. Like it was a yo-yo."

Ernie Isley was further quoted about the six-string prowess Jimi displayed around the house in the cover story of the February 6, 1992 edition of Rolling Stone written by David Fricke.

"He could play wonderfully without an amp," he explained. "He would play in the hallway of our house while we were in the dining room. With his back to us, no amplifier, the sound and the feeling emanating from him was quite something. Seeing him that way, through the eyes of a child, [what he was all about] came through clean and clear and pristine."

The confidence he had gained under the Isleys' roof not only earned him his first legitimate studio gig as a sideman (beyond his appearance on a pair of sides from local saxophonist Lonnie Youngblood around the same time and some anonymous session work upon his arrival to NYC in '63), playing guitar on The Brothers' signature 1964 double single "Testify" released on the group's own T-Neck Records imprint, but enough bravado to return to Harlem and win first prize at the Apollo's famed amateur contest that February. He even scored a slot touring in Little Richard's band The Upsetters later that year. The opportunity would lead him to his television debut on the Nashville music program Night Train as well as his second appearance on a nationally distributed single, Richard's 1965 hit "I Don't Know What You Got (But It's Got Me)". It was a song written by the late, great Don Covay, who would pinch Hendrix from Little Richard to play guitar in Covay's own group The Goodtimers, where he recorded the songs "Cant' Stay Away and "Mercy Mercy", famously covered by the Rolling Stones on their 1965 album Out of Our Heads.

After being fired from Little Richard's camp over his wardrobe and an onstage presence that upstaged the singer's star power following a string of gigs at the Apollo, Jimi would return to New Jersey in '65 to record one more single with the Isleys, "Move Over and Let Me Dance" backed with "Have You Ever Been Disappointed." He also landed a brief gig as a touring member of Joey Dee and the Starliters, the New Jersey pop band behind the million-selling 1961 hit "Peppermint Twist," upon his return to the area as well.

"He had just gotten off the road with Little Richard," Joey Dee admitted to Classicbands.com. "I lived in Lodi, New Jersey, at the time and I had him come out to my garage and audition. After the first five minutes I knew he was the guy for my band. My recollections of him were very pleasant ones. He was a wonderful team player, a fine guitarist, similar to Curtis Mayfield. He wasn't experimenting with the guitar sounds and the feedback when he was with Joey Dee and the Starlighters. That came slightly later."

The time which Dee speaks to was when Hendrix had met an aspiring R&B singer named Curtis Knight in the lobby of one of those Harlem residential hotels where he was staying at the time. The two men hit it off, and by October of '65, Jimi was an official member of Knight's group The Squires.

"Curtis was a pimp with a band," proclaimed part-time Squire Lonnie Youngblood in author Charles R. Cross's acclaimed Hendrix biography Room Full of Mirrors.

Pimp or not, hooking up with Knight led Jimi to his first extensive s session at PPX Industries, where The Squires would record a wealth of material under the guidance of notorious producer Ed Chalpin. On one hand, this helped Hendrix land his first-ever label credit as the arranger for the 1966 Curtis Knight single "How Would You Feel"/"Welcome Home" for Jerry Simon's RSVP Records, which was housed right next door to PPX. On the other hand, Chalpin had signed Jimi to a pretty shady deal, offering him one percent royalty on a contract that the naive guitarist signed for only one dollar.

On Hendrix's skyrocket to fame in the late '60s, Chalpin would quickly capitalize on these tapes by moonlighting the Curtis Knight sessions as Jimi Hendrix solo recordings with Knight on vocals. He licensed out the songs to several record labels, who released the material under such titles as Hornet's Nest, Drivin' South and Get That Feeling, duping fans and causing many headaches for Jimi — including the handing of his acclaimed 1970 live album Band of Gypsys to Captiol Records, to whom one of the labels Chalpin licensed 33 songs from the cache, as settlement in a bogus lawsuit the producer levied on Jimi and his label Warner/Reprise. It was a longstanding issue that would only become fully rectified 45 years after the guitar great's death when the Hendrix Family Trust acquired the tapes, and Jimi's longtime producer Eddie Kramer undertook a forensic-like rescue operation to remaster 14 of the 88 cuts Chalpin recorded with Hendrix between 1965 and 1967 to put together You Can't Use My Name: The RSVP/PPX Sessions, released in the spring of 2015 and serves as the very first officially approved title to contain this music.
Another key document from this period of Hendrix's career is the material from the show Chalpin had recorded the day after Christmas in 1965 at George's Club 20, a residential house-turned-juke joint that was located on the corner of Moore and Bridge Streets in Hackensack, NJ. According to Squires bassist Ace Hall, George's was a regular stop for the group, who for a time served as the weekend house band.

"That club, from what I've heard, was simply a great melting pot, especially outside the spotlight of NYC," explains Hendrix author Charles R. Cross. "In Harlem you were playing mostly for other musicians and hustlers, and everybody knew each other. In Jersey, it was true musician fans, some Jersey hustlers, and a more mixed audience racially as well."

Having already found his comfort zone in North Jersey two years prior as a guest in the Isley family home, this Boxing Day performance captured by Chalpin found Jimi leading the Squires from stage right with a kind of looseness and bravado Ernie Isley had mentioned observing in Jimi in Teaneck that could be heard from the opening strains of one of the Squires' signature cuts at the time, "Drivin' South," with which they started off the show.

"A live recording made with Knight in late December 1965 at a club in Hackensack, New Jersey, shows just how far Hendrix's sound and stage act had evolved," describes Fricke in the aforementioned Rolling Stone story. "Given room to roam in 'Drivin' South,' Hendrix coaxes serrated sustain from his instrument, twists his meaty riffing into bluesy pretzel logic and fires off spiky high notes shivering with vibrato. At one point, you can also hear Knight yell, 'Eat that guitar! Eat it! Eat it!' It's only a one-chord jam, and the recording is of the two-Dixie-cups-and-a-thread variety, with clumsy overdubs added later when it was issued in the early Seventies as Early Jimi Hendrix. Nevertheless, 'Drivin' South' is a rough but revealing glimpse of what Hendrix would later do with the blues."
While more nebbish, technically rigid Jimi fans chide this bootleg as amateur and sloppy, fans of such early Fat Possum chestnuts as RL Burnside's Too Bad Jim, and Junior Kimborough's All Night Long can fully appreciate the unadulterated rawness that shines through the recording of this George's Club 20 show, the complete audio of which was released on vinyl this past Record Store Day. The Squires sound like they were having a grand old time up on the nightspot's makeshift stage, as blacks, Italians, Irish, and Jews from the neighborhood all danced and shimmied to the group's versions of such popular hits of the time like Ray Charles's "What'd I Say," The Four Tops' "I Can't Help Myself (Sugar Pie Honey Bunch)," Marvin Gaye's "Ain't That Peculiar," and "(I Can't Get No) Satisfaction" by the Rolling Stones alongside covers of such hardcore blues favorites as Albert King's "California Nights," Howlin' Wolf's "Killing Floor," Jimmy Reed's "Bright Lights, Big City," and Bo Diddley's "I'm A Man." And while playing guitar with his teeth was always part of his performance, hearing Knight coach him through the process in the middle of their heated jam on "Drivin' South" must have been a unique experience for those who were celebrating the day after Christmas at George's back in 1965.

"Especially if you compare it to less than a year later you can see there is a development happening, and at an incredibly rapid pace,", explains longtime Hendrix biographer John McDermott in regards to the George's show. "His love for the blues was obvious in what they did during that particular show, doing stuff like 'Mannish Boy' and 'Bright Lights, Big City'. The version of 'Drivin' South' at that show was really tremendous. Jimi was playing the stuff he truly loved, yet hadn't made that step forward and express the confidence to put his own material out there. But you can hear it all in the guitar playing. The whole idea of connecting with the audience was agreeing with him, and it was really something he kept pushing when he became 'Jimi Hendrix'. He loved connecting with the audience, and inspiring and exciting them, to the point where it had gotten him in trouble in the past. But that in and of itself is a skill, and you gotta be a great performer to make that connection not only musically but visually onstage as well. To have the combination of charisma and that total command of your instrument, that was something Jimi had a total understanding about."

By the time the new year came around, Hendrix had left the Squires and began playing with soul jazz great King Curtis and his orchestra at Small's Paradise in Harlem, even working with the group in the studio on guitarist Ray Sharpe's Atco single "Help Me (Get The Feeling)," a song in two parts. The year 1966 also found Jimi migrating down to Greenwich Village, where he became a resident at the Cafe Wha?, playing regularly with his new group Jimmy James and the Blue Flames (which featured Randy California of Spirit on rhythm guitar, whom Jimi had met at Manny's). He also began hanging out with Bob Dylan, whose freshly pressed tune "Like A Rolling Stone" Hendrix and Knight had openly paid homage to on the Squires' racially-charged single "How Would You Feel".

Before that, however, Jimi tried bringing the music of Dylan up to Harlem when he first got into him back in '64, but it only further isolated him from the street culture of the neighborhood.

"When "Blowin' in the Wind" came out," explains Cross. "Jimi grabbed that record, took it to a black dance club and insisted the DJ play it. He did, and the rest of the crowd almost killed him!"

Meanwhile, down in the Village, Hendrix was chilling out with his favorite artist, playing the kind of down and dirty blues rock he was born to play, which one could clearly hear gestating in the grooves of the Curtis Knight material.
In many ways, had it not been for North Jersey and the freedom he felt staying in the back room of the Isley house in Teaneck or being encouraged to go apeshit on the crowd at George's Club 20, or tasting from the loving cup of the still-sexy woman said to be the inspiration for "Foxey Lady," the very course of rock 'n' roll could have been altered in ways that would make the modern age of the genre boring.

"You could definitely hear his style coming through pretty clear during that show," says trance blues giant Otis Taylor, whose excellent new album Hey Joe Opus/Red Meat explores the roots of Billy Roberts' '60s garage rock standard that became one of Hendrix's signature hits. "In art, it's like [pop artist Roy] Lichtenstein, he does a cartoon but then blows it up. Just one thing can change everything in art, you know? And all of a sudden the fuzz tone, Marshall amps and a delay pedal did that for Hendrix."

Seattle, Nashville, Greenwich Village, London, Monterey, Bethel; these were all areas that have become synonymous with the life of James Marshall Hendrix. But a long overdue debt of thanks and gratitude goes out to North Jersey for giving him the space to work out the confidence he needed to push the limits of his own rising star from a struggling sideman in a jukebox band into a six-string wizard birthed in a purple haze of overdriven amplifier feedback and phased out wah-wah pedal effects. Without its essential input into the equation of his career, I might not be able to enjoy this copy of Electric Ladyland I'm about to put on the turntable right now.

"What's cool about Jimi was that he was open-minded," explains McDermott. "He dug The Beatles and Dylan and the blues. He may not have been a Motown guy or a Top 40 R&B guy. But he certainly could play it and play it well when you listen to the stuff he did with Curtis Knight. You gotta think back to that time, however. Booker T. and the MG's, the Funk Brothers, The Kingpins and all that. Jimi was right there."