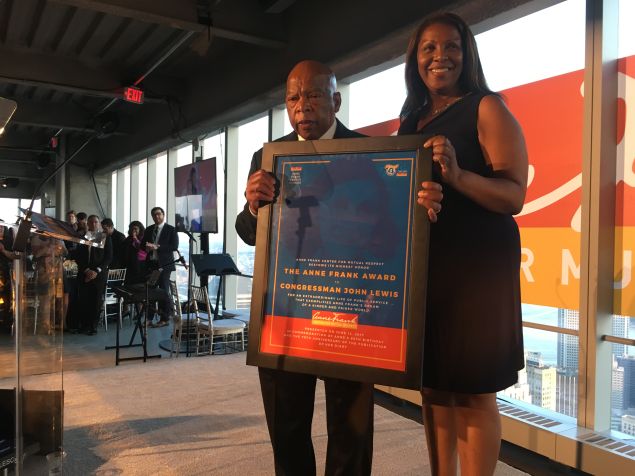 Georgia Congressman John Lewis, an icon of the Civil Rights Movement, urged an audience in New York to get into "good trouble, necessary trouble" in order to fight racism, hatred and bigotry—and said that he plans to "to continue to speak out and speak up" despite all he has endured in his 77-year life.
Lewis was in Manhattan last night to receive an award from the Anne Frank Center for Mutual Respect. As one of the "Big Six" leaders of the Civil Rights Movement, he led the Student Nonviolent Coordinating Committee, participated in sit-ins in the segregated South, spoke at the March Washington in 1963 and led the demonstration that later became known as "Bloody Sunday" that came to symbolize the brutality that characterized Jim Crow.
More recently, he has clashed with President Donald Trump, denouncing his as a election as illegitimate and refusing to attend his inauguration in January.
"The action of Rosa Parks and the words and leadership of Dr. King inspired me to find a way to get in the way, to get in trouble, what I call good trouble, necessary trouble," Lewis said yesterday evening. "And I say to each and everyone of you tonight when they spew racism, bigotry, anti-Semitism, we must stand up, speak up and speak out and get in good trouble and necessary trouble."
The son of sharecroppers, Lewis grew up on his family's farm and attended segregated public schools in Pike County, Alabama. He was inspired to joined the Civil Rights Movement by the Montgomery Bus Boycott and after listening to the late Rev. Dr. Martin Luther King, Jr. on radio broadcasts. As a student at Fisk University, he organized sit-in protests at segregated lunch counters and partook in the Freedom Rides, which fought against segregation at interstate bus terminals throughout the South.
From 1963 to 1966—considered the pinnacle of the Civil Rights Movement—he became chairman of the Student Nonviolent Coordinating Committee. By 1963, he was named one of the "Big Six leaders" of the Civil Rights movement, and was both a founder and keynote speaker—at the age of 23—at the March on Washington in August 1963.
Lewis recalled getting attacked by Alabama state troopers in the "Bloody Sunday" showdown on the Edmund Pettus Bridge into Selma, Alabama at the age of 25, a brutal confrontation that helped inspire the passage of the Voting Rights Act of 1965.
"Yes, I was beaten…unconscious when I was walking down that bridge but I'm still here and I'm going to continue to speak out and speak up," he said. "Pray for our country, pray for the Constitution."
In June 2016, Lewis led House Democrats in a sit-in to shut down the House chamber to force a vote on gun control legislation.
Recently, Lewis has also lambasted Trump for withdrawing from the Paris climate change accord, his budget and his healthcare legislation.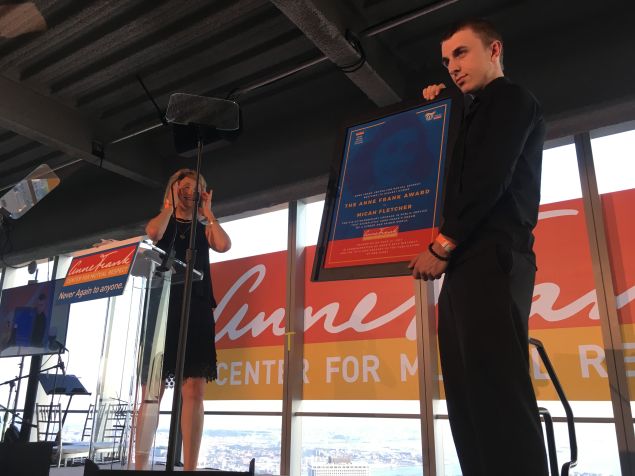 Also accepting an award at last night's ceremony was 21-year-old Micah Fletcher, who lived through a stabbing by a white supremacist on a Portland commuter train last month. He and two other men—53-year-old Ricky Best and 23-year-old Taliesin Namkai-Meche—stepped in when they saw the bigot harassing two black women, one wearing a hijab, on the train.
Of the three interveners, Fletcher alone lived survived his wounds.
The scar on his neck still visible, he told the crowd that "we as a community are tired," and called on the audience to remember and reflect upon the experiences of historically marginalized groups.
"How many times does a Jew gonna have walk down the street and hear the same comments over and over before we finally realize enough is enough," Fletcher said. "How many times is a Muslim girl going to her high school gonna have to get her hijab ripped off of her head, perhaps even beaten a little bit, just to make sure she remembers her place in society before we decide enough is enough?"
Still, he expressed hope that people will step up and fight against hatred.
"I believe that every soul in this room is beautiful and full of life, love and a capacity to understand the beauty that is humanity. So I know that you do and we want to see this stop, and you'll do something, whether it be easy or hard to do."