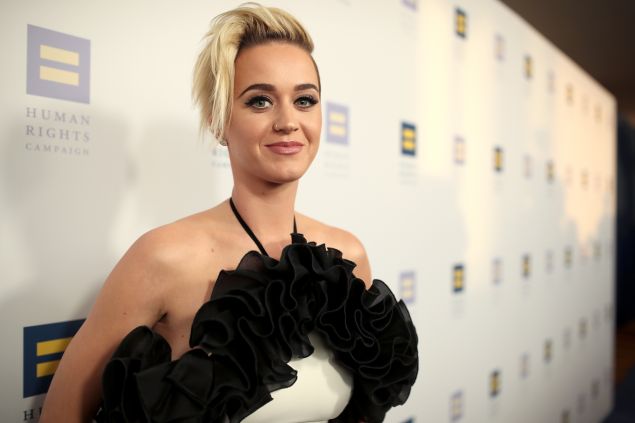 Katy Perry is currently a mess. As the Observer recently pointed out, she has been throwing everything at the wall to see what sticks, including pretending to be bisexual, pretending to be hypersexualized, donning ridiculous new hair styles, etc. Now that she appears to be entering Christina Aguilera Bionic levels of flopping, Perry is suddenly claiming to be depressed and suicidal.
Depression and suicidal thoughts are no laughing matter, but Perry's sudden issues shouldn't be used as a method to promote herself in order to sell records or as a way to make people feel sorry for her because of a self-inflicted backlash. Those who truly suffer mental illness absolutely have a right to call Perry and other pop stars out for constantly doing this. However, what makes Perry's latest proclamations even more problematic is the fact that she didn't need to go down the self-victimization pathway in order to sell her latest album Witness. For the most part, it's a solid album that should have been able to speak for itself.
Unfortunately, Witness has received some nasty reviews. One critic says the album's ballads have the appeal of a spectacular failure, while another says the album is flat and sluggish. And those are some of the nicer things being said. However, it also needs to be said that critics of Witness are not being objective; they are jumping on the Katy Perry backlash bandwagon. Unfortunately, this is a ride that has legitimacy due to Perry's constant PR and artistic mistakes. But it's also important to be objective when judging a collection of music.
One has to get past the first two songs to realize that Perry is on an artistic ride with Witness, as the opening title track sounds like everything else out on the market. Then, there is the embarrassing "Hey Hey Hey," which sounds like Perry's 2013 blockbuster "Roar" would if it was on drugs. And not the good kind, we're talking laxatives here.
However, the third song "Roulette" gets the album on the right groove. You might want to cringe when she sings, "Texting me a little bubble of trouble/I've tried to ignore these thoughts that rumble," but the explosive and bouncy beats remind us of the Perry we originally loved.
A lot has been said about Perry's Taylor Swift diss track "Swish Swish." It's easy to understand why you may not like it at first, especially since the use of Nicki Minaj on a rap section is unnecessary and feels desperate. But the song needs a couple of listens in order to hit the right spot, and it sounds better in the context of the album than it does as a single. The early '90s sound gleefully recalls Robin S's 1993 hit "Show Me Love."
Witness hits its high point on "Power," a song that would have become the feminist anthem for our times if Perry wasn't such a mess right now. Had Katy released this as the first or second single, this album could have been a complete success. On what is perhaps her best song to date, Perry sounds convincing as a woman who demands self-respect and declares, "Hell hath no fury like a woman reborn."
Perry has never been considered a great vocalist, and she is often underrated when it comes to singing ballads. She handles the slow stuff on Witness with care, tone and feeling. On "Miss You More," her voice shows warmth and range as she repeats, "I miss you more than I loved you." Another ballad, "Save as Draft" cleverly mixes technology metaphors into failed romance and is aural proof that Perry is no slouch in the vocal department.
Unlike its beginning, Witness closes on a high point. "Pendulum," like "Chained to the Rhythm," is a fun throwback to the 1980s, and "Into Me You See" is a touching closer in which Perry admits she "built a wall so high no one can reach." It's an unintended metaphor for her current situation, where her best album since Teenage Dream will fail, and not because of the actual music. One can only hope that this wall will eventually break down. When it does, people will discover that they ignored a great pop album.
Daryl Deino is a writer, actor and civil rights activist who has appeared on shows such as The Untouchables, Parks and Recreation and Two Broke Girls. Besides writing for Observer, he has also written extensively about technology, entertainment and social issues for sites such as the Huffington Post, Yahoo News, Inquisitr and IreTron. Follow him on Twitter: @ddeino.