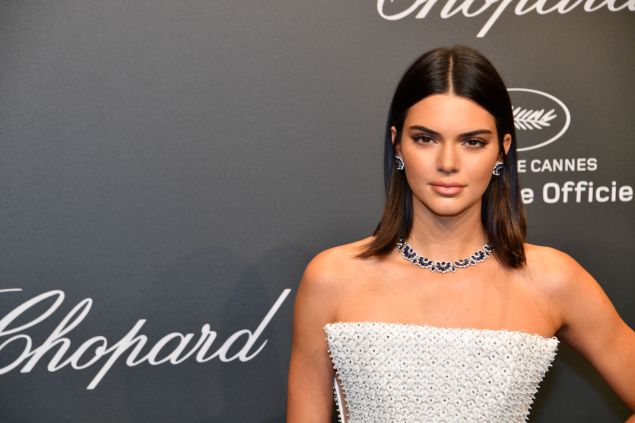 Kylie Jenner is no longer the only member of her family trying to offload a "starter home." While the Lip Kit mogul might be the more extravagant when it comes to real estate purchases, as she's scooped up a number of houses (mostly in Calabasas), her sister Kendall is now also ready to part ways with her first home.
Not that the model's first abode since vacating the Kardashian-Jenner nest is anything less than luxurious. Unlike her younger sister (and most of her siblings), Jenner chose to leave the Kardashian-beloved Calabasas, and instead opted for a home in Westwood area of Los Angeles.
The model just put the sleek apartment on the market; she bought it for $1.39 million in 2014 at the age of 18.
She's listed the two-bedroom, 2.5-bath condo at the chic Wilshire building for $1.6 million, and per the photos, Jenner has excellent taste in décor. The designer-outfitted abode is done in a neutral color scheme, with a dreamy white bedroom and living room, Philippe Starck-esque lucite chairs in the dining area and a pop of printed wallpaper in the bathroom.
The doorman building has amenities including a valet, concierge, pool and fitness center. Jenner's 2,068-square-foot corner residence features hardwood floors, wraparound views and high ceilings throughout, as well as stainless steel appliances in the modern kitchen.
The master suite has a huge bathroom with private garden views, as well as a walk-in closet. Speaking of those closets, perhaps they're the reason Jenner was so ready to depart her starter home. She wrote on her website that it's "hard at my condo because I don't have enough closet space," noting she has a rack of clothing as well, but "it's so messy, I hate it."
Perhaps Jenner's closet dilemma led to her purchase of her second home, where she currently resides. She upgraded her digs immensely when she bought Emily Blunt and John Krasinski's 4,800-square-foot West Hollywood home for $6.5 million. It's three stories, with six bedrooms, five bathrooms, and a surplus of closet space. Plus, she now has neighbors like Dakota Johnson, Jimmy Kimmel and Sandra Bullock.