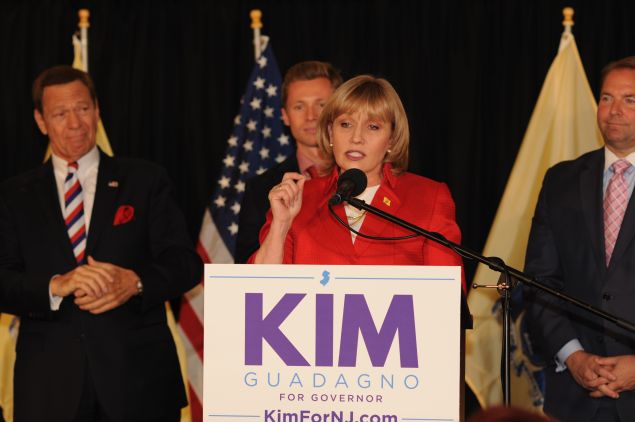 WEST LONG BRANCH — Republican voters have spoken and Lt. Gov. Kim Guadagno will be on the November ballot as her party's nominee for New Jersey governor after withstanding a tough challenge from Assemblyman Jack Ciattarelli.
Guadagno won 47 percent of the vote to Ciattarelli's 31 percent, while the other candidates in the GOP race each failed to crack 10 percent.
In her victory speech Tuesday night, Guadagno, 58, promised to lower property taxes for New Jersey residents. If she fails to do so during her first term, Guadagno said, she would not stand for re-election.
But first, Guadagno, who has been Gov. Chris Christie's lieutenant governor for two terms, will face Phil Murphy in the general election. A former U.S. ambassador to Germany who spent two decades at Goldman Sachs, Murphy won the Democratic nomination Tuesday night.
"This campaign — our campaign — is about making New Jersey affordable for everyone," Guadagno said. "If we elect Phil Murphy the governor of the state of New Jersey, the only person who will be able to afford to live in New Jersey will be Phil Murphy."
She said the Democrat would thrust New Jersey back to the days of former Gov. Jon Corzine, another Goldman Sachs alum who lost his re-election bid to Christie in 2009.
Guadagno's victory opens a new chapter for the New Jersey Republican Party after two terms of Christie, his presidential ambitions, and the 11 credit rating downgrades for the state under his watch.
She is the first woman at the helm since former Gov. Christie Whitman left the state house in 2001 to run the Environmental Protection Agency. And she has promised a fresh start, repeatedly distancing herself from her unpopular boss over the course of her campaign on a range of issues.
But experts say Guadagno is the underdog heading into the general election, especially because of discontent with the Republican brand post-Christie. For all her efforts to open up daylight between herself and her boss, Guadagno has been a loyal soldier in his administration and will have to answer for his shortcomings, experts say.
She will also be running as the Republican candidate in the age of President Trump, whose approval ratings are under 40 percent in the state. And she starts with a built-in disadvantage on the map: New Jersey has 2 million registered Democrats to 1.2 million Republicans.
"She won't be favored to win at all in November; I don't think any Republican would be," said Ben Dworkin, director of Rider University's Rebovich Institute for Politics. "With Christie's unpopularity, the Christie fatigue, the anger against Trump and the fact that we just have changing demographics in New Jersey — they are all just coming together to favor the Democratic Party in November."
For nearly her entire time as lieutenant governor — and acting governor during Christie's frequent out-of-state jaunts — Guadagno shied away from the press and studiously avoided the spotlight, keeping herself largely to her role as Christie's lead surrogate to the business community and to her ceremonial duties as New Jersey's secretary of state.
She is the state's first lieutenant governor (and best one, she often cracks) and has presided over countless ribbon-cuttings and business forums and the governor's Red Tape Review Commission.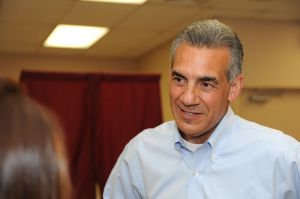 Ciattarelli, a Somerset County assemblyman who rolled out an intricate policy platform addressing property taxes, school funding and pensions — and who impressed Democrats and Republicans with his command of the issues and sharp skills as a retail politician — said he would be campaigning for Guadagno and Republican candidates across the state.
"We don't have a white flag in our closet as Republicans," he said in a short concession speech Tuesday night. "We are going to come out and I'm going to campaign on behalf of the lieutenant governor and those 120 candidates for the state Legislature in all 40 legislative districts."
He added: "We didn't fail. We just lost by a a few votes. We waged the good fight and I'm proud of the campaign."
Christie told reporters Tuesday that he cast his vote in the primary for Guadagno, and her supporters say they are prepared for the next stage of the race.
"New Jerseyans simply can't afford a return to the days of having Wall Street run New Jersey," Christie said in a statement Tuesday night. "We have experienced having Goldman Sachs executives bring their philosophy to state government. Their irresponsibility led to the 2008 recession, both in New Jersey and in the nation. The Corzine-Murphy plan brought us 10 percent unemployment and massive tax increases the last time they had state government in their greedy hands. Kim Guadagno will bring our 4 percent unemployment, pro-growth, anti-tax policies to this race."
Former SNL comedian Joe Piscopo, a longtime Democrat who considered jumping into the race as a Republican but ended up backing Guadagno, said "she is such a good person to the core with a magnificent heart and that is exactly what we need to represent us in Trenton."
"This woman is going to blaze a path like we have never seen before," he said.
State Sen. Jennifer Beck (R-Monmouth) is facing a tough challenge this year from Democrat Vin Gopal. At Guadagno's election night event, Beck said she was confident in the strength Guadagno will bring to the top of the ticket in November.
"I think Phil Murphy is going to run on an 'I'm going to tax you platform' and I find it hard to believe that that is going to fly," Beck said. "I think an anti-tax, pro-job-growth candidate is a good messenger at the top of the ticket."
Following her primary night victory, the Republican Governors Association released a statement supporting Guadagno.
"As governor, Kim will cut property taxes, fix the pension system, encourage business growth and job creation, and improve education," Gov. Scott Walker of Wisconsin, the RGA chairman, said in a statement. "The Republican Governors Association is proud to support Kim Guadagno to be the next governor of New Jersey."
Guadagno's platform centers on a "circuit breaker" property tax plan she proposed ahead of the primary, a proposal that would cut property taxes by up to $3,000 a year for homeowners by capping the portion of their bill that goes to schools. Guadagno successfully sold the plan to Republicans during the primary but she now faces the challenge of presenting it to the Democrats and unaffiliated voters that make up of the majority of the electorate.
The circuit breaker plan will likely suffer criticism from Democrats over the uncertainty around how Guadagno will recoup the $1.5 billion in tax revenue her campaign estimates the plan will cost the state per year. Guadagno said she plans to pay for the plan partially through a "Trenton audit" that would cut down on bureaucratic spending, but the details have been hazy and her other proposed funding source — natural revenue growth in the budget — is currently going almost entirely to ballooning pension and health care costs every year.
Guadagno, of Monmouth Beach, is a former federal prosecutor who was born in Iowa and served as Monmouth County sheriff from 2008 until 2010. Her husband, Michael Guadagno, is a recently retired Superior Court judge who served on the Appellate Division. They have three sons, one of whom is in the Air Force.