It was Jeremy Scott's homecoming on Thursday evening, when he brought the Moschino resort collection to Los Angeles for the second year in a row. And it was also the place to be for Hollywood, both young and old; the space, with a runway that was decorated like a neon sign graveyard, was just crawling with celebrities.
Seriously, even Kristen Stewart and Stella Maxwell used the designer's backstage as the setting for a date, while the model prepared to hit the runway.
But celebs aside, the show itself was a sight to be seen. Replete with plenty of flame prints, breezy sheer dresses in prim cuts, dazzling rhinestone blazers, fringe dresses and exactly two feathered headdresses, it might have been the most tasteful homage to Las Vegas this world has ever seen. But the range of clothing went beyond just the gambling city.
"It's a bit of a road trip from Los Angeles to Las Vegas," Scott told the AP about his collection. "I was thinking about all those archetypes of Americana, like Route 66, and the dusty gas stations and the hot rods and pinup girls and playmates." He went on to say that he thinks that the appreciation for Americana may have "slipped from us," due to the current Trump administration; Scott wanted to bring back the American dream and knows he can do that by providing people with happiness through his clothes. That's certainly one way to make our country great again, despite the fact that Moschino is actually an Italian brand.
This collection was far less gimmicky than most of the designer's previous Moschino collections and really served to display Scott's grasp on being able to turn a concept into a well-rounded collection. But still, we couldn't get over the celebs in attendance, so here are five of our favorite star studded moments from the very flashy evening.
1. Kristen Stewart turned the show into a day date.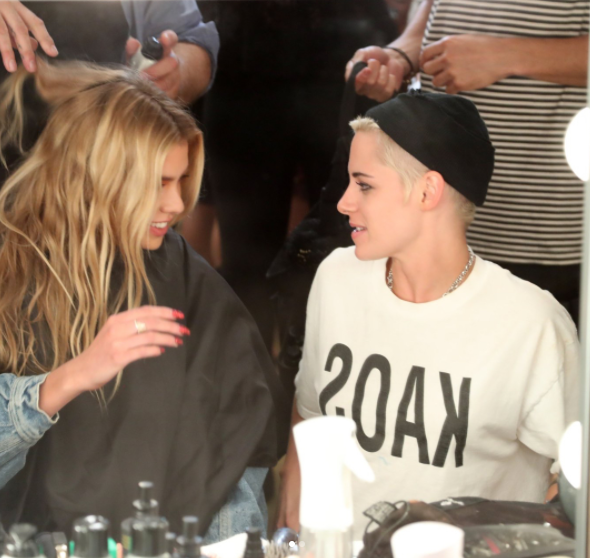 The hectic backstage of a fashion show might not be the most romantic place for a couple, but that didn't stop Kristen Stewart and Stella Maxwell. The duo shared a tender moment while the model was sitting in hair and makeup, waiting to be transformed into one of Scott's Americana girls.
Getting ready to hit the runway is an affair that takes hours of prep, but Stewart was endlessly patient. She was seen chatting with other models and sipping on a can of La Croix sparkling water. Later that night, the duo left the show in coordinating denim getups. Truly #relationshipgoals.
2. Miranda Kerr returned to the runway with some big bling.
Just a few weeks after her wedding to Snapchat's Evan Spiegel, the major model hit the runway with a huge smile…and a ginormous ring to match. She even tossed out a wink to the audience, while dressed in a denim patchwork skirt suit and a pair of cow print platform sandals. Later in the show, she put a demure spin on a classic cardigan with sultry appliqués, a sweet pink slip dress and another pair of platforms.
She wasn't the only notable model to walk the Moschino show. The rest of the lineup was filled with epic appearances, including Hailey Baldwin, Joan Smalls, Jasmine Sanders, Jordan Barrett, Fernanda Ly, Slick Woods and Dilone.
3. Kaia Gerber cheered on her brother from the front row.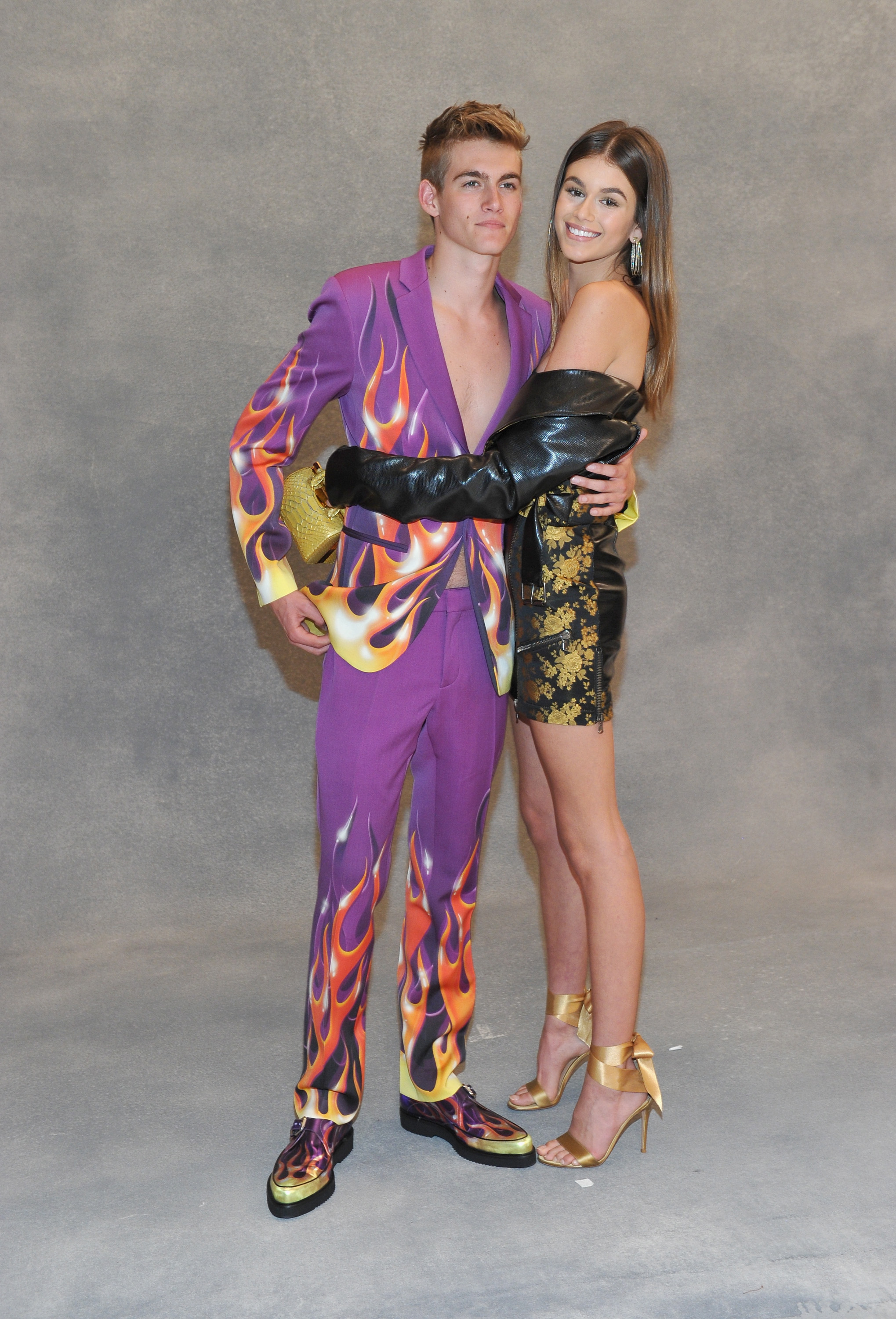 Wearing just the teeniest bandeau top, a leather skirt and golden stiletto sandals, Kaia Gerber was one of the first celebs to arrive and take her seat front row. Why so eager? The daughter of Cindy Crawford was there to cheer on her brother, Presley Gerber, as he walked the runway in a purple flaming suit with shoes to match. These two are clearly the celeb sibling duo we need.
4. The rest of the front row was positively packed.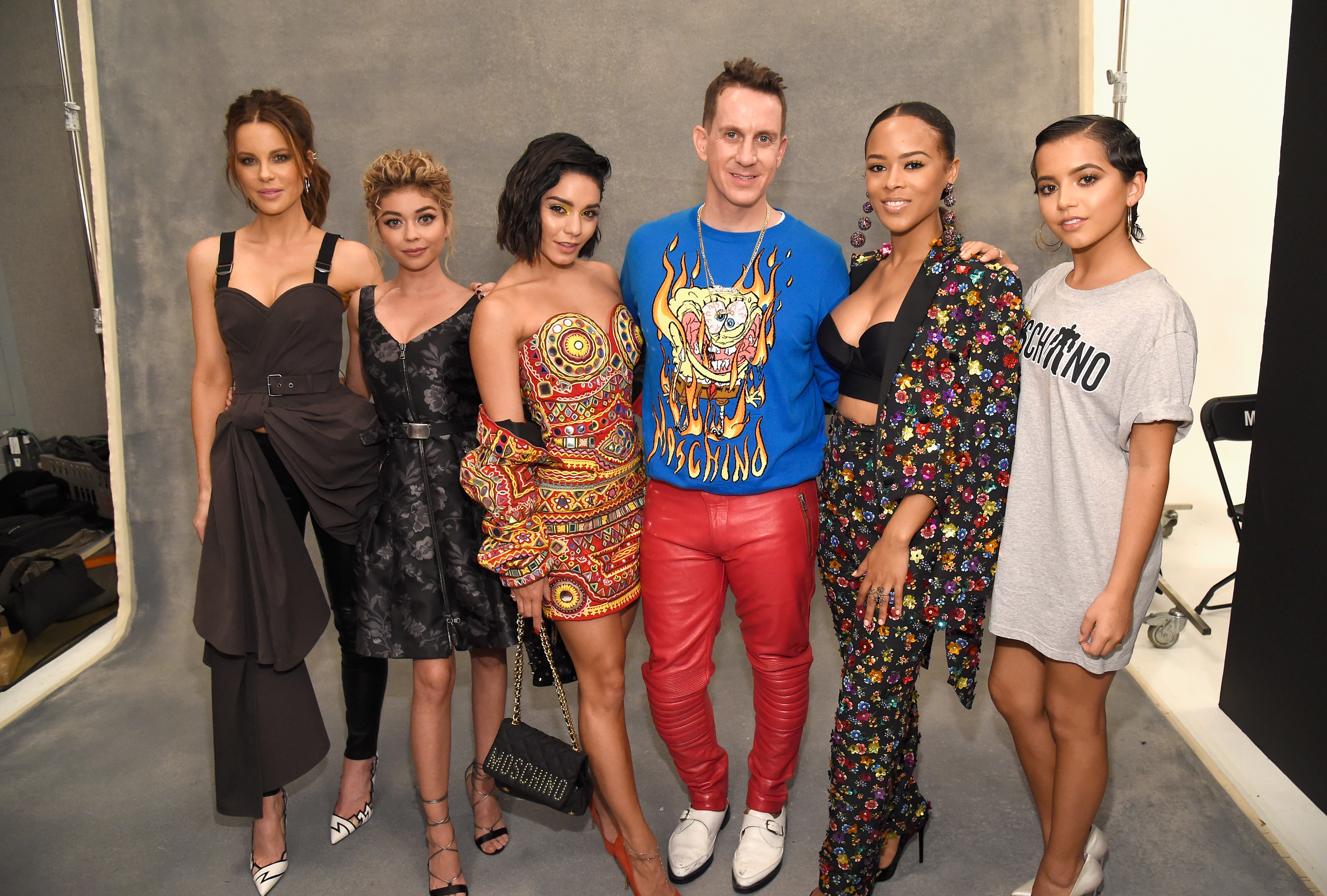 It was like a who's who of L.A. these days, with a heavy dose of flashbulb in the front row. So who was there? Young actresses (Vanessa Hudgens, Sarah Hyland, Serayah McNeill and Isabela Moner), older actresses and singers (Fergie, Kate Beckinsale, Tracee Ellis Ross, China Chow, Courtney Love, Dita von Teese and Erika Jayne), Youtube Stars (Dallas Cameron and Olivia Holt), plus a slew of major stylists (Jeanne Yang, Jessica Paster and Joseph Cassell).
It was as if there were more celebs than mere mortals at this fashion bash. 
5. Don't forget about the cartoons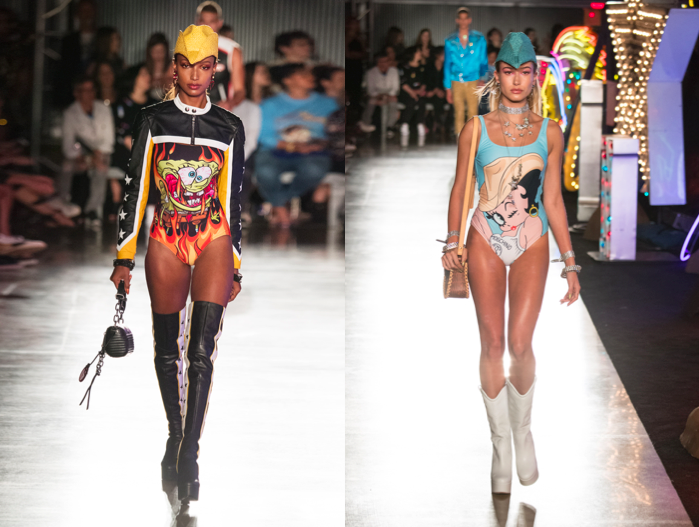 Sure, IRL celebs are great, but so are childhood icons. Both Betty Boop and SpongeBob SquarePants made appearances on the Moschino threads at the show, the latter of which was for a good cause. The pieces featuring the animated sponge, who was often depicted while being enveloped by flames, are part of a capsule collection that will benefit the AIDs non profit, (RED). It's an unlikely partnership, but a great one, nonetheless.