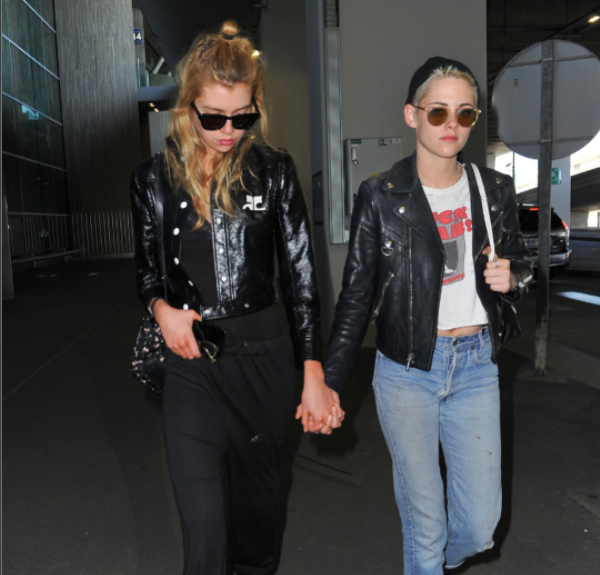 Kristen Stewart and Stella Maxwell have reached quite a few relationship milestones lately. Maxwell has moved into Stewart's Loz Feliz home, and they're traveling around for each other's work.
While Maxwell ventured to New Orleans a few times to visit Stewart on set, as the former Twilight actress is there filming Underwater, and Stewart has been in attendance at Maxwell's runway shows. Indeed, at the Moschino show in Los Angeles, which Maxwell opened, the pair were actual #couplegoals, pretty much turning the entire prepping process into their own backstage date. Stewart, who is a Chanel brand ambassador, hung out with Maxwell while she was being made up and chatted with the other Moschino models. The pair ended the night by leaving the show in coordinating denim ensembles.
The ultimate cool girl couple are sticking with that whole matching aesthetic vibe, as they venture around Paris together. The Victoria's Secret model and the actress landed at Charles de Gaulle on Tuesday, both in airport chic outfits of motorcycle style jackets and black patent leather shoes. They even arrived at their hotel in coordinating denim outfits.
Stewart and Maxwell reportedly dined at famed Paris restaurant Caviar Kaspia, known for it's decadent menu and signature baked potato topped with caviar—Stewart was wearing pretty much the same light jeans and tee she sported at the airport, while Maxwell also wore jeans, though with a crop top and a leopard coat.
After dinner, the duo went out, stopping at La Mécanique Ondulatoire, a "retro chic" bar located in the Bastille area on Passage Thiéré, where they hung out inside with friends before heading back to their hotel. They were spotted at Orly airport earlier today, and it seems like they're even sharing clothing—Maxwell was wearing a leather jacket that looks pretty identical to the one Stewart was wearing when they arrived, while Stewart sported a navy Lacoste jacket.
We wonder where they're going next, and if any photos will pop up on, say, Maxwell's Instagram from their short trip. Perhaps they'll go the route of their Nola adventure, with Stewart and Maxwell hanging out the sides of a black SUV while Stewart snapped photos of her model girlfriend, or maybe a more traditional option, like a casual photoshoot in the front of the Eiffel Tower à la the Duke and Duchess of Cambridge and also Jennifer Aniston and Justin Theroux. Apparently, posing in front of French monuments is no longer just for lifestyle bloggers and tourists.