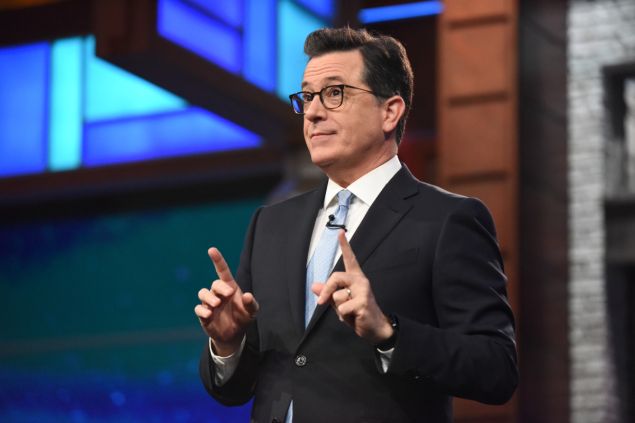 Last month, a lewd joke about President Trump inspired a #FireColbert campaign. But, the tactic may have actually had the opposite effect, propelling the show to reach even higher ratings.
Some 2.8 million people were watching The Late Show With Stephen Colbert the night Colbert cracked a joke that implied Trump was taking part in a sexual act with Russian President Vladimir Putin. An online backlash followed, with some people calling on CBS to fire him. But Colbert has rebounded with more viewers and has been posting big wins in the battle for late night viewers.
At a recent For Your Consideration Emmy campaign event, Chris Licht, Executive Producer of The Late Show, explained the challenges faced by the series.
Licht, who comes from a news background, having had recent success at the helm of CBS' morning news program, admitted that he didn't know everything that went into producing a late night series. "I really underestimated the art that goes into creating comedy. In news, you just report what you see. [There's an art to] watching something, like the conventions, and then being able to turn around a monologue in 45 minutes without being able to rehearse it. We have an incredible team of writers who have perfected that."
As an example, he said, "Just a few weeks ago, we taped a monologue it was great, we were all finished and then we were like, 'ahhh James Comey just got fired.' While we taped the second half of the show, the writers started re-writing the open. Then, we came back out after and did a new top of the show with material Stephen had never seen."
Speaking about how the team coped on election night, when things didn't turn out as they had anticipated, Licht said, "Well, Stephen doesn't wear an [earpiece] and I come from news where you can get in the anchors ears and tell them things. I really didn't have a chance to say things to him but during the musical act I called him over said, 'this audience is not in the mood to laugh and we have a good amount of show left.' We made adjustments right there. It was the best show I ever produced and the worst show I ever produced."
With a slight laugh he added, "We did prepare some very funny things for that night that unfortunately the world will never see. There was a great parody that will never see the light of day."
Licht wasn't shy when discussing Colbert's early troubles adapting to his new role, "When I got there Stephen was running everything. My presence allowed him to be able to focus more on himself. Prior to this, he'd always been a character on TV. He'd never been himself and he was now able to figure that out. I removed things in his life that got in the way of that."
He went on to say about his host, "Stephen takes this all extremely seriously. You don't see him doing a lot of other things because this is his focus. It makes my job easier because you can sit him down and let him know what's working and what's not working.
Talking about how the ever-changing political climate affects the series, Licht said, "Stephen has this competitive drive, and so do the writers, where you don't want to leave a joke on the table. When we first started, we'd say, 'we haven't had a chance to fully form this, let's let it percolate until tomorrow,' and now you just don't have that luxury anymore. It's almost like a breaking news situation."
Licht admitted that The Late Show team has been celebrating their weekly ratings wins with a pizza party provided by Colbert. He says that he knew the show was doing well when the anonymous comments box he set up started to fill up with rather curious suggestions. "You know that your [win] streak is beyond your wildest expectations when you start getting notes saying,  'could we have some other healthy choices [in addition to the pizza]?' I was like, 'no, the pizza has become a metaphor, and this is a competitive landscape, and this is not going to last forever'."
Hoping to continue to grow the audience for The Late Show With Stephen Colbert, Licht says, "It's a smart [show] because when we do a joke we have a fact checker. We want whatever we do to be fact-based. We don't shy away from stuff." He added, "We can be a place where you get information with entertainment. We are allowed to say things that news outlets can't. [When I worked in news], I know that sometimes we would say, 'I wish we could say this,' and now we can. It's nice to see the audience respond to what we're doing and we plan to continue to do it."
The Late Show With Stephen Colbert airs weeknights at 11:35 p.m. et/pt on CBS.