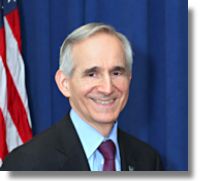 Robert Laurino will again serve as acting Essex County prosecutor after the state Senate confirmed Carolyn Murray to Superior Court this week, putting Laurino in charge of the state's busiest prosecutor's office for the second time.
Laurino, who previously served as acting prosecutor from January 2010 to February 2011, was sworn in Tuesday morning to replace Murray, Attorney General Christopher Porrino announced. Laurino has been a member of the Essex County Prosecutor's Office since 1980, most recently serving as first assistant prosecutor.
Murray, who has been acting prosecutor since February 2011, was confirmed to Superior Court on Monday by the state Senate. Before becoming acting prosecutor, she was counsel to former state Attorney General Paula Dow and worked as an assistant prosecutor and counsel in the Essex County Prosecutor's Office. Gov. Chris Christie nominated Murray for the Superior Court on May 9.
Laurino has served in every administrative position within the Essex County Prosecutor's Office, has completed over 100 jury trials and handled thousands of cases involving sexual violence, according to a news release from the Office of the Attorney General. He was previously named acting prosecutor in 2010 when Christie tapped Dow to be acting Attorney General.
"As Acting Essex County Prosecutor, Bob Laurino will oversee an extremely busy office," Porrino said in a statement.  "He has an outstanding track record of leadership and a wealth of experience that will enable him to effectively oversee prosecution of the most challenging cases, ensure that victims are treated with compassion, and engage the community to support an environment of safety."
Laurino has served as a faculty member for the National District Attorneys Association, the New Jersey Attorney General's Advocacy Institute, the New York Prosecutors Training Institute and AEquitas: The Prosecutors' Resource on Violence Against Women, the news release said. He also delivers lectures for the New Jersey Institute for Continuing Legal Education on criminal law matters.
"I want to thank the governor and attorney general for the confidence they placed in me by allowing me to serve as acting Essex County prosecutor," Laurino said in a statement. "It has been a honor to have worked beside former Acting Prosecutor Carolyn Murray over the past six years, and I know that she will be an outstanding jurist. I look forward to continuing to serve all the people of Essex County through the administration of fair and impartial justice, and to assist those individuals who were the unfortunate victims of crime in rebuilding their lives."
Laurino received a master's degree from Rutgers University and graduated from Seton Hall University School of Law.