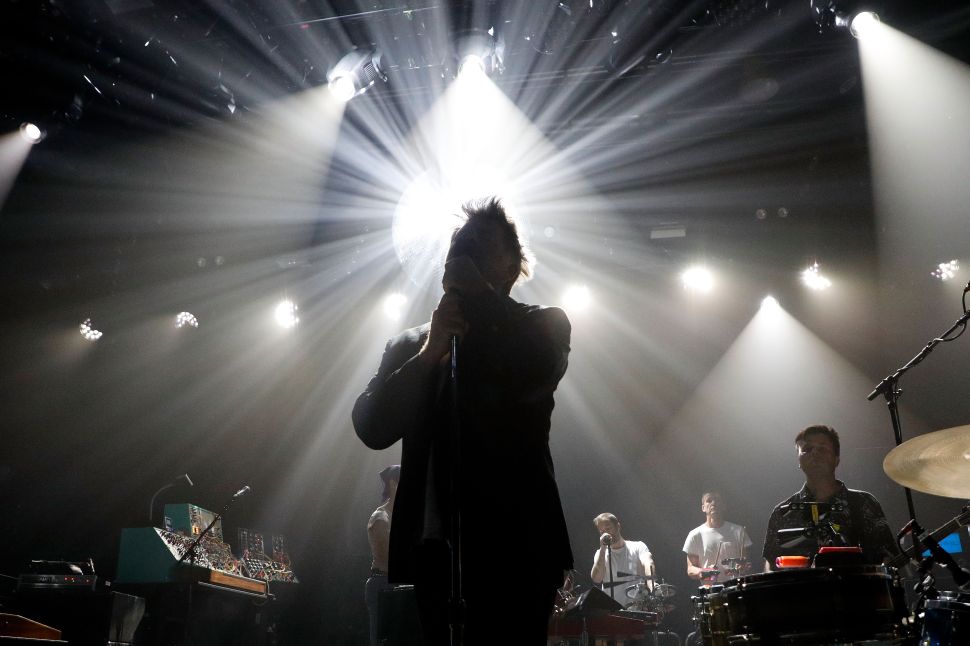 LCD Soundsystem broke up in 2011 after just a few years and a few albums. Their last tour, at Madison Square Garden, sparked a ticket-buying Tulipmania with fans desperate to see singer James Murphy and his posse perform their glorious blend of electronica sound and rueful, emo lyrics.
After reuniting last year, the band released two new songs in May 2017, including the incandescent "Call the Police." They debuted the songs during their residency at Brooklyn Steel, where they performed this week and will return to perform again in December. The venue is endearingly and predictably cool, with poured concrete floors and signs imploring guests to "be in the moment." Murphy himself asked fans several times during the show to stop using their phones; a funny request from a singer on a stage crowded with synthesizers, strobe lights and sound machines.
Delayed a bit by the opening DJ, the band came on a few minutes late and launched immediately into a blistering version of "Call the Police," their first single from the upcoming "American Dream" album. They were so great—the song is so great—that all the ticket-buying frenzy back in 2011 suddenly made perfect sense. Murphy owns the stage, fiddling with machines, testing drums, introducing the band members in the sweetest Brian Wilson-style voice. Despite the huge sound LCD produces, the small stage at Brooklyn Steel is a perfect marriage for the band. At one point, there seemed to be eight people on stage, all producing a dazzling blend of light and sound.
They played many favorites, with Nancy Whang adding a lovely touch to "Someone Great" and a show-stopping (literally) version of "New York I Love You, But You're Bringing Me Down." The band took a short break, Murphy thanked fans for "giving us a job," and gently explained he would play four songs we didn't know, and two that we would. The new material sounded fantastic, a delightful pastiche of David Bowie's electronic era, Phil Spector, and a dash of Morrissey.
Next up was a phenomenal version of "Dance Yrself Clean," a cacophony of sound. The show ended with an astonishing version of "All My Friends," and the hipsters and cool kids and suburban fans and drunk girls and too-tall bearded dudes all erupted into singing along. This was the New York the band pined for in their signature song.