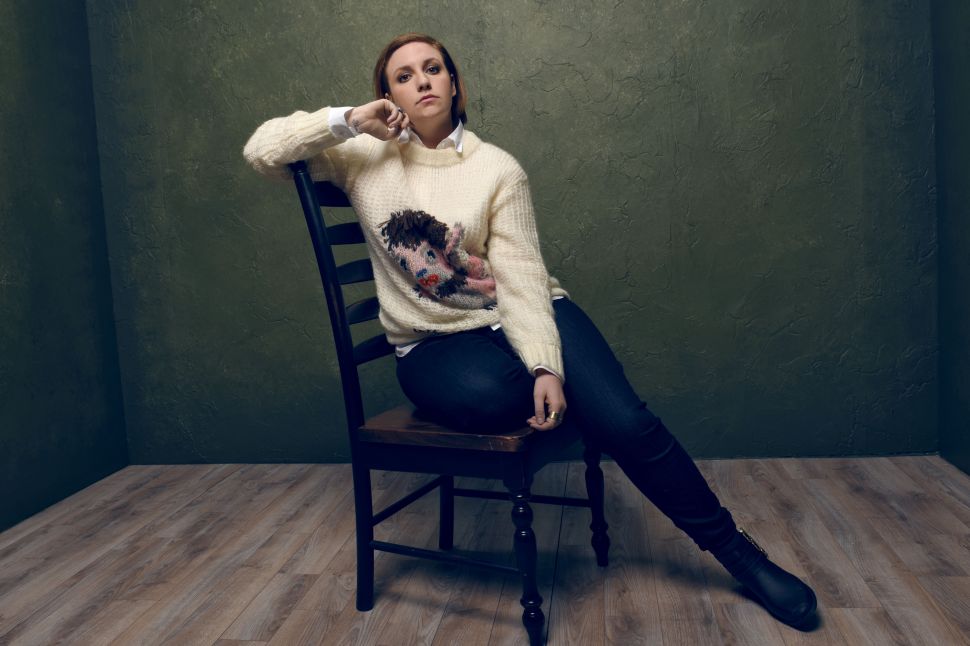 Here is a sampling of comments about Lena Dunham on social media:
"Just a daily reminder that Lena Dunham is a child molester."
"Why is Lena Dunham in this picture? That sexist-rapist pig is not funny."
"Hey, can Lena Dunham and her trans-exclusionary, racist white feminism plz go to a deserted island and leave us all alone?
Dunham is certainly a successful actress and director, but she's also one of the most hated female celebrities on the planet. Like Gwyneth Paltrow, Katy Perry, and other left-wing celebrities, the Girls star is hated by both the far right and the far left. From reading comments on the Internet about Dunham, one would think that she kills puppies for a living.
Like Gwyneth and Katy, the hatred against Dunham is unwarranted for the most part and says a lot more about us than it says about her. That doesn't mean Dunham shouldn't be immune to criticism. In fact, some of her recent controversies really fit the "Dunham Monster" stereotype.
For example, Dunham's comments about abortion might have been blown out of proportion, but were certainly puzzling. As the Daily Beast reported, Dunham informed her podcast audience that she wishes she had an abortion so she could do her part to reduce stigma around the issue. The comment made Dunham a left-wing parody more than it made her a left-wing activist. Dunham had good intentions but failed to realize that pro-choicers, for the most part, don't glamorize abortion. They simply believe a woman should be able to make the decision by herself.
A couple months earlier, Dunham zoomed to her Lenny Letter blog to criticize wide receiver Odell Beckham Jr. for allegedly giving her the cold shoulder at the 2016 Met Gala.
"I was sitting next to Odell Beckham Jr., and it was so amazing because it was like he looked at me and he determined I was not the shape of a woman by his standards. He was like, 'That's a marshmallow. That's a child. That's a dog.' It wasn't mean—he just seemed confused," Dunham revealed, which led to a huge backlash.
The statement, which the perpetually outraged blew way out of proportion, led to arguments about racism, white privilege and other social issues. While it wasn't right to call Dunham racist, her statement was certainly ignorant and condescending. How did Dunham know what Beckham Jr. thought of her—if he even thought of her at all?
Perhaps Dunham's biggest faux pas came when she published her book Not That Kind of Girl. It's not apparent what type of girl she was talking about when revealing an event with her sister.
"One day, as I sat in our driveway in Long Island playing with blocks and buckets, my curiosity got the best of me. Grace [her younger sister] was sitting up, babbling and smiling, and I leaned down between her legs and carefully spread open her vagina. She didn't resist and when I saw what was inside I shrieked," Dunham reveals.
Dunham was seven at the time, and her sister was much younger. The story doesn't sound as scandalous as the right-wing press made it out to be. They did point out, rightfully so, that if a right-wing celebrity said the same thing, the mainstream press would call for their heads on a silver platter. Both Dunham and her sister said the allegations of child abuse or molestation were absurd. Still, even Dunham's defenders were left scratching their heads.
Lena Dunham has made a career out of making people scratch their heads, and it has usually been for a good reason. Her recently ended show Girls spent years flaunting out-of-shape bodies, unabashed nudity, graphic sexuality, and other taboos that even Sex in the City didn't dare to touch. Dunham's constant flaunting of her imperfect body empowered many women to accept their imperfections.
Besides her character Hannah Horvath, Dunham created unconventional characters who many could identify with. There was her on-and-off-again boyfriend Adam Sackler (Adam Driver), who was sex-obsessed, a former alcoholic and a manic depressive. He was supposed to be appalling but ends up somewhat likeable. There's also Hannah's spoiled friend Shoshana who starts the show off as an innocent virgin in her early 20s and is soon doing crack and sleeping with multiple partners. Dunham created these flawed characters and others to make statements that end up, for the most part, being about empowerment.
As a writer, director, and actress of one of the most important television shows this decade, one would think Dunham would command at least a little respect. Then, there is also Lena Dunham the activist. Though she is often an enemy of the SJW crowd, Dunham has brought awareness to many important causes, including sexual assault, mental illness, and she has raised awareness for reproductive rights without condemning people who are pro-life.
However, Dunham is in danger of making a parody of these issues with statements that show no sense of self-awareness. But Dunham, unlike other celebrities who make a faux pas, isn't afraid to apologize when she screws up. Lena Dunham isn't perfect, and that's part of her appeal.
It's easy to dislike Dunham. However, those who ridicule the star need to take a look in the mirror and ask why Dunham threatens them so much. What have they accomplished with their lives? Have they even tried anything? Lena Dunham doesn't always hit the jackpot with her efforts, but at least she isn't afraid to try.
Daryl Deino is a writer, actor and civil rights activist who has appeared on shows such as The Untouchables, Parks and Recreation and Two Broke Girls. Besides writing for Observer, he has also written extensively about technology, entertainment and social issues for sites such as the Huffington Post, Yahoo News, Inquisitr and IreTron. Follow him on Twitter: @ddeino.