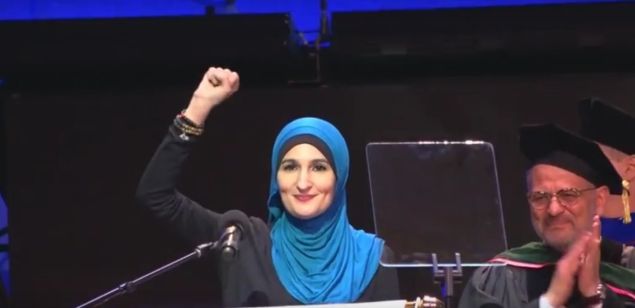 Palestinian-American activist Linda Sarsour—among the organizers of the Women's March—used her contentious speech at a City University of New York graduation ceremony to urge the audience to embrace activism rather than live as "bystanders" to the debates of our time.
In the weeks since the Graduate School of Public Health and Health Policy announced Sarsour would give the keynote address at last night's event, a number of conservative politicians—including Staten Island Assemblyman Ronald Castorina and Brooklyn Assemblyman Dov Hikind—objected, highlighting past her denunciations of Israel, Twitter attacks on apostate writer Ayaan Hirsi Ali and her defenses of Islamic shariah law. A number of liberal elected officials and activists rose to her defense, and a protest late last month over the oration ended in violent clashes between the two factions.
Dr. Lyndon Haviland, chair of the dean's external advisory panel, acknowledged the furor in her introduction of Sarsour.
"We believe Linda is an important voice calling for improvements in public health and social justice," Haviland said from the podium of the Apollo Theater in Harlem. "Her selection has given us as faculty, students and as members of the CUNY community, an important opportunity to reflect on free speech and academic freedom."
The marquee speaker also referenced the tensions before launching into the main theme of her address.
"We made it. I made it here. And you already know, it's been a more than memorable and eventful experience for me," she said. "And I'm still standing, and still unapologetically Palestinian-American, Muslim-American and from Brooklyn, New York."
Sarsour dedicated the speech to Taliesin Myrddin Namkai-Meche and Ricky John Best, stabbed to death by a white supremacist on a Portland commuter train last month after they interrupted his harassment of a pair of Muslim teens—and to Micah Fletcher, who stepped in and survived. She contrasted these men with the "silent majority" who decline to act against hate and discrimination, or to engage with social issues.
"We made a decision that we will never be bystanders," she said. "We in this room together must commit to never being bystanders to poverty, lack of jobs and healthcare, sexism and violence, discrimination, racism, xenophobia, Islamaphobia, anti-Semitism and homophobia."
She outlined a litany of issues that she argued the graduating class must address: police brutality, the deportation of undocumented immigrants, violence against sexual minorities the harassment and assault of Muslims and the "modern-day slavery" of mass incarceration. The Women's March, with its diverse leadership, supplied a model for how liberals can "organize intersectionally and holistically," Sarsour asserted.
"We will stand up. We will speak truth to power, no matter the consequences. We will demand change," she said. "We will center those most directly impacted, because they and we who are closest to the pain are also closest to the solution."
The speech never named Trump directly, but alluded repeatedly to his rhetoric and policies.
"In the age of alternative facts and fake news and emboldened racism and xenophobia, we cannot be silent. We cannot allow the voices of hate and divisiveness to be louder than the voices of solidarity and love," Sarsour said. "We must stand together united in solidarity against the targeting, demonization and vilification of any group of people. We must intervene. We must protect one another. We must stay righteously outraged. We must never feel despair or complacency or submit to the idea that this is just how it is."
"It is we who make America great," she concluded, to a standing ovation.
First Lady Chirlane McCray and Dr. Mary Bassett, director of the Department of Health, also spoke.