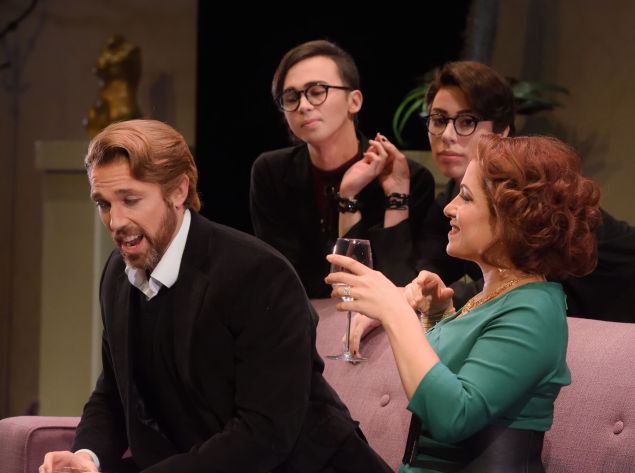 As lyricist Hal David once ruefully observed, "What do you get when you fall in love? / You only get lies and pain and sorrow." And so it is my sad duty to announce at least a temporary rift in my love affair with LoftOpera following the spunky outer-borough troupe's odd mashup of Pergolesi and Vivaldi heavy on the pain and sorrow but short on quality.
The centerpiece of LoftOpera's (barely an hour) Pergolesi and Vivaldi is Giovanni Battista Pergolesi's 1736 setting of "Stabat Mater," a Catholic hymn to Jesus's mother Mary portraying her suffering during the crucifixion. Preceding were a group of numbers by Antonio Vivaldi with texts touching on the subject of grief.
Director John de los Santos set these pieces in a secular context, depicting the angst of a 30-something couple mourning the death of a child. The characters, as played soprano Heather Buck and countertenor Randall Scotting, futilely attempted to make love and then endured a tense dinner. Finally Buck, an astonishing actress with the face of the young Katharine Hepburn, literally climbed the wall, striking a cruciform pose high atop scaffolding while a black-draped Scotting fell to his knees weeping.
This dramatic approach is certainly a valid idea, and it might have played more impressively had not de los Santos cluttered the playing area of The Muse in Bushwick with a quartet of dancers in gold lamé leotards and hot pink chiffon drapery. The effect was jarring, as if Ingmar Bergman's Scenes from a Marriage were being performed by the Solid Gold Dancers.
Musically things were not quite so precarious. Buck's shiny soprano landed best in legato passages and Scotting's soft-grained voice sounded properly comforting even as he struggled here and there with tuning. That the strings could stay in tune at all on a humidity-drenched Saturday night was miracle enough to forgive a few odd balances and lapses in ensemble in Brian Gilling's chamber orchestra.
The climate and practically every other element were far more controlled at Three Way, a co-presentation of BAM and American Opera projects that finished its run Sunday in an overly air-conditioned Fishman Space. This trilogy with music by Robert Paterson and libretto by David Cote tells of a yuppie dissatisfied with her sex robot, a dominatrix and her recalcitrant client and finally what I guess was supposed to be a life-affirming farce about a suburban orgy.
The middle piece found both creators at their best, with Paterson ratcheting up the tension à la Bernard Hermann and Cote tossing off epigrammatic couplets like "Ritual humiliation / Is sweeping the nation." Elsewhere the composer seemed to be playing it safe with audience-friendly arias complete with button endings, and even the witty and perceptive libretto by Cote bogged down here and there in forced rhymes, sounding like PG-13 rated Dr. Seuss.
The production designed by Randy Williams and directed by John Hoomes made sleek and unfussy use of projections, but that boner-killing Ikea loveseat that showed up in two of the operas needs to be junked. Dean Williams, conducting from a seat on the front row, proved equally adept at the score's minimalist and faux-jazzy moments, though to my ears the whole show felt just a hair slow. (You could hear the jokes coming eight bars in advance, particularly in an excruciating "Viagra" aria for baritone Wes Mason.
On the other hand, this did seem relaxed and game and he sang consistently in tune, which is more than I can say about the rest of the hard-working cast. I'm not sure why singers doing new music so often go "off the voice," but somebody needs to put an end to the practice.
In an ideal world, the next piece by Paterson and Cote would be taken up by LoftOpera, grinding a little much-needed grit into an overly-manicured work.