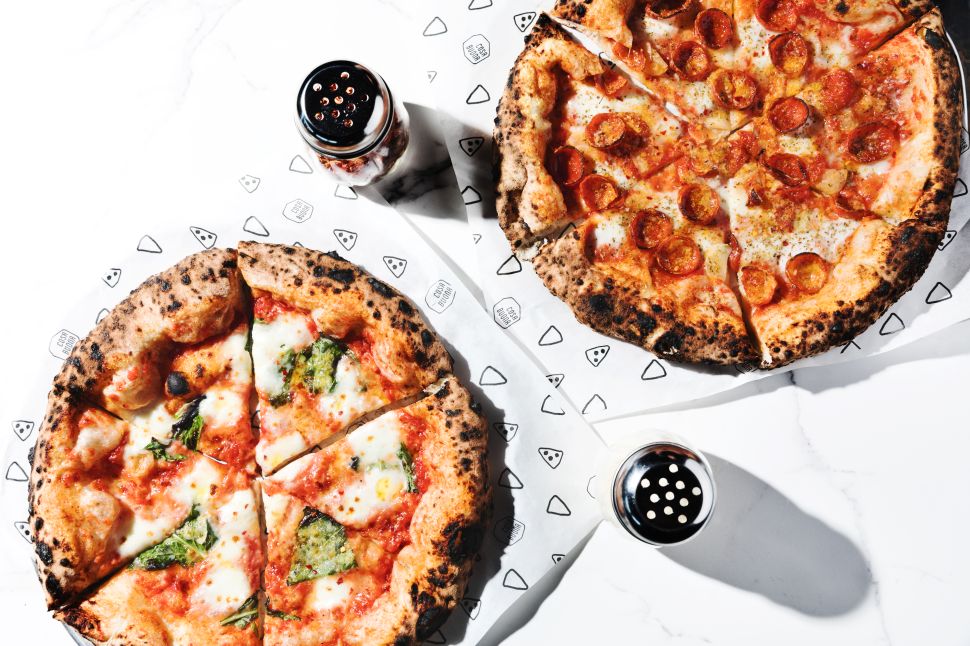 On one hand, you could call Cosa Buona, which opened last week in Echo Park, a low-key neighborhood pizza joint. On the other hand, this is a pizza joint from chef Zach Pollack, who opened Sotto with Steve Samson and then created Alimento.
Sotto and Alimento are, of course, two of L.A.'s most ambitious and respected Italian restaurants, beloved by both local and national critics for their creativity and consistency. Both Sotto and Alimento have menus that showcase pasta, but Pollack is dialing things down at Cosa Buona as he focuses on elevating Italian-American classics.
The only pasta he has at Cosa Buona is a pasta salad loaded with broccolini, herbs, leeks and ricotta salata. There are margherita, marinara, sausage, pepperoni and Hawaiian pizzas, as well as a mushroom pizza with cremini and maitake mushrooms we enjoyed.
This is a family-friendly Italian-American restaurant (there were three groups with toddlers when we visited on Saturday evening of the Memorial Day weekend), so you should bet it on all red sauce. Pollack has smoky mozzarella sticks with marinara. There are meatballs with burrata and marinara. Cosa Buona serves eggplant parm and, best of all, a double-decker chicken parm sandwich with prosciutto.
I'm hoping that Pollack and his crew devote some time to spaghetti at Cosa Buona in the future, because a side of marinara pasta would make this an even more satisfying family-friendly Italian-American restaurant.
If you, like me, are one of the many Brooklyn transplants eating all over L.A., you've probably noticed that good Italian-American food in a family-friendly setting is hard to find. Jon & Vinny's is doing a nice job with its pizzas and pastas, but it's a bit on the pricey side to be a regular family hangout. (Jon & Vinny's charges $23.25 for its chicken parm entree. Cosa Buona's similarly substantial chicken parm sandwich is $11.) Chef Bruce Kalman's Knead has tremendous Sunday gravy over spaghetti, but it's in Grand Central Market, which is a crowded place where it's difficult to enjoy a relaxing meal with your children.
Cosa Buona, meanwhile, feels like a place you can take your family again and again and a place that should do brisk takeout and delivery business in Echo Park. Pollack wants to give you nostalgic comfort, so he serves chicken wings with his own hot sauce (which he calls Zach's Red Hot, of course). He's got Caesar salad and fried calamari.
It's cool to see Pollack go this route. So many other chefs with a pedigree are creating expensive blockbuster restaurants and/or going fast-casual. This is neither. Cosa Buona is a place where you can pair garlic bread, clams and peel-and-eat shrimp scampi with biodynamic wines. It's a place where an L.A.-born chef who cooked in Italy is paying tribute to old-school Italian-American spots that serve pizzas on red-checkered tablecloths. It's both modern and familiar, and that's the point.