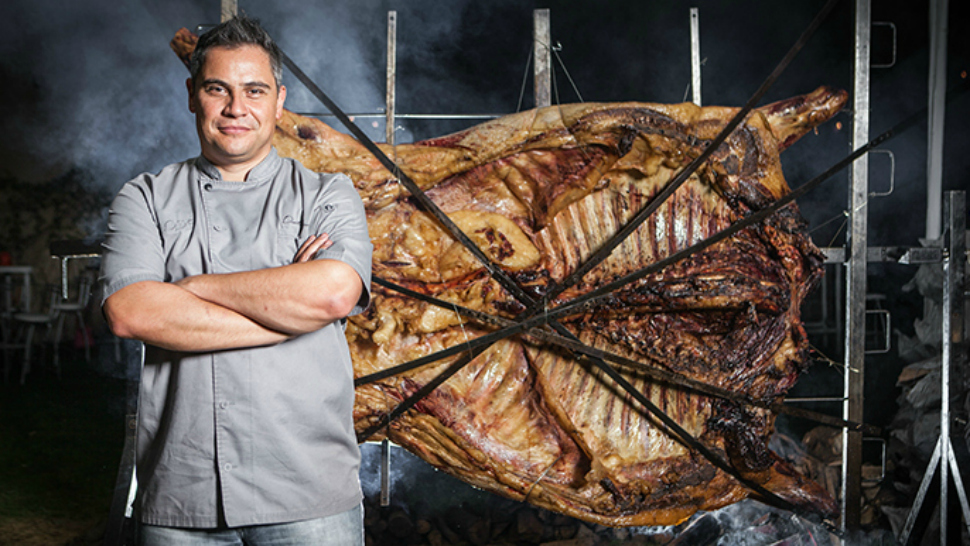 It's the summer of outrageous food events in L.A. Here are four reasons to mark your calendar now.
June 10: LA Food Fest / Nuevo Gastropub 
Dante Ferrero, an Argentine chef who cooks in Mexico, celebrates open-fire whole-animal cooking in the most over-the-top and primal way. The man who's known for roasting entire 1,000-pound cows will bring his massive custom asado setup to the LA Food Fest at the Coliseum, where he will grill a cow, two goats and two pigs overnight.
Then chefs including Mexico's Matteo Salas, Paul Bentley, Olivier Deboise, Paco Ruano, Tomas Bermudez and Oso Campos will prepare dishes with the meats. L.A. will be represented by Diego Hernandez, the Mexican chef who recently opened Verlaine in West Hollywood, as well as Christian Page of Cassell's Hamburgers and Chris Oh of Seoul Sausage and Hanjip.
This meat-sweats-inducing Nuevo Gastropub is just part of a festival that also features food from local favorites like All Flavor No Grease, the Chori-Man, Coni' Seafood, Locol, Pasta Sisters, Starry Kitchen and dozens more. Best of all, one ticket ($65 for general admission or $95 for VIP) gets you all the food and booze (including craft beer and cocktails) you want.
June 12: "Jeremiah Bullfrog Forks It": L.A. Episode
Globetrotting chef Jeremiah Bullfrog went from the kitchens of Noma and El Bulli to opening Miami's GastroPod food truck, so he knows a few things about both refined dining and cooking for the streets. And now the dude who's also known as the personal chef who appeared in a Reebok commercial with his client Rick Ross has a new streaming show. The premise is basically Bullfrog going around the country, eating and doing whatever the hell he wants as he celebrates both his propensity to make elaborate dishes and his desire to pound street food.
The L.A. episode of "Jeremiah Bullfrog Forks It" drops on June 12, and it involves a trip to eat the best shrimp taco in the city at the Mariscos Jaliscos truck and then a silent-disco dinner with food from Bullfrog and beats from his DJ friend Tittsworth (whose new album just dropped). Bullfrog is known for being a boisterous party-starter, so I happily accepted his invite for this dinner. If I appear to be a bit out of it on the show, all I'll say is that Bullfrog might or might not have been pouring weed-infused sake during dinner. Anyway, I seem to remember that everything, especially the hamachi course, was delicious.
June 24-25: Arroyo Seco Weekend
The new Arroyo Seco Weekend festival in Pasadena features a crowd-pleasing music lineup with Tom Petty & The Heartbreakers, Mumford & Sons, Weezer, The Shins, Broken Social Scene, Fitz & The Tantrums and many more. And because this is 2017 and because this festival is brought to you by Goldenvoice (also responsible for Coachella), the food lineup is stacked, too.
A-list chefs like Ray Garcia of Broken Spanish, Ilan Hall of Ramen Hood, Dakota Weiss of Sweetfin Poke, Steve Samson of Sotto and Marcel Vigneron of Wolf will be there, as will Fritzi Coop, The Nomad Truck, Tikifish and three Roy Choi ventures: Kogi, Chego and Locol. There will also be picnic baskets from République​, Barrel & Ashes​, ​Rose Cafe​, Redbird and, for the vegans in the crowd, Crossroads Kitchen.​ Festival passes start at $125. The restaurant-curated picnic baskets start at $100, feed two people and must be pre-ordered.
July 2: Thai Family Picnic at So Long, Hi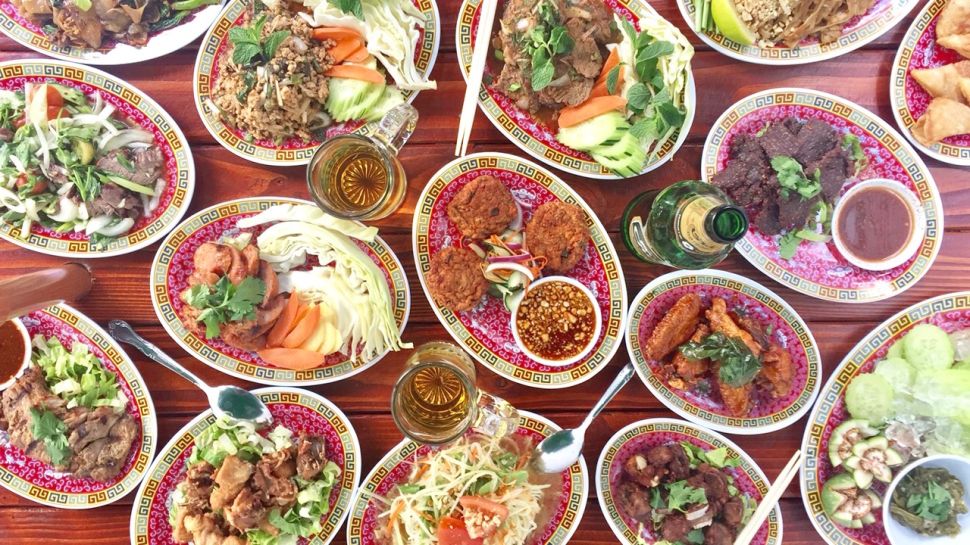 So Long, Hi, the downtown Thai-food wonderland and tropical-themed drinking den from David Tewasart (Sticky Rice, Side Chick, Matcha Matcha, Monkey Bar and the forthcoming RBTA) and Bryan Sharafkhah-Sharp (White Guy Pad Thai), is a great spot for both family-style feasting and chilling out. You come here to pair spicy, funky, umami-bomb food with beer. You come here to linger, to play pool and Connect Four while you pound soju cocktails. You come here because this is one of L.A.'s most satisfying new restaurants of 2017.
So if you're looking for a delicious and relaxed Sunday funday, you'll probably want to check out one of So Long, Hi's monthly Thai Family Picnics. The next one is July 2, and a $25 ticket gets you all-you-can eat food. There's no menu, but So Long, Hi will bring out its greatest hits as well as some more esoteric staff favorites. Expect your patio table to be covered in dishes like beef jerky, wings, larb, noodles, fried rice in a pineapple, whole fish and, for dessert, sticky rice with mango.
Tickets (limited to 50) are available online, at the restaurant or by calling 213-372-5326. Buckets of five Chang beers are $25, so it's easy to get buzzed during your leisurely afternoon. The brunch goes from 1 p.m. to 5 p.m., and Tewasart encourages guests to stay for a few hours, so feel free to hang out and feast and party at your own pace.