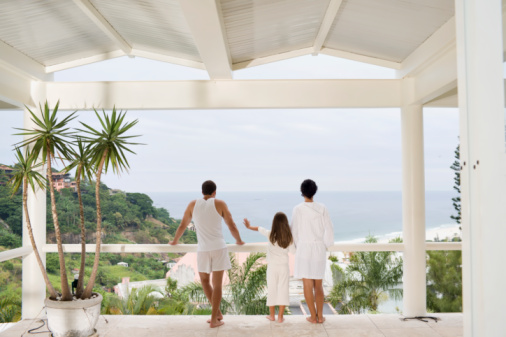 If just considering traveling long haul with small children brings you out in hives, I can't blame you. Even if you survive the journey, more landmines greet you upon arrival. Forget about a chianti-filled dinner in Rome or cocktails at the yacht club – you're busy battling jet lag, foreign-sounding food and missed naps. But if you are brave enough to consider a summer trip with your wee ones, a few chic hotels are popping up to cater to luxury-driven families, both here and abroad. Whether through little gifts, child-friendly menus or massive makeshift playgrounds, these destinations are making it easier than ever to travel "en masse." If you can rustle up the courage, stylish properties await you on the other side – nannies and all.
Pulitzer Amsterdam: From the seedy Red Light District to its, ahem, coffee shop culture, Amsterdam isn't an easy sell as a family friendly destination. But the city offers much in the way of family outings, namely top-class science, art and maritime museums, as well as the Royal Zoo. Now, the city's newest hotel, the Pulitzer, has touched down in the center of Amsterdam's chicest neighborhood and is appealing to families who want to travel well – stroller and all. The hotel provides wee ones with unique gifts, experiences and tours. There are Xbox and board games for those pesky 'tweens. And in the event parents want to have some adult fun, nannies remain on call. The crown jewel of the hotel, however, is a 13,000 square feet garden space that functions as a park-like hideaway. It features four giant swings surrounding hand-carved wooden rocking horses and large garden areas to play. Because whether on holiday or at home, parents with young kids know that a trip to the playground is never far off.
Gallery Hotel Art: With its sunny plazas, impressive art collections and acres of gardens, Florence, Italy is a wonderful city for children. It also offers a vast number of accommodations, so choosing a stylish family-friendly option can dumbfound even the savviest traveler. While the city boasts its share of five-star hotels, families should look to design-driven outposts that are just as chic but feel more pared down. Gallery Hotel Art is a great choice. The 74-room hotel offers a "VIK" program (very important kids), where little ones from ages 4 to 16 can engage in activities to foster their appreciation of art, culture, science and gastronomy. Such outings include a massive treasure hunt through Florence to search for historic coats of arms, hidden portraits of famous artists, special light fixtures and medieval rings, while learning the history behind famous sites. Other tours include a trip to the Bargello Museum, where kids can study important works by Donatello and Michelangelo while engaging in hands-on experiments inspired by Leonardo Da Vinci and Gallileo. Outside the city, they can learn to make pizza in the Tuscan countryside or search for treasures at a medieval farm. And when all else fails, there's always gelato.
Vik Retreats: Perhaps you've heard of Vik – a stunning group of properties throughout South America you figured you'd visit when the kids start sleep-away camp. Why wait? If you can bear the 10-plus hour flight, you'll be greeted with family friendly activities for all types of tots. In the Bohemian beach town of José Ignacio, Estancia Vik, Playa Vik and Bahia Vik invite children to take polo lessons, try kiteboarding and surfing, and enjoy supervised tennis, swimming and biking instruction. Meanwhile, Chile's Viña Vik boasts gorgeous year-round weather and is the supreme outpost to engage in outdoor activities set against the Andes mountains. Kids brave enough to hop a horse can go riding through the vines or shoot their sibling during a rousing game of paintball. More culturally inclined kinder can take cooking lessons. Once mom and dad have finished sunning themselves in peace, the family can back meet up for a traditional Chilean barbecue in the vineyard.
Gurney's Newport: If the good old USA feels like the best bet, between the grandiose gilded-age mansions and the miles of pristine beach, Newport, Rhode Island is a perfect destination for those who appreciate history mixed with nautical enterprises. The latest addition to this seaside gem is the new Gurney's Newport, which opened Memorial weekend and is ripe with elevated amenities for the entire family. Guests of all ages can learn to sail at Gurney's Sailing School or explore the     10-acre grounds through guided expeditions. There are even kids culinary lessons, yoga and meditations. The under-12 set also gets its own pool, to the delight of children and childless adults, alike. Should you attempt some alone time, New York's own Scarpetta is serving up inspired Italian fare in a romantic setting along the water, while the Regent Lounge offers cocktails around a luxe outdoor fire. With 257 rooms and suites, Gurney's is a true resort just a stone's throw from downtown Newport, where trips to the ice cream parlor are sure to thrill any foul-mood toddler.