The companies products are everywhere around the periphery of Mack Weldon's Manhattan office. As visitors walked in, they are greeted by a seasonal display. Right now, the office is emphasizing summer.
Kaitlyn Flannagan for Observer
Visitors are greeted by a waiting area with products on either side and employees working at their open plan desks near the windows.
Kaitlyn Flannagan for Observer
Items on the shelf and and coffee table in the waiting area seem curated to function as a mood board for a modern men's brand.
Kaitlyn Flannagan for Observer
The company doesn't make shoes, but it looks for strategic partnerships with other companies. This photo suggests how its socks might complement a pair of Vans shoes.
Kaitlyn Flannagan for Observer
After success with underwear and socks, the company got into T-shirts shortly thereafter. Today's T-shirt includes anti-microbial additions to the fabric, which helps fend off B.O.
Kaitlyn Flannagan for Observer
Meeting areas are separated off with floor-to-ceiling glass, maintaining that sense of openness startups are known for.
Kaitlyn Flannagan for Observer
There's this eight-minute ad that comedian Paul F. Tompkins improvised about Mack Weldon's socks, T-shirts and underwear on a Comedy Bang Bang podcast live taping. In it, Tompkins introduces himself by saying, "My name is Mack Weldon. I'm the owner and operator, founder, CEO, COO, whatever you want to call it, I do it: Mack Weldon Underwear."
There's a moment deep into the bit when host Scott Aukerman nudges Tompkins to hit another of the points from the company's brief—its free return policy. But Tompkins sees where he's going and jumps in:
"Let me say, 'cuz I mean this," Tompkins says in an inexplicable Texas drawl in a spot made about a New York-based company. "You buy a pair of these underwears, you don't like 'em, you send 'em back. We'll refund your money."
Then Aukerman throws him a curve ball, asking, "What do you do with the underwear that you get back?"
"Here's what we do…" Tompkins answers, and the audience breaks into laughter because they know he has no idea what he's about to say next.
You know who else didn't know what he was going to say next? The show's sponsors, Mack Weldon, but the team has come to realize that it stands to gain far more by letting strong personalities like Tompkins' run wild with their endorsements rather than worrying about controlling every facet of the message. Including the fact that "Mack Weldon" is not the name of either of its founders.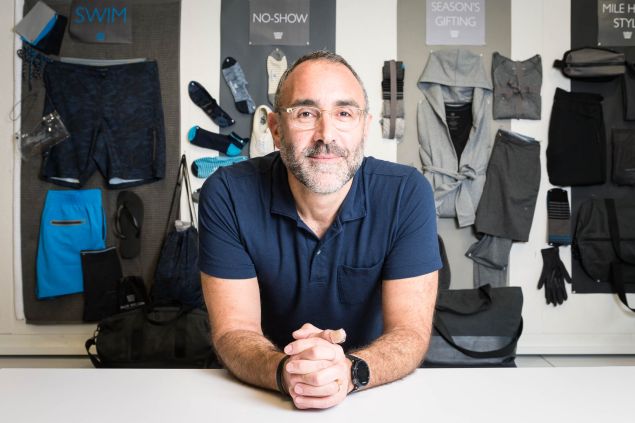 CEO Brian Berger explained this perspective when the Observer sat down with him in the company's NoMad office. Berger founded it with Michael Isaacman, and the CEO cares a lot about his company's conversation with its menswear basics customers, but it's not a comedian running too wild with a podcast spot that makes him worry it could get off message.
His company sticks to basics, in more ways than one. "The one benefit we have in our category," Berger said, "every guy wears what we sell."
Men have been late to e-commerce, but now that they are getting in the sector is healthy. Business Insider estimates that it has been growing every year, up to 8.4 percent of U.S. e-commerce sales in the last quarter of 2016. IBIS World estimates that men's sales online accounted for $17 billion in revenue as of 2016.
'We assumed there would be questions and emails, but we had no idea how intense that would be'
Mack Weldon started in 2011 selling underwear and socks. Now it has t-shirts, sweats, shorts and even swimsuits, but "we have a very specific and a very restrictive approach when it comes to what we make," Berger said.
Mack Weldon sticks to essential, non-seasonal items that aren't trendy. "And we have to make some sort of design or performance innovation," Berger added. That could be the stealth pocket on their sweat pants or a swim fabric designed for fast drying.
Apparel companies that bet on fads and seasons are "always in a situation where you're trying to get rid of stuff" with sales, Berger said. "The minute you have sales, you lose the ability to talk to your customers about anything but how much they're going to save."
That's what Berger worries about.
Even in the company's early days, Berger made space to keep the conversation focused on products, not price. Long before this company, Berger and his wife founded a company that sold a very unique tote bag for yoga, and yoga bags took over their home. Every night they came home and shipped yoga bags.
So before Mack Weldon had even offered a pair of underwear for sale, Berger found a strong shipping partner to get their goods out the door. "We are not in the fulfillment business. It's a really complicated business. It's a really nuanced business," Berger explained. That decision let the young team dive into a different kind of founding grunt work: customer support.
The company launched with a big, slick PR push at the end of summer 2012, and the founders had no way of knowing how big the response would be. It wasn't just orders, but people with really specific questions about what they were offering.
"It was something we didn't really think about, we assumed there would be questions and emails, but we had no idea how intense that would be," Berger said.
He was answering calls at the beach with his kids. Email inboxes were overwhelmed. The website was breaking. Fortunately, though, it could put all its time into responding because Mack Weldon staff didn't have to print shipping labels thanks to their fulfillment partner.
"We never had boxes," Berger said. "I said, 'I do not want to be distracted by this.'"
Today it has one of those modern, colorful, open offices that tech companies are known for, with lots of calming grays and splashes of internet blue. The staff seem busy but not stressed. We didn't ask what they were up to that day, but, based on our conversation with Berger, most of them were probably either directly answering customer questions or strategizing about new messages that would generate even more customer inquiries. The company makes its biggest tech investments in digital marketing, beta testing messages and segmenting its clientele for precise pitches.
"Any company that's worth their salt in the digitally native realm is doing some or all of that themselves, rather than outsourcing," Berger said.
The company started podcasting under an agency's guidance, but the campaign didn't take off until a member of staff took over. When they quit giving hosts really technical briefs and focused on giving talent some underwear and building a relationship, the results were "like 10X," Berger said.
These days, a Mack Weldon spot is most likely to be heard on the shows, Undisclosed, Up and Vanished and Art of Manliness, according to a spokesperson.
But podcasts are just one channel. Berger believes that the way staff think about customer signals sets strong e-commerce brands apart from traditional retail. A digital native company looks at whether a new customer came from Facebook or Google search, whether their first purchase was socks or underwear and how often they click on emails when they vary the messages' frequency.
Learning to think in these terms gets into the bones of people who start at companies like Berger's.
"The reason why Walmart is interested in businesses like Bonobos, the reason Unilever is interested in Dollar Shave Club," Berger said. "I would argue that at least 50 percent of that rationale for those deals is people."
"It really is a DNA thing," he said.