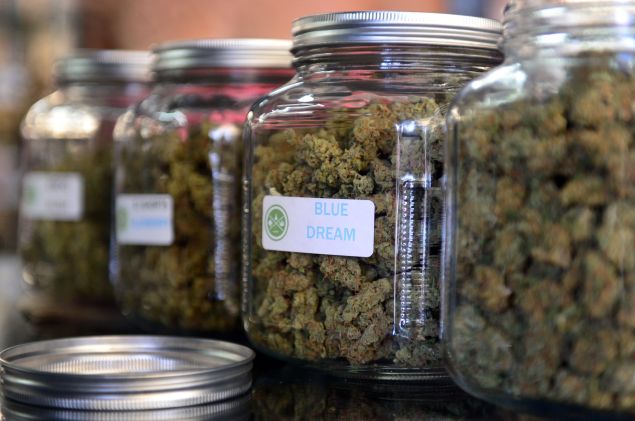 The lead advocate for legalizing recreational marijuana in New Jersey, state Sen. Nick Scutari, will hold a hearing on Monday on a legislative blueprint he introduced in May.
Gov. Chris Christie is a staunch opponent of recreational marijuana use. But Christie's term expires in seven months and Democratic gubernatorial nominee Phil Murphy is a proponent of legalization. The Republican nominee, Lt. Gov. Kim Guadagno, says she supports decriminalizing the drug but not full legalization.
Scutari said the hearing — which will include testimony from industry experts, medical professionals and law enforcement officials — is part of an effort to ensure that the Legislature conducts a thorough review before ushering in any legalization program. The hearing of the Senate Judiciary Committee, which Scutari chairs, is scheduled for 10 a.m. at the legislative annex in Trenton.
"Now is the time to begin shaping New Jersey's recreational marijuana program," Scutari (D-Union), the municipal prosecutor in Linden, said in a statement. "We will have a new governor next year and we should be prepared to move forward with a program that ends the prohibition on marijuana and that treats our residents fairly and humanely."
Under Scutari's bill, New Jersey would allow residents 21 and over to posses up to 1 ounce of marijuana, 16 ounces of infused solid products, or 72 ounces of liquid products.
Taxes on the drug would start at 7 percent until gradually reaching 25 percent over five years.
The revenue generated by recreational marijuana sales in New Jersey is expected to reach $300 million annually, according to estimates by the pro-legalization group New Jersey United for Marijuana Reform. The group also estimates that the criminal justice system will eliminate $127 million in yearly expenses related to marijuana enforcement. A more recent estimate by the American Civil Liberties Union of New Jersey estimates enforcement costs slightly higher, at $143 million a year.
"We know that legalizing marijuana will result in hundreds of millions of dollars in tax revenue, the creation of thousands of jobs and a substantial increase in economic activity," Scutari said. "It will also mean savings for law enforcement, safer streets, and importantly, a fairer way of treating our residents."
Reactions to the initial legislation were mixed with pro-legalization groups like the nonprofit Drug Policy Alliance claiming that Scutari's bill leans too much toward the cannabis industry and does not do enough to help those penalized under current law. Unlike other states' recreational marijuana programs, Scutari's bill does not include a provision for homegrown cannabis.
So far, eight states and the District of Columbia have legalized recreational marijuana but New Jersey's proposal would make it the first state to legalize cannabis without first decriminalizing it, and the first to do so through legislation and not a constitutional amendment.
A report by the ACLU-NJ released Thursday found that the state is making more arrests for marijuana possession than at any other point — one every 22 minutes on average — and that racial disparities in those arrests are at an all-time high.
"New Jersey's arrest practices for marijuana possession illustrate the failure of marijuana enforcement," the report says. "They have a devastating impact of aggressive, costly, racially disparate punishment for use of a drug that for adults is less dangerous than alcohol."
While recreational marijuana use is illegal under current New Jersey law, the state has had a medical marijuana program since 2010. Scutari's bill would repeal the tax on medical marijuana.