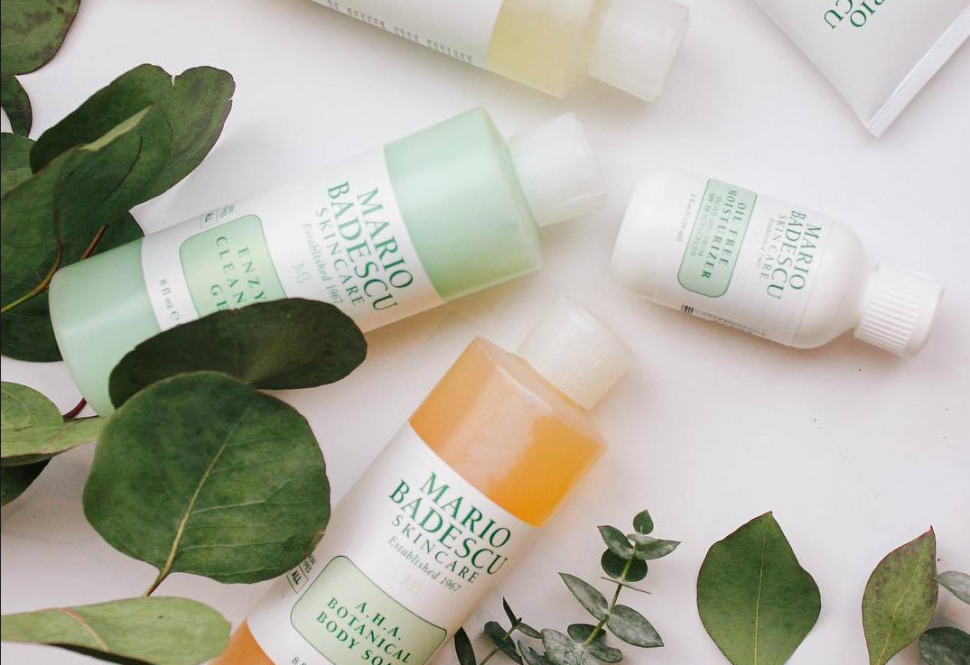 I get emails about a lot of skincare brands, but by far the most distressed, upset notes I get are from people who just tried a Mario Badescu product and are freaking out about their skin going nuts as a result.
The plainly packaged line markets itself as a "botanical" brand by an unseen facialist from Romania who founded the company in 1967. It is distributed in hip stores like Urban Outfitters and Anthropologie and has managed to get a fair share of celebrity and social media endorsements over the years.
But mommy bloggers and reality TV stars aren't exactly beauty experts. Caroline Hirons, who actually is one, has been conspicuously silent about Mario Badescu on her highly trafficked skincare blog. Her only comment after nearly a decade of blogging has been that she is "not a huge fan."
Hirons is popular, in part, because she keeps it real when discussing products. But she also doesn't go looking to pick fights with brands. Still, I had to ask why she has so studiously avoided reviewing anything from Mario Badescu on her site's hallowed pages.
"I think it's cheap product in the cheapest packaging marketed very well," Hirons replied from her base in London. "And it's been around a long time. For some reason beauty editors sang its praises and that has stuck. Great for them, not so great for the people that have bought into the hype and have been left disappointed."
"Disappointed" is an understatement. The number of panicked messages I get from readers reporting dry, itchy, red, irritated, broken out skin after using Mario Badescu is significant enough to constitute a trend. Considering this is a brand claiming to use only "simple, gentle, fresh-botanical-based ingredients," it is even more disquieting.
Mario Badescu has already been hit with legal repercussions for the excruciating, disfiguring results of some of its formulations. In 2013, the brand settled a class action lawsuit brought against it for failing to disclose the inclusion of strong steroids in at least two of their products. The steroids, hydrocrotisone and triamcinolone acetonide, can trigger enlarged capillaries and dermatological misery, including skin atrophy. This is where the skin becomes so thin that it easily perforates, leading to infection, diseases, fungal growths, rashes and blistered skin that oozes, burns and peels. Of course, this looks as awful as it sounds. Worse, skin atrophy can cause problems with other medical issues; even removing a bandage can rip open the afflicted skin.
The refusal of Mario Badescu to disclose the steroids in its products meant that, when they silently changed the formulation to remove them, customers were slammed with the consequences of topical steroid withdrawal. The entire deceptive operation was discovered when one longtime Mario Badescu fan—who now describes the brand as "a horrible, unethical company"—started suffering severe side effects. When she posted on Amazon about this, others chimed in with the same issues. After comparing notes, the group mobilized to collect data and challenge the brand. One plaintiff, who evangelized Mario Badescu to friends and family for years before suffering injuries due to one (now discontinued) product, says, "To say I am disgusted, shocked, disappointed [and] furious with Mario Badescu for this long-term deception is all a huge understatement…BEWARE. I would not trust ANY Mario Badescu product again, ever."
Since the company settled that lawsuit, what if they have reformed and are totally ethical nowadays? Are their products worth trying?
According to beauty guru and self-proclaimed Cosmetics Cop Paula Begoun, the answer is no. Out of the 60 Mario Badescu products her team reviewed for Beautypedia.com, 55 achieve only one or two stars out of five. Five nabbed three stars, but none made it to four. Phrases like "incredibly irritating" and "no-go" abound in the detailed reviews.
More worrying, Begoun's team found inaccurate assertions about product formulations. "This does not contain any type of AHA, as claimed," Beautypedia notes of the brand's Kiwi Face Scrub. Her examiners were scathing in their audit of Mario Badescu Glycolic Skin Renewal Complex, saying: "Lubragel CG on the ingredient list is a trade name for the film-forming agent glyceryl polymethacrylate (think hairspray)…Why does Badescu ignore FDA and European ingredient regulations? Perhaps he's ashamed of his formulas?"
The products are not the brand's only problem. As noted by Hirons and other industry players, Mario Badescu doesn't seem to invest many pennies in user-friendly packaging. Meanwhile many brands—including cult favorites January Labs and Pixi Beauty—prove you can deliver superb skincare in protective, functional packaging that is both streamlined and easy for customers to use. Mario Badescu's approach seems to be taking the highest possible margins for poor products contained in the flimsiest, cheapest vessels available.
How cheap? Well, the brand has openly used crowdsourcing site 99designs to secure packaging prototypes for as little as $399 each. That seems completely in line with Mario Badescu's track record of cutting corners and costs while pricing products as if they contain great ingredients and are efficacious.
The lesson: Let the beauty buyer beware. Read labels, evaluate claims, do at least a cursory Google search before investing in any brand—and never take skincare advice from a Kardashian.
Jackie Danicki created one of the first and most popular beauty blogs in 2004, and has consulted some of the world's most iconic brands on digital content strategy and innovation. Jackie blogs at http://burnedoutbeauty.com, and you can find her on Twitter, Instagram, and Snapchat as @burnedoutbeauty.