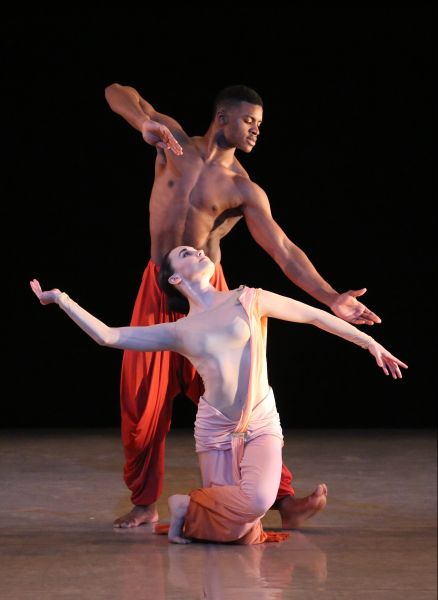 It shouldn't come as much of a surprise that the most interesting choreography I've seen in the last few weeks was by Martha Graham and Merce Cunningham. The competition wasn't intense—Benjamin Millepied, Boris Eifman, a Swedish circus; even Justin Peck's Murder Ballads is far from his best work. The Graham works were presented a couple of weeks ago at Westbeth by, appropriately enough, the Graham 2 company along with some pieces by several men and women from her milieu: Ted Shawn, Pearl Lang, Ethel Winter, Stuart Hodes (an effective solo called Flak, reflecting his World War II experiences in the Air Force, which I'd just read about in his superb memoir, Part Real, Part Dream: Dancing with Martha Graham).
There were excerpts from Graham's Plain of Prayer, which I thought was pretentious back in 1968—I don't do well with Tibetan pieties—and about which I saw no reason to change my mind half a century later. For me, her last first-rate piece was Legend of Judith in 1962 (the same year as her appealing Secular Games, also on this program). It was after that that she began her descent into unconscious parody of herself and on to vacuity and vulgarity. Her arc of self-destructiveness is famous, but we should never forget how great she was when she was great. The "Prelude to Action" section of her 1936 Chronicle and "Stars" and "Moon" from Canticle for Innocent Comedians (1952) proved the point, the first so powerful, the second so enchanting. Why the main Graham company on its regular visit doesn't give us all of Canticle instead of the late Grahams and awful recent commissioned pieces they insist on putting on is beyond my understanding. As far as I know, they last performed Canticle thirty years ago!
Graham 2 is made up of a dozen first-rate dancers, totally committed to what they're doing, which included a very respectable new work by Adam Barruch called The Moon Borrows the Sun's Light. Everything about the Westbeth event was commendable, starting with the wonderful costumes. But most important was the unity of purpose and accomplishment the group and its repertory displayed: Its director, Virginie Mécène, clearly has taste, seriousness, and flair. Of course, she doesn't face the challenges involved in keeping the big company going.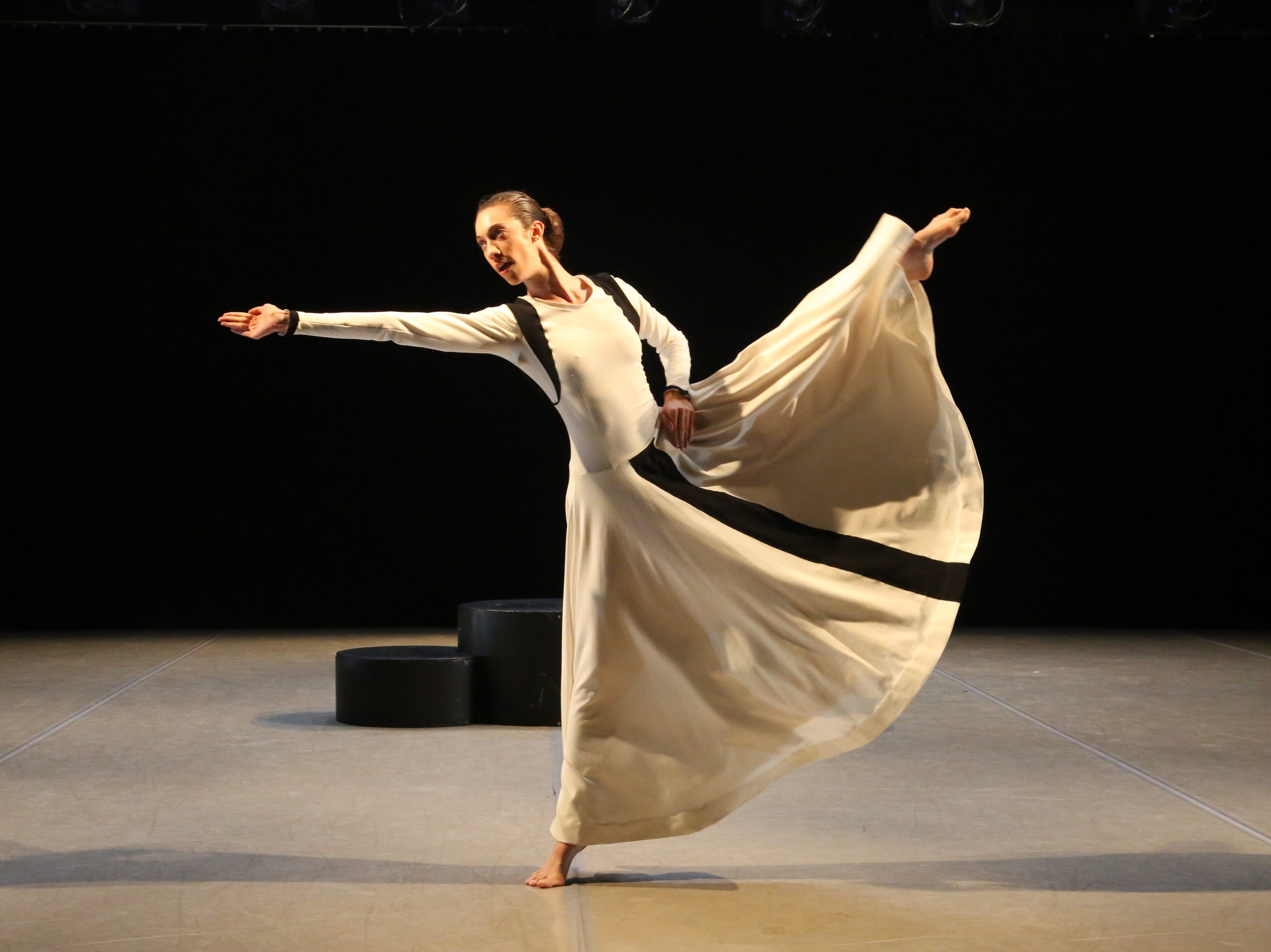 Boris Eifman? There hasn't been a lot of Eifman around recently—and don't think I haven't been counting my blessings. In a moment of madness I allowed my curiosity over what he might do to Tchaikovsky in his aptly named Tchaikovsky to prod me over to the City Center. (At least I had the strength of mind not to revisit his unspeakable Red Giselle, also on offer.) Actually, Eifman's work is called Tchaikovsky. PRO et CONTRA, whatever that's supposed to mean. Eifman is all about suffering, and who ever suffered more than the "creator whose music has guided me for decades and given me creative energy?" If only he hadn't. If you know Eifman's oeuvre you won't be surprised to hear that the prime source of Tchaikovsky's "torment, withering his soul, was the oppressive awareness of his own otherness." Eifman does not dare name the love that dare not speak its name, so I'll name it for him: Pyotr Ilyich had a thing for men!
In this case, the love object is two love objects—the benign Drosselmeyer of The Nutcracker and von Rothbart, the evil magician of Swan Lake—but they're both danced by the same hunk, though with different capes. There are also those pesky things called women, in particular the unrelenting Milyukova, who finally succeeds in marrying him. Alas, like so many other women in her situation, she doesn't succeed in straightening him out. You know the story: he invites death from cholera by drinking a glass of contaminated water. But not before we've been treated to the essential Eifman trope, a good-looking guy stripped to his dance belt. In fact, two good-looking guys stripped to their dance belts. Yes, it's synchronized stripping.
All this would be merely risible (and boring) if not for the abomination performed on Tchaikovsky's music. Eifman, or some other criminal, has stolen bits and pieces of great works and stapled them together into a horrible crazy quilt. Talk about desecration! It would be unfair, though, not to salute Oleg Gabyshev ("Honored Artist of Russia") who wins the lifetime achievement award for stamina: he flings everybody around, including himself, for what seems like a century. He doesn't seem the slightest bit disconcerted, however; like all Eifman dancers, he comes across as a true believer. Let's not puncture his illusions by telling him that he's devoting his life to claptrap.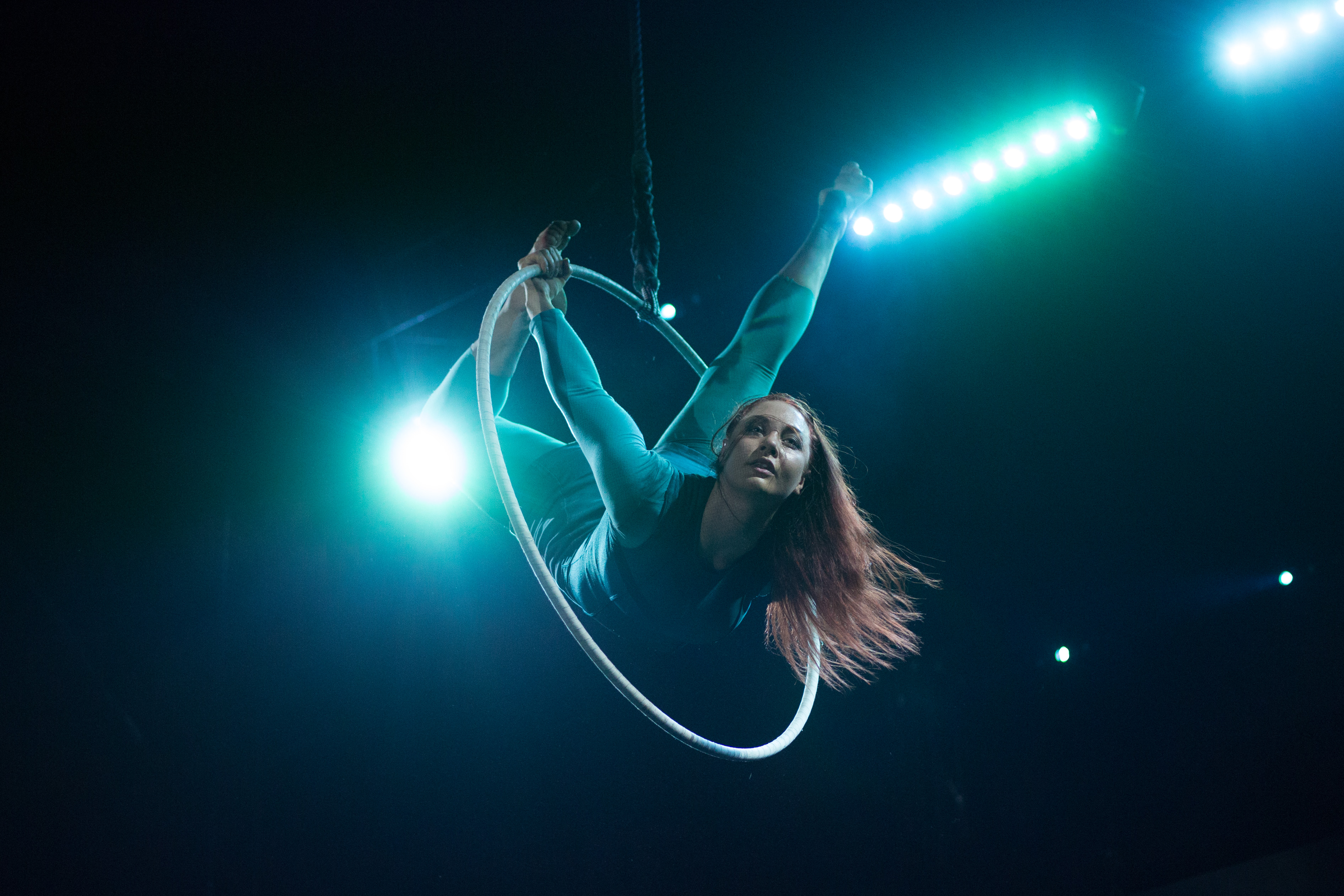 The Circus? Cirkus Cirkor: Limits. It was at BAM a little while ago, fusing its heartfelt compassion for desperate migrants with its juggling, trampolining, and aerial acrobatics. In other words, it was circus with a cause. The trampolining was terrific—up and down a wall bounced and slid some fearless Swedes, perhaps for too long a time. The juggling was okay. The young lady who hung twirling in the air inside a big hoop and did things was a treat. And then at the intermission—after well over an hour—I left.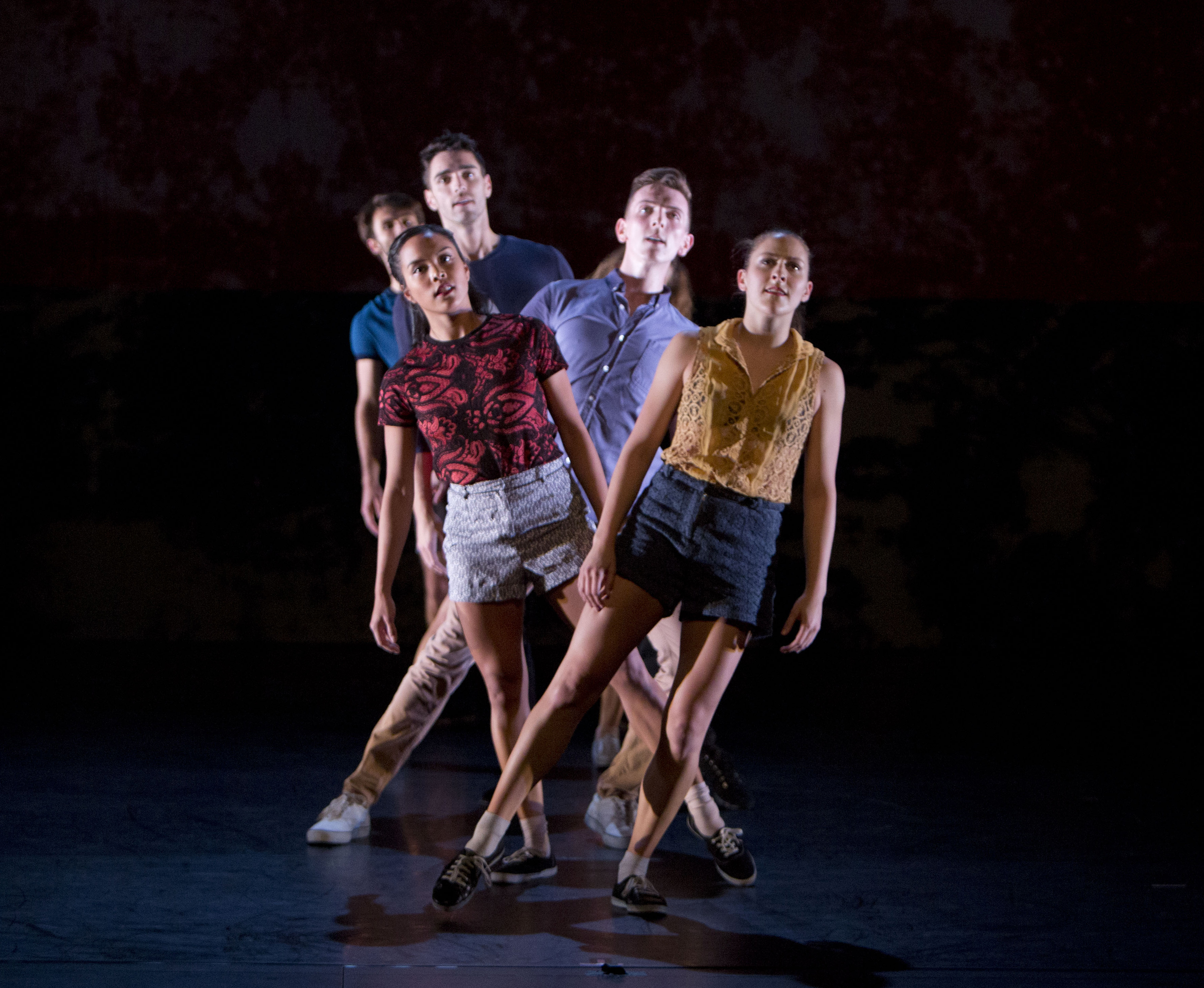 Right now we're in the middle of a two-week season at the Joyce of Benjamin Millepied's L.A. Dance Project. Two programs, six works—three of them by Millepied himself. Alas. He's intrepid, he's got interesting ideas, he's well-funded, but I must have seen a dozen of his works by now, and not one of them is much more than competent. This is a sadness because it's clear how badly he wants to be good.
Up first was Hearts & Arrows, to Philip Glass, which only served to remind us of the brilliance of Twyla Tharp's Glass work, In the Upper Room. Eight dancers, in sneakers, full of beans, but where was the beef? Second up what was meant to be the highlight of the season: two magnificent retired dancers—Janie Taylor and Carla Körbes—now apparently un-retired, in a schmaltzy ballet of sisterhood, In Silence We Speak. It was mostly performed in the dark, all the better to spotlight the glowing white sneakers (the footwear du jour). We were meant to be touched, but at least one of us was very, very bored. Finally, Orpheus Highway, a world premiere to a quartet by Steve Reich (well-played by the PUBLIQuartet). This was an elaborate effort, nine dancers performing against a film of themselves doing more or less what they're doing on stage. Hardly a new trope, and as usual very confusing: When you're watching the film, you can't follow the dancers, and vice-versa. The piece is a take on the Orpheus-Eurydice myth, updated to the American Road. The central dancers, Rachelle Rafailedes and David Adrian Freeland Jr., were utterly compelling, both on stage and on screen; the music was exciting; the action was top speed, non-stop. There was just nothing outstanding about the choreography itself.
New York was given its first look at a Justin Peck work almost four years old, Murder Ballads. Certainly a better piece than the Millepieds, but there was nothing here we haven't seen from Peck before and since. Sterling Ruby's background art—sorry, "Visual Installation"—was quite handsome, though. More sneakers.
I've seen work by Israel's Ohad Naharin that I liked, but his 1996 Yag was an appalling mishmash of trendy Pina-isms. There was lots of utterance from the dancers ("My name is Steffi…"), but most dancers should stick to dancing. The grand climax was the shedding of clothes by one of the guys, who tossed his rejected garments over a screen and then edged around the screen, naked ass toward us, before lying down on the stage, face (and other parts) to the floor. A big plank was placed on top of him, onto which other performers stepped and jumped. At last he crawled very slowly toward the wings before the lights mercifully went off. Combat pay is in order. This was the most effective genitals-in-peril scene I've witnessed since the movie of Baywatch, in which the chubby comic relief gets his tackle trapped between the slats of a beach lounger.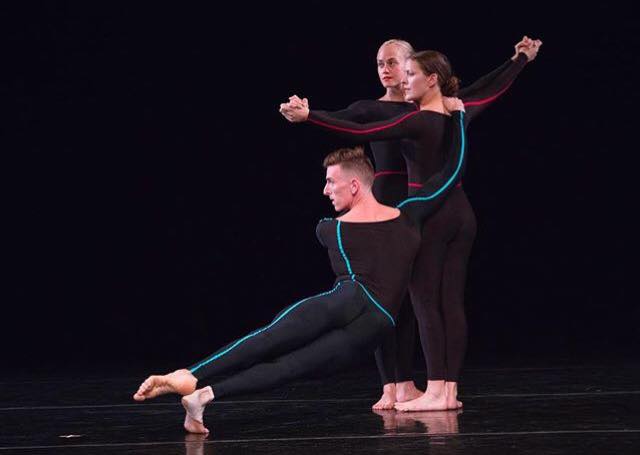 By far the most impressive item on view was a Cunningham MinEvent, put together by Silas Riener from an assortment of early dances from the 1950s. Particularly moving were the long duet from Suite for Five, originally danced by Cunningham himself and Carolyn Brown, and his fascinating solo Changeling, performed by Freeland. Cunningham was wiry, white, aerial, electric; Freeland is large, black, loose, expansive. There's nothing in his look or style that resembles Cunningham, but the brilliance of the dance comes through: Freeland has made it his own. I've never been so happy watching Merce Cunningham, who on the whole is a mystery to me, but here I found myself responding to his elegance, intelligence, and originality. I even liked the John Cage piano score, played with passionate glee and rapt attention to detail by Adam Tendler. Unfortunately, this slice of Cunningham just emphasized how inconsequential the rest of the L.A. repertory is.