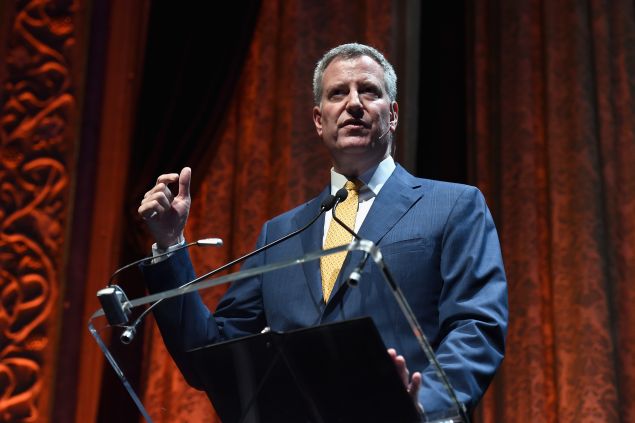 Mayor Bill de Blasio asserted today that activists who have challenged his liberal bona fides are "not being intellectually honest," and insisted that he has run a "very, very progressive administration."
During his weekly "Ask the Mayor" segment, WNYC's Brian Lehrer highlighted several of de Blasio's left-wing headaches, including the language City Council Speaker Melissa Mark-Viverito inserted into the city budget requiring the $26 million program to provide legal services to undocumented immigrants facing deportation not exclude those found guilty of violent crimes—in defiance of de Blasio's declaration that foreign nationals convicted of rape, murder or terrorism should not benefit from city funds. Lehrer also pointed to criminal justice reform advocates urging him to embrace the five-borough jail plan to close Rikers Island, activists calling on him to subsidize Metrocards for low-income New Yorkers and environmentalists criticizing him for traveling 11 miles in a city SUV from Gracie Mansion to the Prospect Park Y in Brooklyn.
De Blasio said that some of the issues are "peripheral" and others "central," but accused of critics of ignoring the facts.
"Look, having come out of progressive politics myself, I understand there is often an impulse to purism or perfectionism but I would ask anyone who believes they are progressive to look at where we started three and a half years ago versus where we are today," he said. "And if you don't see the progressive changes that have been made, the things that activists called for for 10 and 20 years in this city that finally got done, if they deny the existence of those things, then I don't think they're being intellectually honest."
He conceded that "there are voices to the left" whose views depart from his own but said that he does not think there's "a lot of voices to the right" and he hears "them plenty." He added that whichever Republican candidate wins the GOP primary, they "will come into the election with a substantial base of support."
And he suggested that there aren't as many detractors on the left end of the spectrum as some may think.
"Be careful to only listen to some voices," he said. "Maybe they are loud but I don't know if they represent anywhere near the majority. I think the vast majority of New Yorkers are consistent in their thinking with the policies of this administration."
He defended his record, which he said includes the universal prekindergarten initiative, his affordable housing plan, the city's work to support and protect immigrants and reducing the use of the stop and frisk policing method "93 percent while driving down crime." He insisted that "everything we put into the vision is moving forward," though he said "there's a lot more to do."
"Well, I think we've run a very, very progressive administration," he said. "I think if you compare the city government of New York City to almost any major city in America, it's one of the most progressive governments there is. I'm very proud of that and we've moved the whole agenda I ran on."
Just as the mayor was addressing the issue, a small group of immigrant rights activists rallied near City Hall to urge the mayor to include all undocumented immigrants in the city's immigrant legal services program. They also called on de Blasio to end the city's use of the "broken windows" policing model, which targets smaller crimes to stave off larger ones.
Kamla Millwood, director of communications for Black Lives Matter of Greater New York, blasted broken windows and noted that undocumented immigrants can be deported when arrested for low-level offenses. She said that such a policy continues to "rip apart brown and black homes" as well as those of immigrants, and that they will continue to put pressure on the mayor.
"We're a country built on the backs of immigrants, black people, brown people and we do not want to give them a disservice by ignoring their pleas and separating families," Millwood said.