If one word summarizes Mayor Bill de Blasio's political brand—from the "Tale of Two Cities" slogan of 2013 to his defiant campaigning against the agenda of President Donald Trump today—it's "progressive."
His first year in office, he could scarcely go to a press conference without uttering the word at least twice, and as he seeks re-election this year he has pointed to reductions in the NYPD's use of stop and frisk policing, the universal prekindergarten initiative, an increase in high school graduation rates, the IDNYC municipal identification program for undocumented immigrants, two years of rent freezes for tenants in regulated apartments and the Vision Zero street safety initiative. Some of these achievements, he said, have contributed to the 281,000 New Yorkers his office projects are on track to be lifted out of poverty by the end of his first term this winter.
More recently, he updated his plan to create or preserve 200,000 affordable housing units by 2024 to cover more low-income individuals—and pronounced the initiative on schedule. He also laid out a vague proposal to close Rikers Island in 10 years, and more substantive plans to fund legal services for tenants facing eviction in New York City Housing Court and undocumented immigrants fighting deportation.
At a press conference last month in Queens, de Blasio told the Observer he had attended numerous rallies over the years where activists demanded the exact policies he had enacted.
"They demanded the end of the unconstitutional use of stop and frisk," he said. "They demanded an end to low-level marijuana possession arrests. They demanded new training for the police force, implicit bias training. I could go on and on. All those things actually are happening right now."
But as he campaigns for reelection, many left-wing advocates and organizations argue the mayor has mostly implemented half-measures.
They expressed frustration over the mayor's refusal to completely disavow the controversial "broken windows" policing strategy that targets smaller crimes to stave off larger ones. This policing method, they say, disproportionately targets communities of color and weakens the city's so-called "sanctuary city" status in the midst of President Donald Trump's aggressive immigration enforcement agenda.
They also take issue with his affordable housing plan, which they argue does not sufficiently reach those who need it the most and caters more to real estate developers—and feel that the mayor's recently-announced plan to build more shelters will worsen an already overburdened shelter system in majority-minority neighborhoods.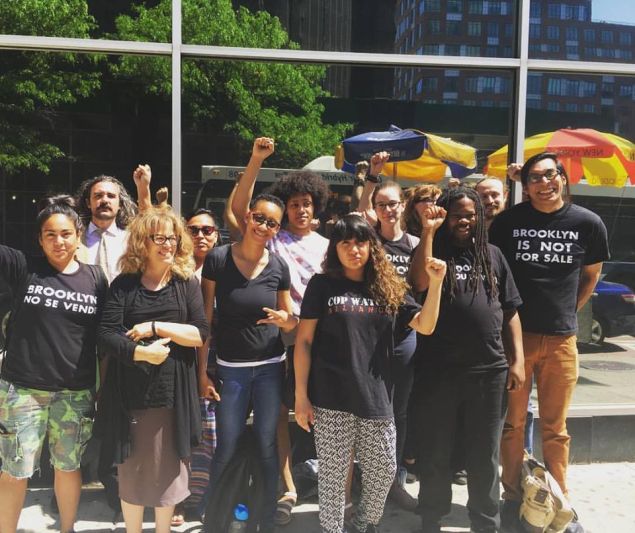 Broken Windows 
On former NYPD Commissioner Bill Bratton's last day on the job, de Blasio proclaimed that "broken windows" policing, which focuses on minor quality-of-life offenses, needs revising but remains "the right approach." He maintained the strategy helped lower crime in the city over the past few decades, a drop that began during Bratton's first stint atop the department under former Mayor Rudolph Giuliani. 
Josmar Trujillo, a leader in the Coalition to End Broken Windows, called broken windows "maybe the most important criminal justice issue of the day." Ending the two decades-plus-old policy tops his coalition's "people's agenda" and, according to the activist, sits at the heart of the Black Lives Matter movement and police accountability movements.
Trujillo highlighted a June report from the Department of Investigation's NYPD Inspector General Philip Eure that found no empirical evidence indicating a direct connection between an increase in summons and misdemeanor arrest activity and a related drop in felony crime from 2010 to 2015. But de Blasio "won't listen to facts, won't listen to activists, won't listen to mothers, won't listen to grassroots," he said. 
"These are the nitty gritty people," Trujillo said of those impacted by broken windows. "You're talking about street vendors, you're talking about blacks, Latinos, immigrants. Now we know the issue is associated with the risks of deportation. So all of these issues, the mayor wants to ignore them and he's holding on—basically, he's holding on to a version of the new Jim Crow."
Trujillo and other activists have blasted City Council Speaker Melissa Mark-Viverito, a de Blasio ally, for her deal with the mayor to add roughly 1,300 cops to the NYPD. She also used her parliamentary power to block a vote on the "Right to Know Act," a pair of bills that would require cops to identify themselves upon making a stop and request permission before searching an individual if they do not have a warrant.
The Right to Know Act had the support of the majority of Council members—but de Blasio had vowed to veto it.
Last year, Mark-Viverito made a pact with Bratton to adopt some of the bills' provisions into the NYPD Patrol Guide, and mandate retraining of police officers. On assuming the reins of the department, O'Neill said he would honor that deal.
Imani Henry of Equality for Flatbush, a people of color-led, multinational grassroots organization that does anti-police repression, affordable housing and anti-gentrification organizing, noted that 2,000 people were arrested for turnstile jumping in January, and that people get fined $100 for fare evasion.
His group is among sixteen groups that endorsed the Swipe it Forward campaign, which also includes Why Accountability, Coalition to End Broken Windows, NYC Shut It Down and Queens Neighborhoods United.
"They're hiding out in train stations going after the poorest young people, homeless people, particularly targeting undocumented people and so in my neighborhood, fare evasion is one piece," Henry said. "It's also traffic stops."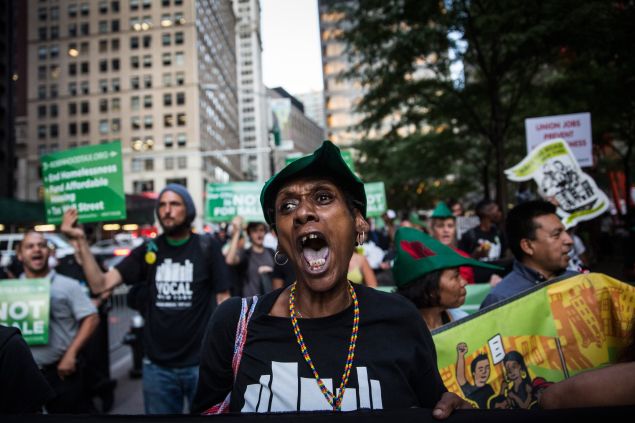 Affordable Housing and Homelessness
During his State of the City speech in February, the mayor announced that he would allocate an extra 10,000 apartments for households earning $40,000 or less—a move seen as an attempt to satisfy left-of-center skeptics who saw the massive rezonings at the heart of his housing plan as a deal for developers.
"The mayor's housing plan is on the basis of building luxury, not affordable housing," said Henry, asserting the plan still makes little room for the truly poor. "We got trumped. And so what we say is that the majority of the housing should go to the people that need it."
It was also in February that de Blasio unveiled his long-awaited proposal to lower the record high 60,000 people living in city shelters by 2,500—that is, roughly four percent—over the next five years. The plan calls for opening 20 new shelters this year and 20 new shelters next year, and ultimately 90 over the next half-decade. 
He aims to close 360 so-called "cluster site" shelters—the troubled apartment buildings where the city pays to put up indigent families—by 2021 and stop the use of motels as shelters by 2023.
De Blasio has touted this initiative as a more equitable solution to homelessness, since it will lodge the indigent in the neighborhoods they originate in. But it has run into resistance in Central Brooklyn, where many of the homeless hail from and where the mayor intends to construct three of his first five new shelters.
Legacee Medina, the advocacy client liaison for the nonprofit Housing Works and a former homeless youth and runaway, told the Observer she appreciates the de Blasio administration's focus on mental health issues, spearheaded by First Lady Chirlane McCray through her ThriveNYC initiative.
But she said tackling homelessness starts with the intake process, which she described as "jumbled up," with little effort by the city to differentiate between the different populations seeking temporary refuge.
Medina also called the affordable housing plan "discriminatory" as the new units require applicants to have near-perfect credit, and earn many times the rent—or have a guarantor who does.
"I've gone to these affordable housing meetings and me, a person who works as an advocate [at] a nonprofit who lived in New York City most of my life and has a student loan against my name—no, my credit is not perfect," Medina said. "I'm living proof. I work on the outside and I'm still a client of this system."
She also worried about the level of services provided at shelters, and the continuing problems of human trafficking in the Bronx and violence against the LGBT homeless. She recommended de Blasio "pop up at organizations" and actually speak with the community.
"Sometimes being the people's champion means being a little radical," Medina said.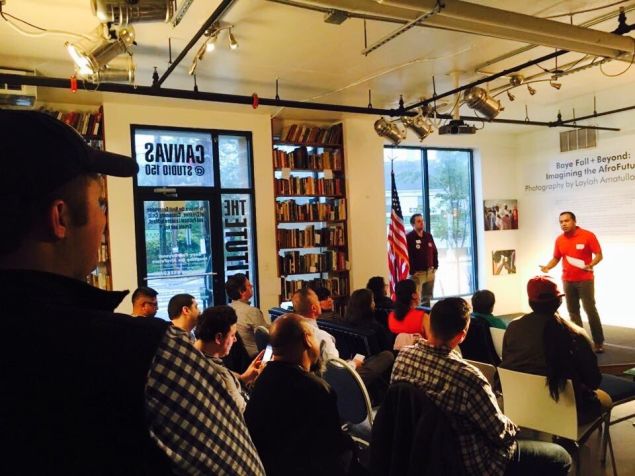 Trump and Immigration
Since the presidential election last year, de Blasio has repeatedly promised to take legal action against Trump's proposals to establish a registry of Muslim citizens and to pressure municipalities like New York to abandon their "sanctuary city" statutes shielding undocumented immigrants from deportation.
Tania Mattos, co-founder of the group Queens Neighborhoods United, rated the mayor's performance on immigration issues as "okay": an overall improvement from former Mayor Michael Bloomberg, mainly because of the IDNYC initiative. But the Bolivia-born, Jackson Heights-reared immigrant activist argued de Blasio made a major mistake by proposing to expand the number of circumstances under which the city will cooperate with U.S. Immigration and Customs Enforcement.
At present, the NYPD and the Department of Corrections will only honor ICE requests to detain an unauthorized immigrant so federal agents can take them into custody if the individual has been convicted of one of 170 violent offenses.
"In a time of Trump, you're supposed to scale back, not add on to that list," Mattos said.
Recently, de Blasio has clashed with Mark-Viverito, the Legal Aid Society and other liberals by insisting that a $26 million program to provide legal counsel to foreign nationals fighting deportation exclude those found guilty of any of those 170 crimes. The speaker inserted last-minute language into the city budget to force the city to provide attorneys to those in immigration court regardless of their criminal history, an issue that the mayor has said his administration will resolve in the contracting process for the program.
Staten Island resident Cesar Vargas, a Mexico native and New York's first openly undocumented lawyer, argued too many of de Blasio's policies lack "teeth." He referenced a report that the NYPD informs federal immigration agents of immigrants' court appearances—and believes all undocumented immigrants should have access to legal services.
He also pointed out Staten Island has just one IDNYC processing center and that the borough's small organizations providing legal representation for immigrants need funding. 
"I am supportive of the mayor but that doesn't mean that I'm blindly supporting the mayor in every aspect," Vargas said.
Other Options
Despite numerous rumors about a serious primary challenge to de Blasio this fall, no leading Democratic official has emerged to offer an alternative liberal vision. His prospective opponents—former Brooklyn Councilman Sal Albanese on the Democratic side, real estate executive Paul Massey and Staten Island Assemblywoman Nicole Malliotakis in the GOP contest—have all attacked him from the right.
The one figure from the activist movement to openly take the mayor on is Robert Gangi, who has spent decades leading social justice groups such as the Police Reform Organizing Project and the Correctional Association of New York. He jumped into the race in April touting a platform that sounds like a progressive wishlist: ending broken windows, free train and fares for low-income New Yorkers, constructing cheaper and more abundant affordable housing than de Blasio, cutting billions from the NYPD's budget to fund social programs for poor people and closing Rikers Island without building smaller holding facilities.
He told the Observer that the mayor should completely decriminalize fare evasion, marijuana possession regardless of quantity, sex work and gravity knife possession—in line with a report prepared by a panel City Council Speaker Melissa Mark-Viverito commissioned and former Court of Appeals Chief Judge Jonathan Lippman spearheaded—to significantly reduce the jail population on Rikers so that inmates can be housed in existing jails across the boroughs.
Gangi said he chose to be an advocate who pushes the system to create a more "just response" to low-income people's needs, but was encouraged to run "to send a message" and "put pressure on mainstream politicians like de Blasio."
"We know we don't have anything near the resources that candidates like de Blasio and Massey have," he admitted. "But we're animated by a fighting spirit, a very helpful spirit that not only can reach people with the proposals we're making to achieve a more just, inclusive and affordable city but that we can reach enough people so that we can beat de Blasio in the primary."
But even de Blasio's left-wing critics aren't rallying to the longshot liberal challenger.
Queens Councilman Rory Lancman, who has frequently butted heads with de Blasio, said he doesn't know if Gangi was presenting himself as a serious candidate. Still, he credited him with highlighting de Blasio's criminal justice reform "failures."
"I think that's very valuable and I hope that Bob is able to push the mayor to answer for a lot of his shortcomings," he said.
Lancman blasted the mayor for not supporting the Right to Know Act or his bill seeking to make the police chokehold illegal and said he hasn't done "actual work" to make his plan to close Rikers "a reality." All the benchmarks for the 10-year phaseout of the incarceration center fall after 2021—safely after the mayor's tenure at City Hall will be over.
"A lot of what he's done has been rhetoric and not reality and where the rubber meets the road on progressive issues, he more often than not blinks and tries to triangulate himself out of making the hard choices," the councilman said.
Trujillo, who attended Gangi's kickoff, said his group did not intend to endorse Gangi or any other candidate, even as he acknowledged his fellow activist's work.
"We're focused on making sure de Blasio is exposed to the public at large, [that] people understand these issues," he said.
Looking Forward
De Blasio, for his part, recently accused his liberal critics of "not being intellectually honest."
"I'll challenge anyone any time on those facts and on how progressive those changes are and if some people want us to go farther, I'll always be honest about where I think we can and should go," he said. "But this is a thoroughly progressive record and it's not talk, it's something that actually happened."
Dan Levitan, his campaign spokesman, noted that the latest Quinnipiac University poll found nearly three-quarters of Democrats viewed the incumbent favorably—and he has long enjoyed his strongest approval numbers among those identifying as "very liberal." Asked for comment, Levitan reiterated the usual litany: universal pre-K, affordable housing, reduced stop-and-frisk and the two successive rent freezes.
"That is the mayor's record, and it is one that New Yorkers are rallying around," Levitan said.
Activist dissatisfaction aside, de Blasio appears poised for an easy victory both in the Democratic primary this fall and the general election in November.
Trujillo said that if the mayor wins reelection, the discontented left will have to try to pressure local government to address its concerns. Eventually, he said, de Blasio will have to "get on the right side of history."
The police reform advocate took heart from the waves of mass outrage that have followed the killings of black men by police and the election of Trump.
"We have a lot of work to do, but the good thing is that people are mobilized," he said.