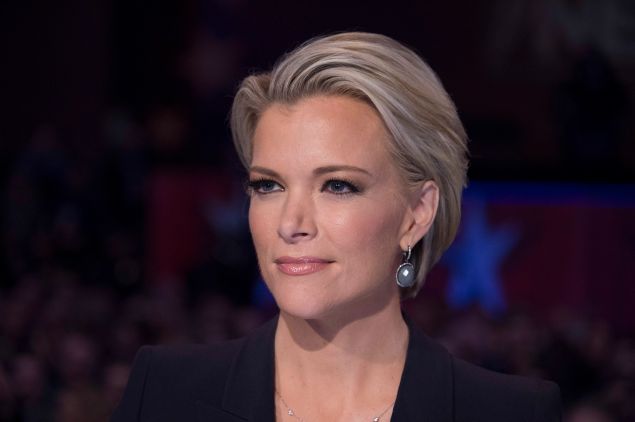 One of the most powerful ways corporations can show they disapprove of a program's actions is by pulling financial support. Delta, Bank of America and American Express did just that this weekend to protest the Public Theater's "Trump-like" Julius Caesar, and now JPMorgan Chase is taking a stand against a controversial Megyn Kelly interview.
The next episode of Sunday Night With Megyn Kelly, the former Fox News host's new NBC show, will feature an interview with radio host and conspiracy theorist Alex Jones. On his website InfoWars and his eponymous radio show, Jones has stated that the Oklahoma City bombing and 9/11 attacks were "inside jobs."
Most controversially of all, he claimed the 2012 Sandy Hook Elementary School shooting (in which 20 children and six teachers were killed) was a hoax staged by actors who wanted to further their gun control agenda.
Because of this, the families of people killed at Sandy Hook are especially livid with Kelly for giving Jones a platform. They have also been calling her out on Twitter:
The interview also caused at least one corporation to deny NBC its most valuable resource: advertising money.
JPMorgan Chase & Company has decided to remove its TV and digital ads from all NBC programming until after the Jones interview airs on Sunday, The Wall Street Journal first reported last night.
Earlier in the day, the company's chief marketing officer Kristin Lemkau had called out Kelly on Twitter:
No other advertisers have pulled out yet, though the gun violence prevention group Sandy Hook Promise announced that Kelly would no longer host its annual Promise Champions Gala.
Shannon Watts, founder of the advocacy organization Moms Demand Action for Gun Sense in America, also appealed to Kelly in an op-ed for Refinery29.
"Alex Jones has been in the spotlight for far too long," Watts wrote. "It's time to turn that light off and let him crawl back under the refrigerator."
Kelly has been defending herself on social media for several days:
Ironically, one of Kelly's most vocal critics has been Jones himself. On his radio show Monday, he said the interview was "rigged" and fake news, and accused Kelly of misleading him. He also called on NBC not to broadcast the interview, and described the host as cold and robotic.
"I felt zero attraction to Megyn Kelly," he said.