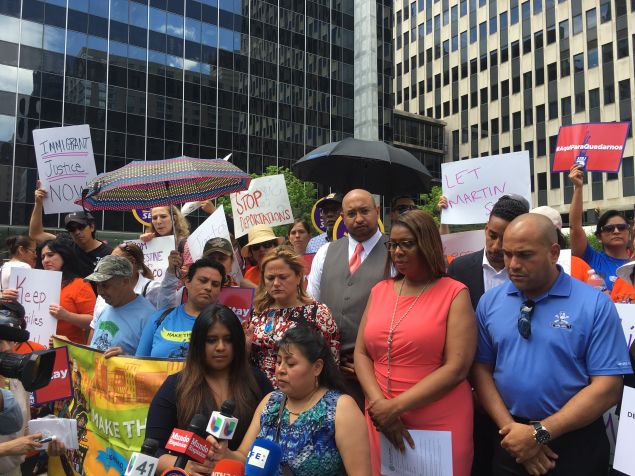 Top New York City elected officials and unions joined the family of an undocumented immigrant from Mexico this afternoon in front of the Jacob K. Javits Federal Building—where federal Immigration and Customs Enforcement has its New York City office—today to assert that while he was released, the "fight is not over" as he is still facing deportation again.
Martin Martinez has lived in New York State for more than 30 years without proper paperwork, but was arrested by ICE agents on June 13, his daughter, Maria Christina Martinez, explained during the rally. The irony was that her father already had a one-way plane ticket back to his home country for July 1—but it included a layover, which she blamed for his arrest.
The daughter became emotional as she recounted the circumstances.
"Last week was terrible," Martinez said during the rally at Federal Plaza. "He's a good, humble person who personally believes that whatever your heart desires, if you set your mind, you can achieve whatever you want, you can achieve your dreams. It is because of my father that I am able to stand here today, have the strength and the courage to speak with all of you today and to have all of the people here supporting us."
Despite her father's pending deportation, Martinez said that Public Advocate Letitia James, City Comptroller Scott Stringer, Make the Road New York, the New York Immigration Coalition, New York Communities for Change, 32BJ SEIU and DC 37—all of whom were present—"have made a difference." Her mother also addressed the crowd in Spanish.
"Last night, I broke into tears," she said. "We received the news that my father was released last night. It is because all of you and because all of your signatures, all of your phone calls to ICE, made a difference."
Maria Christina and her brother are both U.S.-born citizens. Both their parents, however, came to the United States as unauthorized immigrants and were taken into detention in 2013.
ICE told the elder Martinez he would have to leave the country last November, and his daughter bought his plane ticket on Father's Day.
James asserted that conservatives who purport to have family values and compassion should be condemning the arrest.
"This is our America and all of us here today, every elected official, every advocate and every individual who cares about the Constitution and who cares about family and those Republicans who claim to be compassionate, why would you tear families apart?" she said. "It's unacceptable."
Although Martinez was arrested and informed he would have to leave the country under former President Barack Obama, James blamed the policies of President Donald Trump for his impending expulsion.
"We're not going to stop now until these illegal, immoral deportations are stopped and until we get rid of Donald Trump and his entire administration," she said. "That's the message here today and that's what we're going to do. We pray for Mr. Martinez, we pray for his family but the fight is not over, it's just begun."
City Council Speaker Melissa Mark-Viverito, a Puerto Rico native, said that they have to "continue to resist here and everywhere" and that they would continue to fight to ensure that they achieve a "permanent victory."
"We cannot accept this," Mark-Viverito said. "So I stand with this family. I wanna thank everyone and it's through the organizations that are here, the calls that were made, the mobilization."
She blasted the "insanity" that has characterized the Trump administration, saying that both Trump and his administration are "racist."
Brooklyn Councilman Jumaane Williams, whose family is from Grenada, reminded the audience that there are people of all nationalities facing deportation, including African and West Indian nationals. He also recounted his experience accompanying Trinidadian immigrant activist Ravi Ragbir when he had his ICE check-in back in March.
"There are a lot of Caribbean families behind me," Williams said. "Debi Rose represents a lot of Africans. There are a lot of Africans behind me. This is a multicultural issue. I was here, first of all, with Ravi Ragbir. I was horrified by what I saw. I never would have understood what was happening."
Queens Councilmen I. Daneek Miller and Donovan Richards as well as Brooklyn Councilmen Rafael Espinal, Antonio Reynoso and Carlos Menchaca—chairman of the Council's Immigration Committee—were also in attendance.