"Low I.Q. Crazy Mika" who apparently was "bleeding badly from a face-lift" at Mar-a-Lago has been the newest target of president Donald Trump's heated tweets against women.
CNN's host of "Reliable Sources" Brian Stelter tweeted to her rescue to show that this was not the case, and that there was not even a bit of blood to be seen on the host's face at Trump's event.
The target, Mika Brzezinski, co-host of MSNBC's "Morning Joe," student at Georgetown University, graduate of Williams College and mother of two, revealed to viewers of MSNBC this morning that she has not gotten a facelift, despite the president's accusation. However, she did admit on air that she has had her "chin tweaked."
"I'm pretty transparent about what I do and I think it looks awesome," Brzezinski defended.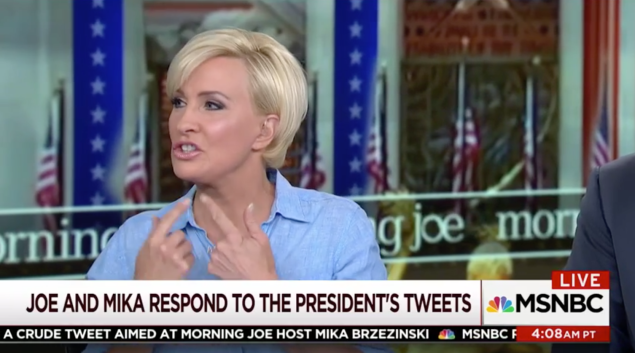 A 50-year-old working mother of two, Brzezinski really does look younger than her age. We spoke to leading cosmetic surgeon Dr. Stafford Broumand of 740 Park Plastic Surgery in NYC to learn more about "chin tweaks"—and what she possibly could have had done to her chin by using this phrase.
According to Dr. Broumand, "having your 'chin tweaked' is a catch-all phrase which could mean anything from having a filler placed in the chin area, to the extent of having a mini-facelift." He explained that the types of procedures that a "chin tweak" could describe are the following:
Liquid Chin Augmentation – fillers or fat placement in the chin
Chin Augmentation – surgical procedure with a silicon chin implant placement
Neck Liposuction
Neck Skin Tightening – surgical neck lift
Surgical Mini-Facelift – recovery is faster compared to a traditional facelift, and the outcome is not as dramatic as a facelift
A Traditional, Surgical Facelift
"For example, there have been plenty of times where I have examined patients who told me they've had a 'mini neck lift' to only discover they've had a full facelift" reported Dr. Broumand. He argued that some people don't feel comfortable or want to talk about the work they have had done, so they may use euphemisms like the word "tweak" instead of going into full detail.