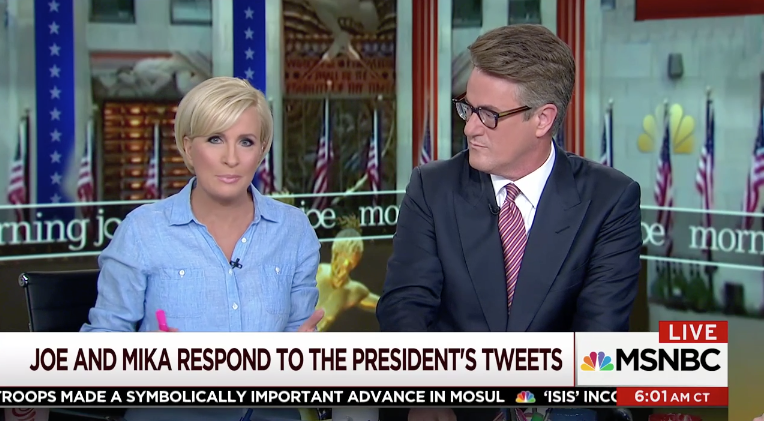 The Broadway musical Hamilton reminds Americans that prominent politicians once settled their beefs with pistols. That's what happened in 1804 when Vice President Aaron Burr killed former Treasury Secretary Alexander Hamilton when they dueled in New Jersey.
In some ways, we've evolved. This week, in vicious and personal words, President Donald Trump insulted Mika Brzezinski on Twitter by saying she has a low I.Q. and that she is crazy. He said that he rejected her company last winter because she was bleeding from a face-lift.
Brzezinski is the co-host of Morning Joe on MSNBC and the fiancée of the other co-host, Joe Scarborough. Scarborough is a feisty ex-congressman, but he probably won't challenge the orange-faced, yellow-haired chief executive to a gun fight.
But if Morning Joe regular Donny Deutsch had his way, Scarborough would at least challenge Trump to a fist fight.
"Donald, if you're watching, we're from Queens," Deutsch said, referring to himself and Trump. "We'll meet you in the school yard, brother… He's a coward."
This angry taunt allowed the often excitable Scarborough to play the calming influence and quote the Golden Rule.
"Do unto others," Scarborough said, "as you would have others do unto you."
Scarborough and Brzezinski postponed their vacation one day to visit the substitute hosts on their own show and gave their response to Trump's Twitter tantrum.
"It's been fascinating and frightening and really sad for our country," Brzezinski said.
They stayed for about half of the 7 a.m. (middle) hour of the three-hour program. Before they arrived, Deutsch went on different anti-Trump rant.
"He's a pig, he's a vulgar pig," Deutsch said of Trump. "He's physically disgusting to look at… He's not mentally OK . . . Enough is enough with this disgusting, vulgar man."
Then Deutsch began speaking directly to the president, who has been known to watch the show but said he stopped.
"You are a pig," he told the president. "You are a bully."
Scarborough, who often says he has high-level sources in the White House and Congress, revealed at least two stories that made Trump sound vicious and unhinged.
In the first, Scarborough said a prominent congressman told him he was among a group of 20 Republican representatives called to the White House to discuss health care legislation. During the conference, Trump pitched a fit about Morning Joe and, in particular, attacked Brzezinski.
"He scared me," Scarborough said, quoting the man who discussed Trump. "His face was red. He started talking about blood coming out of her ears, out of her eyes."
Scarborough added parenthetically that White House aides have told Scarborough recently that "over the past month, they're getting more concerned about his emotional state." Scarborough also said a top Trump campaign aide said a similar thing last summer.
Scarborough's second major story was that the National Enquirer recently was reporting an unflattering story about him and Brzezinski and that if they wanted the story killed, top White House aides told Scarborough, he would have to call Trump and apologize to him.
In friendlier times, Scarborough said, Trump bragged to him about his clout at the supermarket tabloid.
Brzezinski said she really wasn't worried about Trump. Her father recently died, she said, and she understands what is really important. But she said Trump is "so much more vicious with women" and that she worries about Trump's reign as commander in chief.
"I think members of the administration, members of the cabinet, members of Congress have a really big problem on their hands," she said. "Very worried. Very disturbed."
The two of them made many of the same points Friday morning in a column with their double byline in the Washington Post.
Trump's anger at her and Scarborough may have stemmed from a segment on their Thursday show in which they mocked Trump for putting his face on a fake cover of Time magazine and having it put up on the walls of his golf resorts.
"He has once again shown the world that he can be played," Brzezinski said. "He can be tweaked. He can be goaded so easily that it's frightening."