Miranda Kerr and Evan Spiegel married in a very intimate ceremony at their Brentwood home, surrounded by only 50 guests. So it's fitting that the supermodel and the Snapchat mogul decided on an actual private island for their honeymoon.
Shortly after their wedding, the newlyweds jetted to Laucala Island resort in Fiji, a destination perfect for total privacy since you have to board a private plane in order to get there. It's one of three privately owned islands in the area; Red Bull c0-founder Dietrich Mateschitz bought the island in 2003.
The exclusive island is comprised of rainforests, deserted beaches and volcanic mountains, so as you may have guessed, it's all perfectly Snapchat-worthy. We think it makes for ideal Instagram material as well, but we'll leave that up to Kerr, since Spiegel has thus far refused to make a persona Insta account.
While there are 25 villas to rent on the tropical island, Kerr and Spiegel reportedly stayed in Mateschitz's personal residence, known as the Hilltop Estate. It's on one of the highest points of the island, and it costs nearly $60,000 per night. But that's not to say the other accommodations on the island are anything less than lavish.
The Fijan-style villas are situated among coconut plantations, coral reefs, jungle, deserted beaches and on the volcanic mountains, depending on if you opt for a Plantation villa, Plateau villa or Seagrass villa. Then there's the Peninsula villa, which is atop a cliff and a "crescent-shaped" beach, and the Overwater villa, above a green lagoon. The villas use natural fibers and wood, which goes with the the resort's focus on sustainable living, like establishing organic farms and gardens that produce the food for the resort's restaurants, plus flowers and spices for the spa.
As one might have expected, the luxe resort comes with a hefty price tag attached—they start at $6,000 per night, up to the $60,000 for the owner's villa. If you really want to go all out, you can rent the entire island for $187,000 per night. Oh, and there's a five-night minimum for that.
The villas have private gardens, infinity pools and a "buggy" to navigate the island, perhaps to head over to the wellness area, which includes four treatment villas and two wet rooms with steam facilities (there's a coconut milk bath), as well as a beauty salon and a spa garden. There's also a water sports center, where one can windsurf, kayak (hey, Justin Trudeau!), jet ski and snorkel. There's also an 18-hole golf course, so maybe former president Barack Obama should come check it out on his next vacation extravaganza.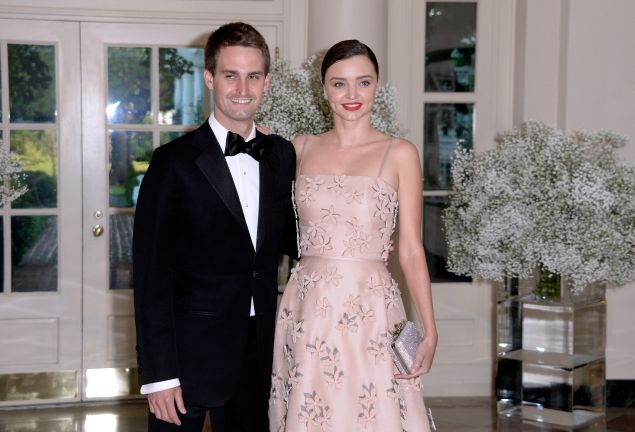 The newlyweds are back in the States now, and while we haven't gotten to see any photos of their first getaway as a married couple just yet, we did get a glimpse of Kerr's gorgeous wedding band when she walked the Moschino runway in Los Angeles. Guess that means they missed Reggie Bush on the island…he shared quite a few photos of his trip there this week. We'll just have to wait and see if Kerr decided to upload a #latergram of her own honeymoon.