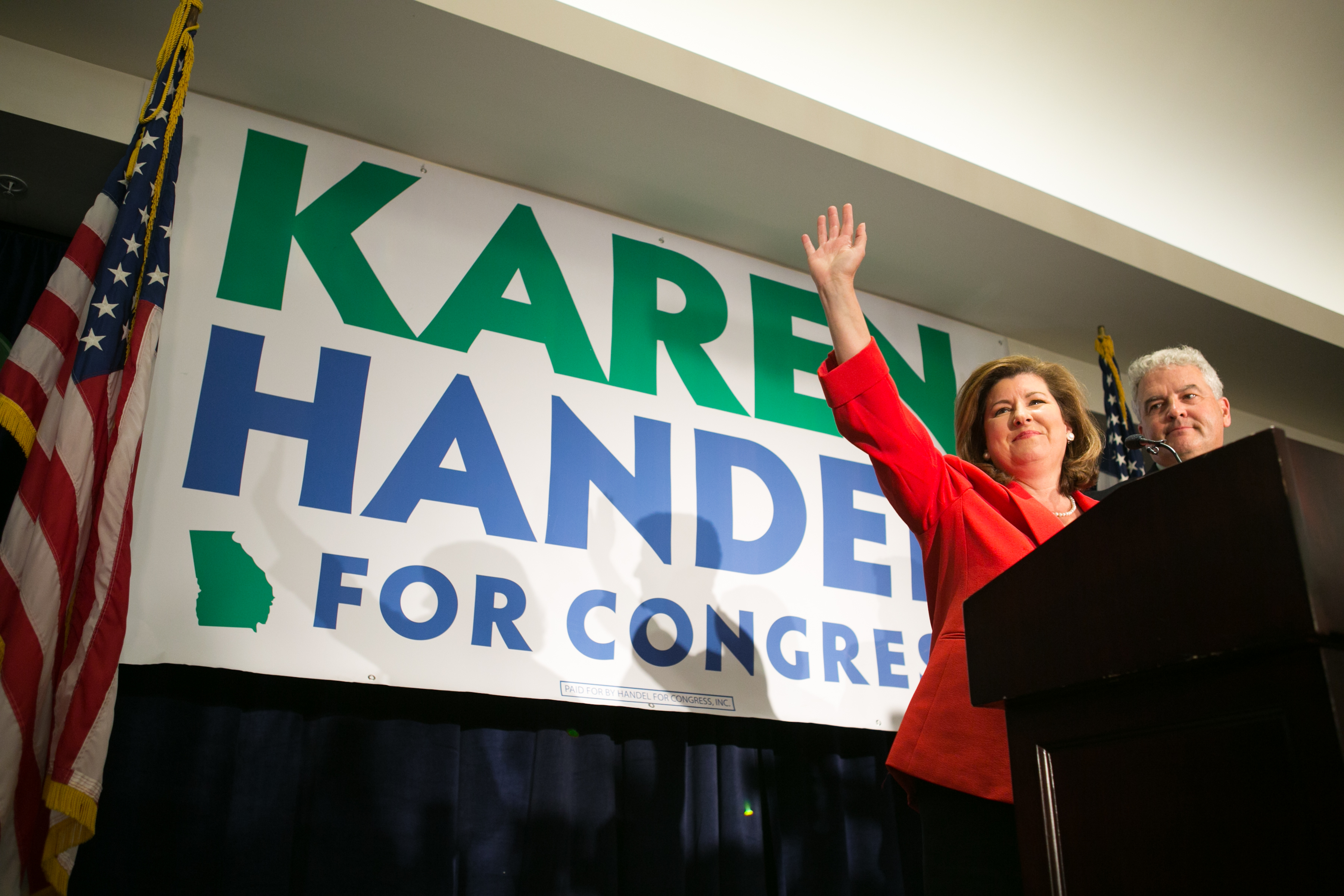 I'm a political science professor living in Georgia's Sixth House district, where Republican Karen Handel eked out a victory of nearly four points over Democrat John Ossoff in a special House election on June 20.
And although I have made a career out of observing and teaching others about politics, I'm just relieved the race is over. The word "ubiquitous" doesn't begin to describe the special election's presence.
For months, the district has been flooded with every kind of campaign advocacy imaginable: phone calls, mailers, television commercials, lawn signs and ads showing up on every online platform you can think of. Most households have been receiving multiple phone calls every day and multiple home visits from canvassers every week, and everyone has been exposed to more advertising than they can ever remember seeing. I counted 31 pieces of campaign-related mail in just one week. Some residents are even getting campaign texts on their cellphones.
This is because of the astonishing amount of money spent on the race. A typical competitive House race sees a total of about US$5 million spent, and the previous record for the most expensive House race ever was $20 million. During the Georgia Sixth special election, the two candidates together spent about $33 million, and outside groups added about another $27 million on top of that. That nearly $60 million total represents almost $100 for every man, woman and child who lives in the district. It is the most expensive U.S. House race in the country's history.
What's interesting is what all this money and activity did and didn't do.
The effects of advertising
There is very little evidence that the campaigns helped many people decide whom to vote for. At the start of the race in April, just 5 percent of voters were undecided, and the candidates' numbers barely moved since. The dozen polls taken over the course of the runoff all showed Ossoff and Handel's support hovering within a few tight percentage points over the entire two months.
Consider the results of the first round of voting. Ossoff easily won that round with 48.1 percent to Handel's 19.8 percent, but those totals are misleading. More important is that all the Democratic candidates put together received 49 percent of the vote (the four other Democrats on the ballot split less than 1 percent between them) and Republicans received 51 percent (there were 10 on the ballot; four were serious contenders). Those results presaged the tight contest that occurred once the race narrowed to just two contenders.
On the other hand, the massive amount of attention devoted to the race ensured everyone in the district knew about the election, when it would take place, who the candidates were and what party each one represented. This high level of information translated into very high turnout. Normally, turnout in House special elections is about 10 percent. The last time we had one in Georgia was in 2010, when Nathan Deal resigned his House seat to run for governor. That time, 52,000 people voted in the first round, and 40,000 in the second round, out of about 450,000 registered voters.
This time around, 192,000 people voted in the first round, and 259,000 voted in the second round, with roughly the same number of registered voters. That's an increase in turnout of more than five times the number of voters from 2010 and about 58 percent of registered voters, despite concerns over rain on Election Day.
Little movement on voter preferences and a surge in turnout are what political scientists would expect for a race with exceptionally high spending. Elections research shows that campaigns typically don't get a lot of people to change their minds about whom to vote for. But they do provide voters with information about the upcoming election, which in turn can drive up turnout.
What's the big picture?
Another factor that put this race on the map – and the reason so much money was spent on it in the first place – is that many people view it as a proxy for the failure or success of President Donald Trump's administration. People have strong feelings about Trump, one way or the other, and many of them channeled those feelings into advocacy for Ossoff or Handel.
So what does the race mean for politics going forward?
As a clue about what might happen in 2018, it might not mean as much as some people want to believe. Handel's close victory might give the Republican Party a morale boost. What's really important is the broader pattern of how Republican candidates are doing compared to how Trump did in those same districts in 2016.
Democrats have some reason to be optimistic.
In the special election that took place in South Carolina's Fifth District on the same day as Georgia's, Republican Ralph Norman received 51.1 percent of the vote in a district where Trump got 57.3 percent just five months earlier.
In April, Kansas Republican Ron Estes received 52.5 percent of the vote in a district where Trump got 60.4 percent.
In May, Montana Republican Greg Gianforte got 49.9 percent where Trump had won 56 percent.
And in a New York state legislative district where Trump won 60 percent of the vote, a Republican candidate polled only 42 percent last month.
On the other hand, the Georgia Sixth District special election bucks that trend. The 10 Republicans collectively beat Trump's district vote share of 48.3 percent by two points in the first round of voting, and Handel beat it by four points in the runoff.

More immediately, Handel's victory might give a small boost to Trump's legislative agenda in Congress. A Democratic victory would have furthered the narrative of Trump's national unpopularity and convinced some wavering moderate Republicans that they could safely vote against the party on close votes. However, Handel's victory will probably head that off, allowing Trump and congressional GOP leaders to convince their rank and file to support the party's program.
Jeffrey Lazarus is an Associate Professor of Political Science at Georgia State University. This article was originally published on The Conversation. Read the original article.