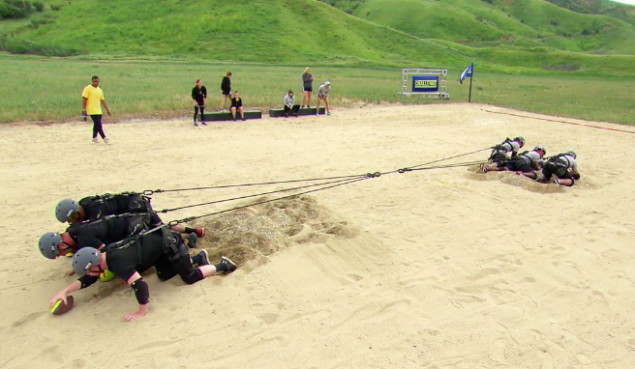 I imagine it is a pretty hard to be a good television host and close to impossible to be the best television host. Part of excelling in the tv hosting field, like most other fields, is making something very difficult look really easy. I had a friend in college who was convinced that he could score at least one-to-three goals on Martin Brodeur if given twenty chances and he did not even play hockey. It just looks like something that might be kind of easy if you play enough NHL Hockey '95 and watch "The Flying V" scene of Mighty Ducks regularly.
It is not up for debate that T.J. Lavin is the greatest television host of all time. It is a fact and I will prove it. There is no other host on television that has the contestants on their show afraid that they will be shamed by them. The people asking questions on Jeopardy! aren't afraid to wager "zero" on the Daily Double because Alex Trebek is going to tell them that they need to do better. Wink Martindale didn't laugh at you if you bit it on Tic Tac Dough. And nobody is worried that Mario Lopez is going to call them a quitter. So yeah, following in the footsteps of T.J. Lavin has to be the most difficult assignment.
And Victor Cruz is doing a solid job. I like Victor Cruz as a football fan, as a spokesman for KITH, and even as the newest host of a Challenge. But I've noticed something over the past few episodes that Victor Cruz does. Victor Cruz talks to himself a lot. He has yet to master the art of narrating action to the camera. He'll give a play-by-play during a competition like "The Champs giving it their all here!" but it won't quite be addressed to anyone around him and it won't quite be addressed to the audience. It really just sounds like he's talking out loud to himself. Which I think is a pretty dope way to host a show. So shoutout to Victor Cruz for establishing his own way of hosting a Challenge, even if it sounds like he's playing that game at the NFL Hall of Fame where you pretend to commentate a game with Frank Gifford, Joe Buck, and Dennis Miller.
This week's episode was so good because it set up CT to be in the dirt, growling and yawping while playing full-body tug-of-war with a man the size of many men put together who also happened to play professional football, "the biggest person to ever appear on a Challenge" as Wes put it, Kam Wimbley. There's an episode of Grey's Anatomy where some family does tug-of-war with a cable and they pull so hard it cuts everyone's fingers off. Wes, CT, and Darrell were harnessed in together against Kam, Louie Vito, and Gus and I expected them all to pull so hard that the harnesses stripped the skin off their bodies and put their skeletons on the outside like Inside Out Boy when he went around the swing set. And even though Kam was throwing his full weight at the rope like the raptors testing the Jurassic Park pen fences for weaknesses, CT's (with Wes and Darrell, I guess) efforts were too much.
On the other had, the girl's side got pretty easily dragged in like five or six minutes by Lolo, Louise, and Lindsey, which to be fair is going up against two professional runners and a snowboarder in a competition that is like 90% leg muscles. Since it was tied one-one, the captains had to face off. CT and Cara Maria for the Champs against Louie and Lolo. CT's mass was too much for the Pros and the Champs took it, reppin' that Boston Pride for their shared hometown.
All along, I've really wanted to see the Champs face the Pros in an elimination and this week gave it to us. As the winner, Cara had to pick who went in from her tea, and she went with Ashley, even though Ash M has been in the two previous eliminations already. When Cara picked her, Ashley did the dope storm off move, walked to the van, shut the sliding door, and then slammed on the lock of the front door to make sure nobody could come get her, even though the window was wide open. But I guess if you believe in The Secret like Ashley and you don't want someone to get in then they don't get in.
Lolo also had to go in the elimination as losing captain and like Ashley, this would be her third elimination. Lolo ended up beating Ashly although Lolo was so spent by the end of it, she had to go to the medic. Ashley stormed off again and this time they show a producer telling her to come back and accept her defeat on camera so they can give her the $1000 consolation prize for her charity. CT was trying to take a nap in the back of the van while this conversation was happening and he slipped out the side door to get away from the noise. The look on the producer's face is like classic CT, what a card!. Ashley comes back and Lolo donates $5000 of her own money to Ashley's charity. Great moment, good for Lolo.
CT doesn't want to have to make a decision on who to send in so in the most un-Weslike move, Wes volunteers to go in to make it easier on his real life friend. The fact that Wes and CT are boys like that now is one of the greatest miracles of this show. Wes manages to pull out a victory on Louie and gets to stay with the Champs for another week. I believe next week is the sixth and final episode which means we should be getting down to a finale. This has been a dope experiment and I hope it becomes a staple of the year-round Challenge programming. Also, if they can get a former NBA star on there, say Shawn Kemp or Vin Baker, I would be very very happy.