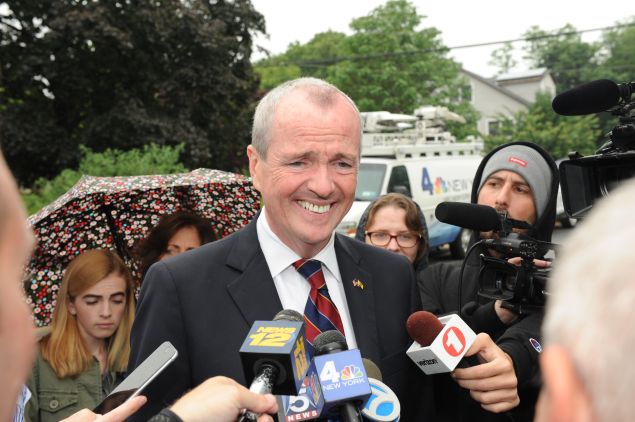 Democratic gubernatorial candidate Phil Murphy carefully answered a question about reworking school funding in New Jersey, saying Friday that a deal struck by the Legislature's Democratic leaders this week is "better than nothing."
Speaking to reporters in Newark before taping an interview on NJTV, Murphy gave his first public comments on the agreement since Senate President Steve Sweeney and Assembly Speaker Vincent Prieto announced it late Wednesday.
Their proposal would provide $100 million in additional school aid than what Gov. Chris Christie has included in his budget plan for the coming fiscal year, and an extra $25 million for preschool education. It also would redistribute $46 million in so-called adjustment aid, redirecting some money from districts considered to be overfunded under the School Funding Reform Act of 2008 and giving it to underfunded districts.
That redistribution of state aid has made the proposal a target for criticism from union and education advocacy groups who are backing Murphy in the governor's race, and the candidate seemed to choose his words carefully when asked about the proposal.
"Is this better than it was? Is it a step in the right direction? I think yes," Murphy said. "Although I have to say I was studying this morning, reading through the eyes of the press, I was looking at impacts in communities down by where we are in Monmouth and Ocean counties, and it's very uneven, depending on how fast the population is growing in your school district." (Murphy's Middletown, for example, would lose funding for its school district.)
"It's better than nothing, but the big 'ah-ha' is we have to fund the school funding formula," he added.
He said fully funding the formula would cost about $1 billion more than what is currently being devoted in the state budget and said he'd use a tax increase on the wealthy to help pay for it. Sweeney said Thursday that increasing the so-called millionaire's tax could raise at least $600 million for schools and that Democrats would enact the bill as soon as Christie leaves office in January.
Murphy's answer reflects a balancing act of not wanting to upset two key constituencies, the Democratic lawmakers on one hand and the unions and advocacy groups on the other, said Brigid Harrison, a political science professor at Montclair State University.
The state's largest teachers union, the New Jersey Education Association, came out against the Sweeney-Prieto plan, charging that some students would see less funding for their schools as a result. Leaders of the NJEA called the deal "vindictive," "cruel," "senseless" and a "sick scheme."
"I think he's really tip-toeing across a political tightrope right now," Harrison said. "There are so many various constituencies that could be upset with the plan, and then others he needs to placate because they're important players in the Democratic Party in terms of creating the plan."
Harrison added that some voters feel they're being taxed unfairly in order subsidize other school districts, but Murphy also doesn't want to alienate the districts that benefit from the current arrangement.
"This is almost kind of a no-win situation for him," she said.
In addition to schools, Murphy also wants to fully fund the public worker pension system. He claims he can afford to pay for it all with a millionaire's tax, closing corporate loop holes and growing the economy.
"When you add all that up and you assume we're going to get the economy growing again and we're big believers in that, you can do all of that," he said.