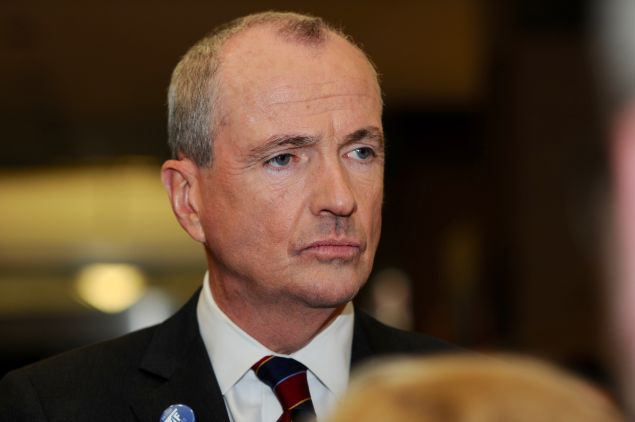 A new bill to restructure New Jersey's largest health insurer, Horizon Blue Cross Blue Shield, is splitting state Democrats into rival camps and could gum up this week's negotiations over the 2018 state budget due on Saturday.
In one of his first forays into legislative politics, Phil Murphy, the Democratic nominee for governor, called on lawmakers to lay off the insurance company and urged Democrats not to hand a "cheap political victory" to Gov. Chris Christie this week.
"The people of New Jersey deserve a full and transparent discussion of all options to expand health care to all 9 million residents of our state, and that is a conversation I am eager to have," Murphy said in a statement Sunday.
Christie has been pressing the case against Horizon all year and wants the state to take a cut of the insurer's $2.4 billion reserve fund. After months of being ignored by lawmakers, the Republican governor got some support last week from state Senate Democrats, who agreed to move a Horizon bill in exchange for concessions in the state budget, including added funding for schools.
As first reported by Observer, legislation introduced by Sen. Joe Vitale (D-Middlesex) would make several broad changes to Horizon's finances and governance, altering its board composition and forcing the company to spend from its reserves each year that the state determined that it kept an "inefficient," or excessive, surplus.
The legislation — which Horizon officials say is a politically driven attack that would damage its 3.8 million policyholders — is on the fast track this week. After discussions with the governor's office, Vitale introduced his bill Thursday night, the text was posted online Friday night, and the plan is up for a vote today in the Senate Budget and Appropriations Committee, where it is expected to pass with some amendments. A final vote in the Senate is then expected on Thursday.
Senate President Steve Sweeney (D-Gloucester) came out in support of Vitale's bill (S4) on Sunday, seemingly dropping his plans to introduce competing legislation.
Passing the Horizon bill could be the key to getting Christie to add $125 million for schools in the state budget, a top Democratic priority this year, and potentially other items on the Democrats' wish list.
"If a future governor's administration says an organization with a charitable purpose is sitting on excess surplus, that will warrant us taking a closer look at how it is operating," Sweeney said in a statement Sunday. "The legislation sets up a process to allow for that. I asked Senator Vitale to take the lead because I knew anything he put his name to would be in the best interest of the people of New Jersey and especially the people that pay premiums to Horizon."
Assembly Speaker Vincent Prieto, however, has ruled out a vote on any Horizon proposal before the budget is done and says that, afterward, his chamber would only consider legislation that affects a wider range of nonprofits, and not just Horizon.
Although he wasn't explicit about it, Murphy sided with Prieto (D-Hudson) in a sharply worded statement issued by his campaign Sunday night — and the move put him at odds with Sweeney and Vitale, the chairman of the Senate health committee.
"As I have said previously, I have serious concerns with the governor's proposal to raid Horizon's surplus at a time when Republicans in Washington are threatening to gut the ACA," Murphy said, referring to the Affordable Care Act. "The governor is now once again holding hostage funding for public education and critical programs in order to score a cheap political victory.
"While Democrats in the Legislature have worked hard to find compromise, we simply need more time to give this policy a proper vetting," Murphy said. "The people of New Jersey deserve a full and transparent discussion of all options to expand health care to all 9 million residents of our state, and that is a conversation I am eager to have."
Two sources close to Prieto said he agrees with Murphy that the legislation "deserves a full and transparent discussion" removed from the budget rush.
The speaker, they said, is considering calling hearings this summer to examine nonprofits and businesses that receive financial support from the state, including economic development grants. "He feels all companies that get state money or assistance or are tied to the state need more transparency and disclosure," one legislative source said.
An influential lawmaker who had opposed Christie's Horizon plan — Senate Majority Leader Loretta Weinberg (D-Bergen) — came out in support of Vitale's proposal over the weekend. Assemblywoman Eliana Pintor Marin, a Democrat from Newark, where Horizon is based, signed on as the sponsor in the lower house.
Whether it is the governor's plan or Vitale's, the net effect of either piece of legislation would be roughly the same.
Under current law, Horizon has a 15-member board of directors. The company appoints 11 of them and the governor appoints four, by tradition two Democrats and two Republicans. Christie's plan would have expanded Horizon's board to 19 members, adding four more political appointees. Vitale's bill would keep the board at 15 members, but it would let policyholders elect three of those members and reduce Horizon's appointments from 11 to eight.
If Christie's plan became law, Horizon would be forced to post online all the salaries and bonuses it paid to its top executives. Vitale's plan would require the state Department of Banking and Insurance to post online the annual statements of all the health insurers it regulates; those filings include executive compensation data.
Most significantly, both plans include a mechanism to draw down Horizon's reserves. The Blue Cross Blue Shield Association, of which Horizon is a member, requires the company to keep a contingency fund of at least 550 percent what's needed to cover all its claims. Christie's plan is to take any money above that level every year (roughly $300 million at current reserve levels) and spend it on a new drug-treatment program run by the state. Vitale's bill lays out a more intricate process of annual public hearings with input from experts and Horizon officials. If state officials at the end of that process determined that Horizon's surplus was "inefficient," or excessive, the company would have to submit a plan to spend the excess amount on health care initiatives including drug treatment.
Senate Democrats are emphasizing that their plan would kick in only after Christie left office, in February 2018, but Christie's plan all along was to have the state start raiding Horizon's surplus under the next administration.
Pintor Marin said in a statement that Vitale's plan "creates a fair process both for Horizon and for their policyholders."
"If an excess surplus exists, Horizon will be given every opportunity to control how that surplus is spent and where it will go," she said. "Horizon has a charitable mission within the state of New Jersey and this plan allows them to continue that charitable mission while also lending support, when it is possible, to programs that promote public health."
Weinberg said "the budget has to be signed by July 1st, and we are down to the wire to reach an agreement between the Legislature and the governor."
"I don't agree with the governor's style or his negotiation tactics," she said. "But I believe Senator Joe Vitale has come up with the right compromise to bring us to an appropriate solution, which should satisfy the governor and the objections of Assembly Speaker Vincent Prieto. Some of the components in Senator Vitale's bill have been discussed by Democrats for years. More transparency and to ensure that the Horizon is keeping its mission as a nonprofit."
S&P Global Ratings said earlier this year that Christie's plan to raid Horizon's reserves could lead to a downgrade for the insurer. Horizon CEO Bob Marino has said that reducing the reserves could cause premiums to rise by $600 on average for an individual and $1,700 for a family of four.
Adding a bit of intrigue to the Horizon free-for-all is the fact that Vitale and Assemblyman Craig Coughlin, who has secured enough votes to oust Prieto from the speakership next year if Democrats perform as expected in the November elections, are both Middlesex County Democrats.
"This backroom deal is a political giveaway to help connected special interests at the expense of Horizon policyholders," said a Horizon spokesman, Kevin McArdle.