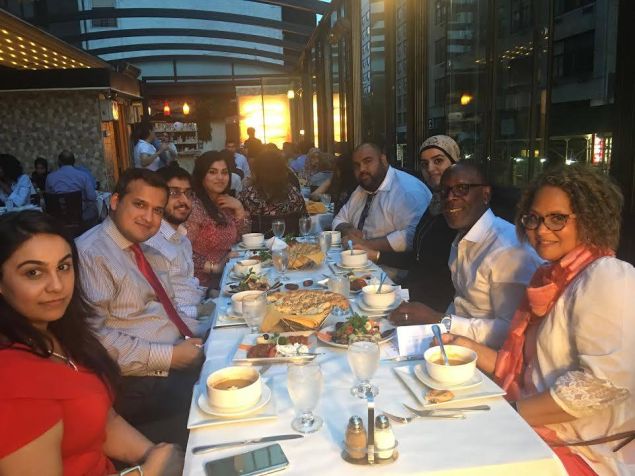 New York City's first Muslim Democratic organization is using the holy month of Ramadan to launch its political outreach for the municipal elections this fall—vowing to mobilize the growing religious community by getting in touch with members of the faith "where they want to be met."
The four-year-old Muslim Democratic Club of New York drew roughly 70 people to Ali Baba's Terrace in Midtown East Tuesday night for iftar, the evening meal that breaks the daytime fast Muslims observe during the sacred period, a time that commemorates the first revelation of the Quran to the Prophet Muhammad. The event—which attracted Muslim elected officials, advocates and community leaders—followed the group's first round of endorsements for the September primaries, endorsements the club said it made with a focus on competitive races where it believes progressive candidates can benefit the most from its support.
Murad Awawdeh, the club's president, told the Observer that the summertime Ramadan granted members a sense of "clarity in helping elect people who are going to represent the needs of the community."
"It really shows that people, even in the heat, are willing to go out and engage our community at their doors, sign petitions to get them to understand there's an election coming up and to make sure that they—if they are registered—that their registration is active," Awawdeh said. "If they're not, then we register them."
The club has endorsed acting Brooklyn District Attorney Eric Gonzalez; Brooklyn Councilman Carlos Menchaca, whose district includes Red Hook, Sunset Park and Windsor Terrace; and Rev. Khader El-Yateem, the first Palestinian-American Christian to ever run for the City Council, who is running for Councilman Vincent Gentile's seat, whose area includes Bay Ridge, Dyker Heights, Bensonhurst and Bath Beach.
Awawdeh said the club was impressed by the fact that Gonzalez hired immigration attorneys to help protect undocumented immigrants who have committed low-level offenses from getting deported and his plans to open an immigration review unit in his office. He also noted Gonzalez's work in addressing the opioid epidemic.
He said Menchaca was "strongly supported" by the Muslim community in Sunset Park during his first election and that he has invested in community organizations within the district. And El-Yateem, he said, has brought together people of different faiths in Bay Ridge, "isn't part of the political machine" and isn't "trying to appease any special interest groups."
The club counts Palestinian-American activist Linda Sarsour, an organizer of the Women's March on Washington, among its members. The group played a role in getting the city to turn the Muslim holy days Eid Al-Fitr and Eid Al-Adha into school holidays, endorsed the Right to Know Act—a package of police reforms bills—and was an outspoken critic of former Mayor Michael Bloomberg.
Awawdeh serves as political director for the New York State Immigrant Action Fund, the political arm of the NYIC, which has also backed Gonzalez, Menchaca and El-Yateem.
A number of candidates who have received endorsements from the club won their races, including Public Advocate Letitia James, Brooklyn Borough President Eric Adams, city Comptroller Scott Stringer, Queens Borough President Melinda Katz and the late Brooklyn District Attorney Kenneth Thompson.
But many of those were heavily favored contenders. Candidates that the MDCNY has backed in tougher races—club member Ali Najmi for the Council seat now held by Queens Councilman Barry Grodenchik; lawyer Munir Avery for the seat now held by Queens State Senator Leroy Comrie; and Robert Jackson for the seat now held by Upper Manhattan State Senator Marisol Alcantara—ultimately lost.
Awawdeh told the Observer that in the first initial years of its existence, the club only inaugurated its efforts during the campaign season. That changed during last year's presidential race.
He noted that the club endorsed Vermont Sen. Bernie Sanders in the Democratic presidential primary last April, and that the Muslim-majority parts of the districts they worked in "all went for Bernie Sanders."
"The way that we are shifting is that we're not just building during election season, we're building continuously," he said. "So we're meeting in the communities where we wanna do work in, where we have been doing work in. We're speaking with people where they feel comfortable, if it's a mosque, if it's at their home or if it's in a shared community space. We're speaking to people where they want to be met."
Indeed, Awawdeh said that the club's aim now is to ensure it has "consistent engagement across the board" with all Muslims registered as Democrats. And he said they are encouraging people to join community boards, run as judicial delegates or for county committee.
Assisting in that mobilization is the election of President Donald Trump, who promised a "total and complete shutdown of Muslims entering the United States" on the campaign trail—and has unsuccessfully sought to cut off travel from a handful of predominantly Islamic Middle Eastern and African nations.
"I think with the election of President Trump, we've seen our membership numbers increase and we've seen people really wanna engage in a way that they've never before," he said. "So people who have historically just been semi-silent about political affairs have now become more active in the political arena. And we tell people that if you wanna be impactful, politics is extremely local."
The club plans to endorse judicial candidates this summer, he said, as the judiciary is "the only check and balance under this presidency."
Among the iftar attendees were Queens Councilman I. Daneek Miller—the only Muslim Council member—Manhattan Borough President Gale Brewer; Carlina Rivera, a candidate for the seat held by Councilwoman Rosie Mendez; and representatives from organizations such as African Communities Together and the Muslim Community Network.
Brooklyn Civil Court Judge candidate Hemalee Patel, an immigrant South Asian woman, said that regardless of who is president, politics is local. She said that it's "important that we're out there representing."
"We must come to the table, and that only happens locally," Patel said.
Naureen Akhter, an organizer for the Queens-based grassroots coalition Muslims for Progress, told the Observer that the catalyst for her and others "was really the election of Donald Trump." She noted a lack of engagement from groups "that needed to be better represented in our government."
"Part of the work that we do is mobilizing Muslim American voters, getting them informed about local elections, building a coalition with other progressive groups in the area, MDCNY being one of them so that we can come together to elect truly progressive elected officials," Akhter said.
Also present was Tahseen Chowdhury, a 16-year-old challenging Queens State Senator Jose Peralta—a member of the Independent Democratic Conference, which has a power-sharing arrangement with the GOP—in next year's primary. If successful, Chowdury would become the first member of the faith to hold a seat in the New York State Senate.
"Given the environment that we are in right now on the federal level, it's completely volatile and it's extremely important that we're adequately represented on our state and local level," Chowdhury told the crowd.