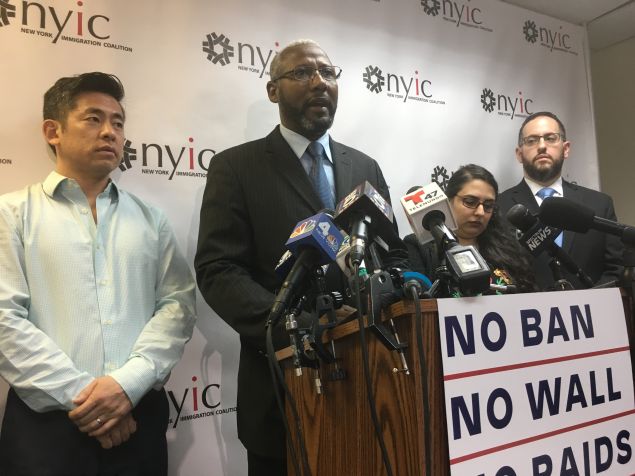 Muslim and immigrant advocates and leaders said they are "prepared to mobilize lawyers and support" to John F. Kennedy International Airport 72 hours after a stay is lifted on President Donald Trump's executive order barring entry to people from Muslim-majority countries—blasting the Supreme Court's decision today to partially allow the travel ban to go into effect at an emergency press conference in Midtown Manhattan this afternoon.
After a series of courts ruled that Trump's travel ban is unconstitutional, the Supreme Court is allowing Trump's ban to be implemented for any "foreign nationals who lack any bona fide relationship with a person or entity in the United States," but will hear oral arguments on the case this coming fall, according to CNN. Until now, the Supreme Court had not weighed in on the executive order.
In March, Trump signed a new executive order targeting travelers and immigrants from six Muslim-majority countries—Iran, Libya, Somalia, Sudan, Syria and Yemen. The order put in place a 90-day moratorium on new visa applications from five of the troubled countries, and a 120-day ban on those coming from Syria.
"Tomorrow is June 27 and it officially marks the five-month anniversary of when President Donald Trump first signed into law this unjust, immoral and illegal Muslim and refugee ban," Steve Choi, executive director of the New York Immigration Coalition, said. "The Supreme Court has decided today that they are not only going to hear this case but also created this brand new legal definition that we think is extremely problematic."
Choi finds the fact that the Supreme Court is even considering taking the case "incredibly disappointing," and noted the confusion surrounding what a "bona fide relationship is," contending that "nobody knows exactly what that means."
"And so this is an issue for travelers, for immigrants, for service providers and not the least: a problem for the Border Patrol and United States government agencies that will now have to carry this out and define exactly what a bona fide relationship is," he continued.
Murad Awawdeh, director of political engagement for the New York Immigration Coalition, said that "much of what the situation looks like" will depend on how the "bona fide relationship" is determined and implemented. He also noted that the order came a day after Muslims celebrated Eid al-Fitr—which makes the end of the month-long fast of Ramadan fast—noting that it is normally a time of celebration.
He encouraged people to call the New York Immigration Coalition's hotline if they or anyone they know has been adversely impacted by the ban or is experiencing any trouble at JFK or other airports.
"We call on Customs and Border Patrol to implement this ruling in a fair and open manner, to not subjugate people needlessly as they are traveling with additional screenings and detention," Awawdeh said. "To ensure this is not the case, we will be monitoring the situation at JFK closely once the stay is lifted for both travelers entering the country at JFK and abroad. We are prepared to mobilize lawyers and support to JFK as the situation calls for it."
In a statement, Trump hailed the Supreme Court decision as a "clear victory for our national security," saying that it enables the travel ban "for the six terror-prone countries and the refugee suspension to become largely effective." No immigrant from the six affected nations has committed an act of terror on American soil.
"As President, I cannot allow people into our country who want to do us harm," he said in a statement. "I want people who can love the United States and all of its citizens, and who will be hardworking and productive."
The initial version of the White House decree included Iraq and applied to people who were cleared to enter the United States under former President Barack Obama—the latter leading to multiple judicial injunctions against the order. After Trump signed the second executive order, the New York Immigration Coalition and refugee advocates blasted the second ban as a "backdoor Muslim ban 2.0."
The second fiat also retains the first executive order's four-month hiatus on further refugee resettlement in the United States.
In response to the first travel ban, the New York Immigration Coalition spearheaded the #NoBanJFK movement, helping travelers from more than 20 countries and organizing hundreds of lawyers and volunteers. The protests subsequently led to a rally in Battery Park the following day.
Camille Mackler, director of legal initiatives for the New York Immigration Coalition, said that the order means that only individuals applying for a visitor visa—whether it's for pleasure, tourist visas or visitors for business—are subject to the current travel ban, though she noted that those traveling for business likely already have an existing bona fide relationship with an American entity.
She said that they are "concerned as to how this is going to be implemented."
"That determination can happen at the consulate, which is most likely where it will happen because in the oral arguments in the first circuit, the government said that this would be applied to existing visa applications or future visa applications, not to current visa holders and that's something that we're gonna be monitoring very closely," Mackler said.
Mauritanian native Cheikh Ahmed Mbareck, executive director of Majlis Ash Shura of New York—the Islamic Leadership Council—said he was stunned by Trump's assertion that the order was a victory for national security.
"We were horrified by the fact that the president used the argument that this is a victory for the national security," Mbareck said. "I hope that he's not trying to say that the Muslim community is not part of the national security. Just because of his announcement of the ban, the attempt to ban these Muslim countries, a couple months ago, the threats to the Muslim community, the rise of Islamophobia reached high levels."
Esraa Saleh, coordinator for the Arab American Family Support Center's Audacious Young Women of Action—a social justice-centered and youth organizing program—interpreted the Supreme Court order as the court saying that national security "can be justification for religious discrimination."
She said that the travel ban does not make the country or their communities safer, and that they are committed to "continuing to fight for our freedom and the opportunities of our communities."
"Unfortunately, the youth that I work with have had to continue to resist and fight back and we'll continue doing that because that is the power and the strength of the Muslim community and we will continue to say, 'No ban, no wall and no raids because New York is for all,'" Saleh said.