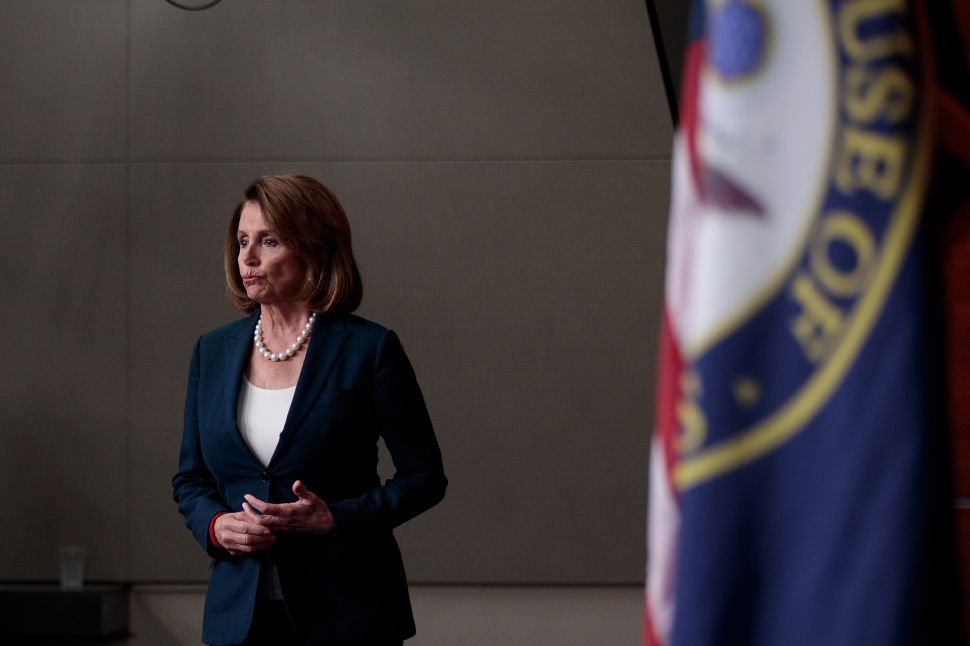 The Democratic Party is widely viewed as an out of touch, elitist institution that is more loyal to Wall Street and wealthy donors than to voters. This negative image of Democrats is epitomized by House Minority Leader Nancy Pelosi, who remains even more unpopular than Donald Trump. Huffington Post places her current favorability rating at 28 percent. Pelosi is one of the most widely known, yet unpopular Democrats currently in office. Under her leadership, the Democratic Party has lost over 60 seats in the House of Representatives.
Republicans, well aware of Pelosi's unpopularity, continue to exploit her image to their own advantage—just as they did in 2010 with their "Fire Pelosi" campaign. Though they adopted the self-proclaimed title of Berniecrats, Kansas Congressional candidate James Thompson and Montana Congressional candidate Rob Quist were portrayed in attack ads in alignment with Pelosi. Quist's opponent Greg Gianforte called him "Nancy Pelosi in a cowboy hat," and Republicans in Kansas referred to Thompson as a "Nancy Pelosi rubber stamp" as soon as he won the Democratic primaries in February 2017. Though Thompson and Quist largely overperformed in two Republican strongholds, the distaste for the national Democratic Party—and Pelosi—likely served as hurdle to clear in running a campaign in these districts.
In Georgia, Jon Ossoff is experiencing the same sort of problem. Though Ossoff has embraced a neoliberal, fiscally conservative platform to try to win over moderate Republicans in the wealthy Georgia suburb, the Republican Party is depending on Pelosi attacks to fend off his campaign. The Hill reported on June 12 that Republicans are launching an ad campaign on Spanish language television in Ossoff's district, portraying him in alliance with Pelosi. On June 11, The New York Times reported Ossoff was responding to Republican attacks that compare him to Pelosi by asserting he has not given "an ounce of thought" to whether he would vote for Pelosi to keep her position as the Democratic Party leader in the House.
In 2010, the Republicans' "Fire Pelosi" campaign helped take 63 seats in the House under her leadership. The Democratic Party has learned nothing in allowing her to continue to serve. Following Pelosi's swift re-election, Republican Party leaders cheered. The decision by Democrats to support her continued leadership means Republicans have an easy and effective target in attack ads, to help boost their congressional candidates in elections all over the country. House Majority Leader Kevin McCarthy told reporters after her re-election, "I truly believe as long as she's leader we keep the majority." The Democratic Party needs to realize that the Republican Party's assumption that Pelosi helps them remain in power in Congress may not be wrong.