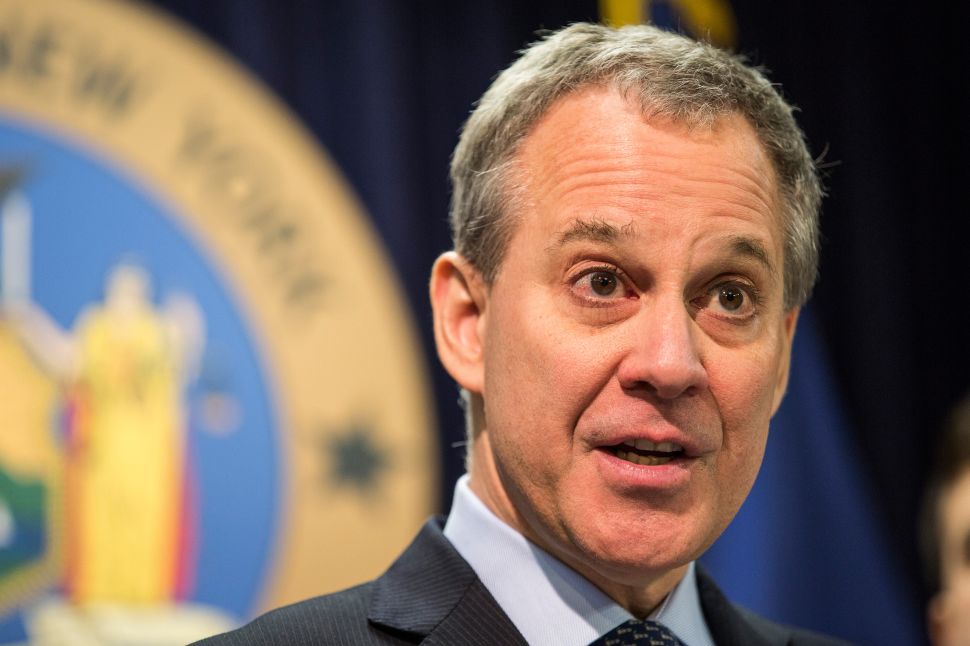 New York Attorney General Eric Schneiderman vowed to go to court to challenge the proposed Republican health care legislation to replace former President Barack Obama's Affordable Care Act if it is passed and signed into law by President Donald Trump. He called it "wrong-headed and unconstitutional."
Yesterday, the Congressional Budget Office predicted that the Senate bill would increase the number of people who are uninsured by 22 million in 2026, which the CBO said is slightly fewer than the increase in the number of uninsured estimated under the House-passed legislation.
An estimated 49 million people would be uninsured, compared with 28 million who would lack insurance that year under current law, according to CBO.
"If the version of the health care bill proposed last week ever becomes law, I am committed to going to court to challenge it to protect New Yorkers from these wrong-headed and unconstitutional proposals," Schneiderman said during a keynote speech at the Association for a Better Work's power breakfast this morning.
This comes as Maine Sen. Susan Collins, a Republican, announced that she would vote against any motion to move forward on the legislation due to the CBO analysis. Wisconsin Sen. Ron Johnson, Kentucky Sen. Rand Paul and Nevada Sen. Dean Heller also indicated they would vote against the motion. Republicans want to have a vote on the motion to proceed either late Tuesday or early Wednesday, with a goal of holding a final vote by the end of the week.
During his speech, Schneiderman said that the same coalition of state attorneys general who fought Trump's executive order barring entry to people from Muslim-majority countries—along with their allies—"are once again set to play a critical role" in fighting the legislation. He noted that the legislation would take health care away from "tens of millions of the most vulnerable Americans, including millions of New Yorkers."
He also blasted the legislation for gutting funding for Planned Parenthood and cutting billions of dollars from New York's Medicaid program.
"Yesterday's report from the Congressional Budget Office indicated that 22 million fewer Americans would have health care by 2026 under this proposed legislation," he said. "Until some bill is passed and signed into law, keep in mind, ladies and gentlemen: the Affordable Care Act is still the law of the land. There are still people receiving health insurance under the Affordable Care Act."
Following the breakfast, Schneiderman told reporters that his office is in the process of research for a potential lawsuit.
"Well, we're doing the research," he said. "I am of the view that they have a ways to go before they can pass anything…The problem with both of these proposals is that they would do very substantial harm to their own base of voters."
Gov. Andrew Cuomo sent a letter to the New York State congressional delegation yesterday asking them to "stop this bill" and urging them "to continue to do everything within your means to protect this state." Members of Cuomo's administration and health care experts are also scheduled to host panels today in New York City and other parts of the state on the repercussions of the legislation for New York State.
During the breakfast, Schneiderman also discussed Trump's executive orders that barred entry to people from Muslim-majority countries.
After a series of courts ruled that Trump's travel ban is unconstitutional, the Supreme Court decided yesterday to allow Trump's ban to go into effect for any "foreign nationals who lack any bona fide relationship with a person or entity in the United States," but will hear oral arguments in the fall.
Schneiderman said that the first Muslim travel ban that Trump signed on January 27—a week after his presidential inauguration—was a "galvanizing moment" for the state attorneys general, calling it their "first major test." He also said that the business community "in particular can take heart in the structure" of the Supreme Court's partial stay of the lower court injunction.
"Up until that time, the Coalition of State Attorneys General was a pretty informal group that worked together sometimes on case but we didn't really have much in the way of systems or tradition of working together in a very well coordinated fashion," he said.