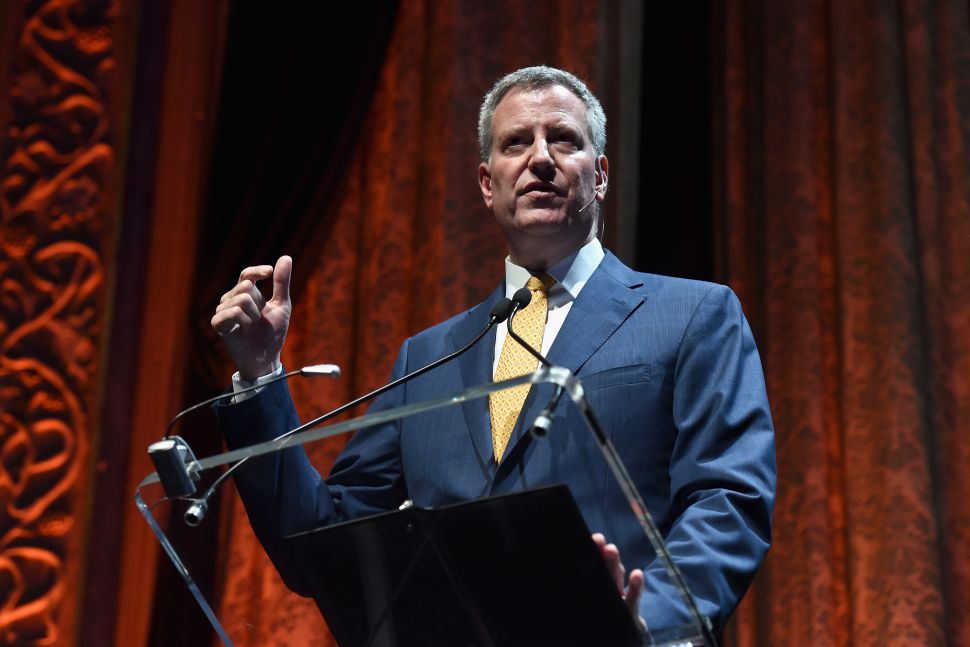 On the very day that he condemned President Donald Trump for pulling out of the Paris Agreement and said all New Yorkers must change their lifestyle to curb carbon emissions, New York City Mayor Bill de Blasio said he personally was exempt. When asked why he traveled in a two-SUV caravan to his favorite Brooklyn gym five days a week, the mayor responded to a caller on WNYC, "I wish my life was like everyone else's, but it's not, for obvious reasons. But again, the issue is not cheap symbolism here."
Cheap symbolism? In how many ways does de Blasio not understand his job? Or not care?
If the mayor calls on New Yorkers to make sacrifices, should he not set the first example? Obviously not, according to our feckless follower. Rhetoric—more appropriately hot air—is sufficient in de Blasio's construct of the world.
We have no problem with local and state leaders disagreeing with the president's decision and declaring that their state or city will take individual action to voluntarily reduce carbon emissions. That is the beauty of federalism. But we cannot tolerate politicians who, with one breath, profess to support a position and then immediately act contrarily—while still proclaiming fealty to the popular position.
Does de Blasio believe people won't notice? Or care? His arrogance is imperial and his contempt for voters—whom he believes have no choice other than to re-elect him—is shameful.
Obviously de Blasio doesn't believe in setting an example or living by the same rules he wishes to impose on everyone else. But we shouldn't be surprised. This is the same mayor who doubles-down on failed policies to help his supporters (see teachers union opposition to charter schools.) It is the same mayor who barely avoided indictment for campaign finance violations because both the district attorney and U.S. attorney said de Blasio's lawyers found a loophole in the law that protected him from clearly unethical behavior. And the same Mayor who boasts he hasn't rewarded all of his supporters with special favors—yet.
Bill de Blasio hasn't figured out that character counts. There are only five months until election day, and so far, no opponent has captured the public's attention, much less support. We hope that changes soon. New York deserves a more capable leader, one with a moral compass and devoid of de Blasio's sense of entitlement.