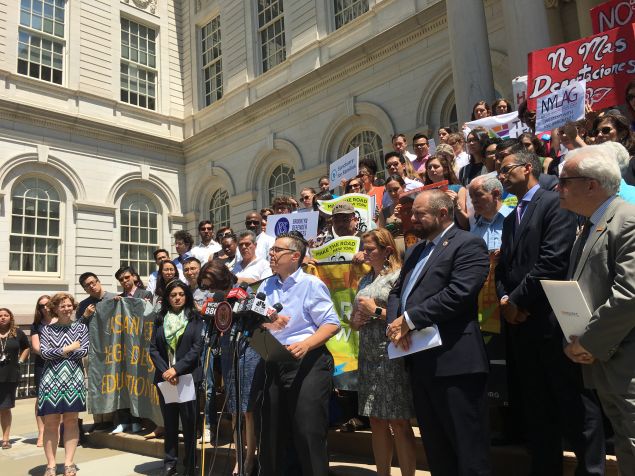 Elected officials and immigrant advocates blasted U.S. Immigration and Customs Enforcement for its "offensive and highly inappropriate" stalking of New York City courthouses for undocumented foreign nationals—and called on state Court of Appeals Chief Judge Janet DiFiore to use her authority over the Office of Court administration to bar federal agents from the buildings.
Elected officials and advocates noted that under President Donald Trump, ICE has stepped up enforcement efforts, even hanging around courts for unauthorized individuals in processing. Today's rally at City Hall came on the heels of ICE arresting three people outside the Queens Criminal Courthouse last Friday, as reported by DNAinfo New York.
WNYC reported that ICE agents were inside the courthouse searching for a young woman from China arrested as a black market masseuse and believed to be a victim of human trafficking.
"It is offensive and highly inappropriate and dangerous for ICE officials to continue interrogating and apprehending individuals in our courthouses," said City Council Speaker Melissa Mark-Viverito. "To target a survivor of human trafficking as she benefits from a highly specialized court program that helps survivors rebuild their lives is indefensible. To arrest individuals including those with lawful status for old, low-level offenses is indefensible."
Mark-Viverito, a Puerto Rico native, accused the agency of attempting "to deliberately interfere with one of the pillars of our democracy: access to justice."
At the end of March, the speaker told reporters that she had an initial conversation with DiFiore to figure out how to limit the presence of ICE officers in the city's courts. At today's rally, she said advocates want "to be able to sit at the table" with DiFiore. She also called for interaction with other chief judges in other states.
"There is no conversation happening in terms of what can we do," she said today. "That has to happen…She needs to be more engaged and more proactive. This idea of having conversations with ICE obviously is not leading us anywhere. She needs to be more bold."
Mark-Viverito announced that the City Council's Committee on Courts and Legal Services will hold an oversight hearing on June 29 to examine overstepping of bounds by ICE agents in New York City courts and "take a much more aggressive look at this issue."
An ICE spokeswoman said ICE will not comment directly on the rally but confirmed that ICE deportation officers arrested three individuals outside of the Queens County Criminal Court pursuant to a targeted enforcement action. They insisted, however, that no arrests were made within the Queens County Criminal Court's Human Trafficking Intervention Court.
Current ICE policy prohibits agency personnel from engaging in enforcement activities at "sensitive locations" such as schools, places of worship and hospitals—unless they have prior approval from an appropriate supervisory official or in the event of urgent circumstances. That, however, does not include courthouses. ICE said that it does arrest targets at courthouses but generally only after investigating officer have exhausted other options.
The New York State Unified Court System did not immediately respond to a request for comment.
Since the beginning of 2017, there have been 38 total arrests and attempted arrests statewide, according to the Legal Aid Society. Of these incidents, 26 took place in New York City, including 19 arrests. There were seven arrests and attempted arrests in Manhattan, six in Queens, seven in Brooklyn, four in the Bronx and two on Staten Island.
The coalition behind the rally—which consists of more than 100 organizations—includes the Legal Aid Society, LatinoJustice PRLDEF, The Bronx Defenders, Brooklyn Defender Services, Make the Road New York, Sanctuary for Families, New York Immigration Coalition, Asian American Legal Defense and Education Fund, Her Justice and other stakeholders.
"Friday, when ICE walked into a Queens courthouse that is specifically enacted to treat people who are arrested on prostitution charges or other charges because we know they are victims of human trafficking," Tina Luongo, chief defender of the Legal Aid Society's Criminal Practice, said. "When ICE walked into that court, it changed the calculus for so many of the people who are immigrants in our city, trying to make a life for them and their families. It must stop."
Luongo said the purpose of the upcoming Council hearing is to look at the policies and intersection of city and state laws as far as what the city and the state can do to address the problem.
"At a minimum, let's say this: if you're held at Rikers, the protection of the detainer law where it says you are not taking this person from us until there is a judicial warrant signed would be a good first step," she said.
As Luongo kicked off the rally, Thomas Jenkins, a volunteer with the New York Legal Assistance Group, fell down City Hall steps and hit his nose. They resumed the rally after the ambulance arrived. Luongo said he "wouldn't have missed this press conference for anything."
Former judge Judy Harris Kluger, executive director of Sanctuary for Families, said she worked with former DiFiore's predecessor Jonathan Lippman on New York's statewide Human Trafficking Intervention Initiative. She asserted ICE's actions had discouraged undocumented victims from taking part in the prosecution of those who committed crimes against them
"The ICE agents' intrusion into the human trafficking court is not something that must go on," Kluger said. "Their presence in the courts are having a chilling effect on domestic violence survivors who seek protection from their abusers in our courts."