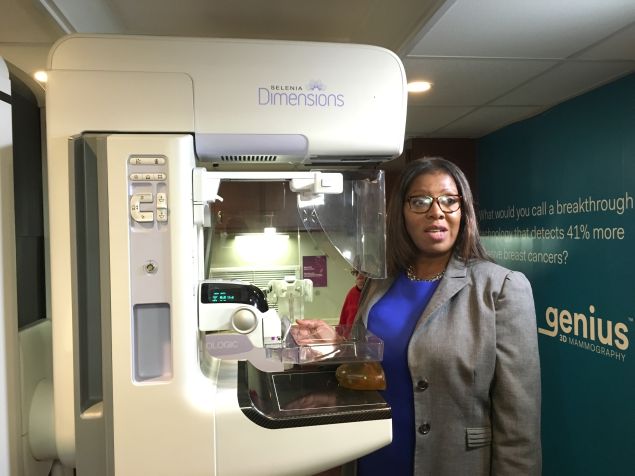 The New York State Department of Health has decided to extend Medicaid coverage to three-dimensional scanning and imaging technology for low-income women looking to detect changes in their breast tissue—after Public Advocate Letitia James urged authorities to do so last October.
James previously called on Gov. Andrew Cuomo and Mayor Bill de Blasio to expand access to Digital Breast Tomosynthesis, which uses X-ray cameras that move in an arc around the breast, taking multiple images in a few seconds and integrating the information into a three-dimensional, layer-by-layer image of the breast. At the time, she called on Cuomo to add the technology to the Medicaid benefits package and de Blasio to allocate $4 million in his capital budget to making the technology available in all of the city's public hospitals.
Ronald Bass, director of the Bureau of Medical, Dental and Pharmacy Policy in the Office of Health Insurance Programs, wrote a letter to DBT provider Hologic, Inc. indicating the state's Medicaid program would cover the procedure for cancer screenings—citing studies finding the technology, combined with older digital mammography, can reduce the need for further testing.
"The cancer detection rate is somewhat higher when DBT is combined with 2D mammography," he wrote in the letter.
Bass remained unconvinced, however, by studies indicatingthat DBT is effective for diagnosing cancer, rather than simply identifying changes in breast tissue.
"Observational studies cited regarding use of DBT combined with digital mammography report greater diagnostic accuracy than performing digital mammography alone in the diagnosis of breast cancer," Bass wrote. "However, these observational studies were of fair to poor methodological quality, with large variability in his they were conducted and patient demographics and characteristics."
He added that the majority of the studies on diagnostic use of DBT were conducted outside of the United States, restricting their applicability to the American health care system and the Medicaid population, noting that the studies should therefore "be interpreted with caution."
The missive also alludes to the findings of an advisory committee at Oregon Health & Science University. The committee recommended coverage of both screening and diagnostic digital breast tomosynthesis.
"The New York State Department of Health concurs with the Committee's recommendation to cover digital breast tomosynthesis for screening mammography," Bass said. "The New York State Department of Health does not agree with the Committee's recommendation to cover digital breast tomosynthesis for diagnostic mammography at this time, given the limitations of the studies conducted on use of DBT for this purpose."
The Health Department made its decision after reviewing a dossier Hologic's submitted on the imaging technology.
James said that all people should have access to "lifesaving medical care" regardless of their socioeconomic status.
"We know that DBT has the power to more accurately diagnose breast cancer and ultimately save lives, yet it is widely unavailable to low-income New Yorkers and New Yorkers of color," James said in a statement provided to the Observer. "I am pleased that the State Department of Health followed through on our recommendation to cover DBT scans under the state's Medicaid plan and address the severe racial and economic disparities in breast cancer mortality rates."