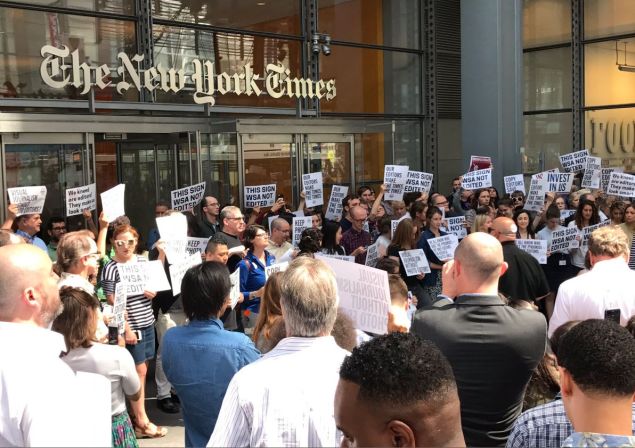 Dozens of New York Times employees staged a 15-minute protest this afternoon to speak out against expected layoffs at the paper's copy desk.
During the "collective coffee break," which took place at 3 PM, reporters and editors marched outside the paper's Times Square office, chanting "They say cutbacks, we say fight back!" and "No editors, no peace!"
The protesters also carried purposely misspelled signs which read "Without Us, It's the New Yrok Times," "Copy Editors Save Our Buts" and "This Sign Wsa Not Edited."
These walkouts follow an open letter the 109 members of the copy staff sent to Times executive editor Dean Baquet and managing editor Joe Kahn yesterday justifying their employment. The missive came in advance of drastic buyouts at the paper, which would streamline the editing process and cut the number of copy editors in half.
"Cutting us down to 50 to 55 editors from more than 100, and expecting the same level of quality in the report, is dumbfoundingly unrealistic," the letter read. "We only ask that you not treat us like a diseased population that must be rounded up en masse, inspected and expelled."
Baquet and Kahn released a statement in response, affirming that they "value meticulous editing."
"We do intend to monitor this transition closely and ensure that we not only maintain but in many areas improve the editing that is critical to The Times' reputation for excellence," they wrote.
Following the walkouts, the Times sent a statement to the Observer defending the proposed cuts.
"We take employee concerns seriously and support their right to speak their minds," the statement read. "But we also believe increasing the number of reporters is vital to the future of The New York Times. Even with these changes, we will have more editors than any similar news outlet and our editing standards and processes will remain the most robust and rigorous of any news organization."
The buyout window closes on July 20, after which layoffs are expected.