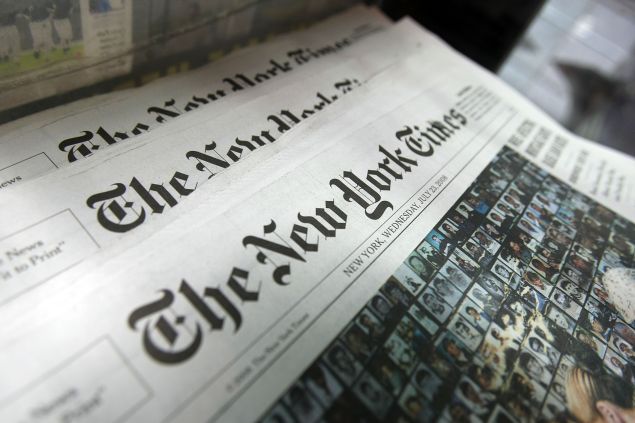 The New York Times copy desk is in the fight of its life.
Last month the paper announced drastic buyouts, meant to streamline editing procedures and eliminate redundancies. But one consequence of this change is that the Times copy desk will effectively no longer exist.
So the 109 members of the copy team are taking matters into their own hands. Today they sent an open letter to Times executive editor Dean Baquet and managing editor Joe Kahn laying out their concerns and justifying their continued employment.
"Cutting us down to 50 to 55 editors from more than 100, and expecting the same level of quality in the report, is dumbfoundingly unrealistic," the letter begins.
Many of their main grievances have to do with a lack of respect from top editors.
"We were compared to dogs urinating on fire hydrants when we edited stories, in an internal report that called for the elimination of 'low-value editing' and made it all but clear which stages of editing this referred to…along with the report's implication that copy editing was merely finding 'easily identifiable errors, such as spelling and grammar mistakes, '" the editors write. "After all of this and more, we are finding it difficult to feel respected."
The copy team contrasted these actions with the support they've gotten from Times readers.
"We are living in a strange time when routine copy-editing duties such as fact checking, reviewing sources, correcting misleading or inaccurate information, clarifying language and, yes, fixing spelling and grammar mistakes in news covfefe are suddenly matters of public discourse," the letter reads. "As those in power declare war against the news media, as deliberately false or lackadaisical reportage finds its way into social media feeds, readers are flocking to our defense."
The editors acknowledge that their role has changed in recent years, and they've had to prove themselves more efficient and "digitally focused."
"We only ask that you not treat us like a diseased population that must be rounded up en masse, inspected and expelled," they write.
The letter ends with a more personal plea.
"Dean and Joe: We are your readers, and you have turned your backs on us. We abhor your decision to wipe out the copy desk," the copy team writes. "We still believe in the Times. We ask that you believe in us."
Baquet and Kahn released a statement in response, affirming that they "value meticulous editing."
"We do intend to monitor this transition closely and ensure that we not only maintain but in many areas improve the editing that is critical to The Times' reputation for excellence," they wrote.