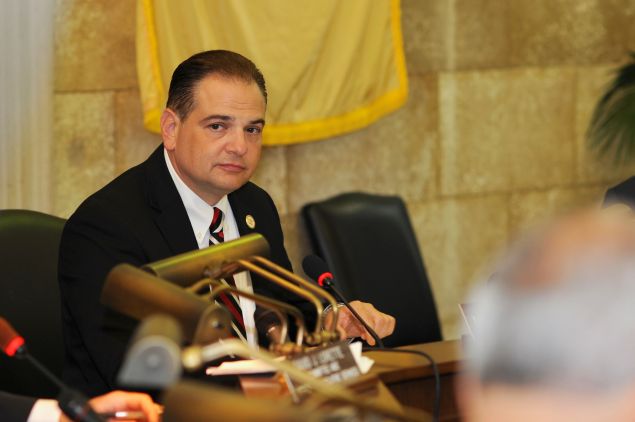 Democratic lawmakers began their push to legalize recreational marijuana in New Jersey on Monday with a nearly five hour legislative hearing stacked with supporters.
Advocates of legalization packed a Senate Judiciary Committee hearing to support a bill that would let residents aged 21 and over posses small amounts of the drug. The committee did not vote on the bill, but the hearing was largely seen as the kickoff to a campaign to legalize, regulate and tax marijuana by early next year.
Republican Gov. Chris Christie is a staunch opponent of recreational marijuana, but his term ends in seven months. Democratic gubernatorial nominee Phil Murphy has made marijuana legalization part of his campaign platform, while the Republican nominee, Lt. Gov. Kim Guadagno, supports decriminalizing the drug but not full legalization.
"We should be having these conversations now because with a new administration this should be implemented by early first quarter of next year," said Senate President Steve Sweeney (D-Gloucester), who testified in favor of the bill.
The bill, sponsored by Senate Judiciary Committee Chairman Nick Scutari (D-Union), would allow New Jersey residents 21 and over to posses up to 1 ounce of marijuana, 16 ounces of infused solid products, or 72 ounces of liquid products. The tax rate on the drug would start at 7 percent until gradually reaching 25 percent over five years. State officials and advocacy groups estimate the state could generate $300 million annually in marijuana tax revenue.
More than 20 people, including medical professionals, law enforcement officials and civil rights advocates, testified in favor of the bill. Proponents described the state's current pot laws as unjust and outdated. A study released Thursday from the American Civil Liberties Union of New Jersey found that racial disparities in state marijuana arrests are at an all-time high. Doctors testified Monday that marijuana is no more, if not less, dangerous than legal drugs such as alcohol, tobacco or opiates in prescription medicine.
"Marijuana prohibition began in the 1930s over the objections of the American Medical Association based on scare tactics and fabricated evidence that suggested the drug as highly addictive, made users violent and was fatal in overdose," said Dr. David Nathan, a psychiatrist in Princeton and founder of Doctors for Cannabis Regulation. "We now know than none of those assertions are true."
But even as they advocated for legalization, many who testified suggested changes to Scutari's bill. Unlike other states' recreational marijuana programs, Scutari's bill does not include a provision for homegrown cannabis, and several people said Monday that such language could essentially set up marijuana monopolies.
"People shouldn't have to rely on companies to get marijuana," said Dianna Houenou, policy counsel at ACLU-NJ. "Limited home cultivation will allow people with limited mobility to access marijuana and also prevent big marijuana monopolies over the state's supply."
Houenou also asked lawmakers to decriminalize marijuana possession for young people to avoid arrests that disproportionally affect Blacks and Hispanics.
Just three opponents of the bill spoke at the end of the lengthy hearing. One was Philip Kirschner, the former president of New Jersey Business & Industry Association, who said he was testifying as a parent. He argued the bill would make it easier for drug dealers to sell marijuana to teenagers.
"This bill hurts teenagers the most," he said. "The drug dealers will say 'number one, I can sell you much more potent stuff. You're going to get that weak stuff at the dispensary. And number two, I can sell you as much as I want, and number three, I don't put any stinkin' 25 percent tax on your purchase.'"
Eight states and the District of Columbia have legalized recreational marijuana. But New Jersey's proposal would make it the first state to legalize cannabis without first decriminalizing it, and the first to do so through legislation and not a constitutional amendment.
Scutari said he will consider the suggested amendments to the bill. After the hearing, he said he didn't know whether his committee would vote on the bill before the November election.
"I don't know what we'll do next, whether we'll call a vote now or start taking the temperature and try to get a polling of our members," he said.